About this Event
William Elliott Whitmore
A man armed only with a banjo and a bass drum can be a formidable force, especially if his name is William Elliott Whitmore. With his powerful voice and honest approach, Whitmore comes from the land, growing up on a family farm in Lee County, Iowa. Still living on the same farm today, Whitmore has truly taken the time to discover where his center lies, and from that he will not be moved.
Whitmore has repeatedly carved his own path, honoring the longstanding tradition of folk music throughout his nearly 20 year career, while always allowing his blues, soul and punk rock influences to shine through. Getting his first break opening for his friend's hardcore band with just a banjo in hand, he would discover bands like The Jesus Lizard, Bad Brains, Lungfish and Minutemen and soon learn to play his own brand of rural, roots music with that same DIY ethic.
William Elliott Whitmore has been back and forth across the United States and to cities around the world. He's toured with such diverse acts as Frank Turner, Trampled By Turtles, Clutch and Chris Cornell to name a few. He's appeared on some of the biggest stages around the world including Stagecoach Fest, Byron Bluesfest (Australia) and End of the Road Fest (UK). His willingness to take his show to any playing field has proved invaluable as he turned strangers to diehards with every performance.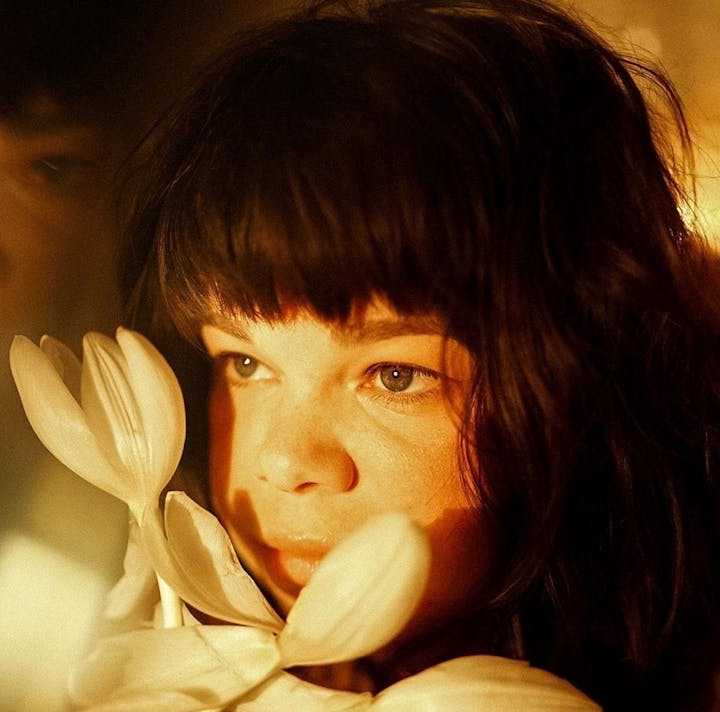 Samantha Crain
You Had Me at Goodbye, the fifth full length studio album from Samantha Crain, finds the literary tendencies of her songwriting allowing room for a wink and a nod. This wildly original album stands as the authoritative statement thus far from an uncommonly insightful and intrepid musician. Crain, who recently turned 30, has often been pegged an "old soul" by reviewers and music writers, beginning at her first release at the age of 19. Crain found that for some time, she yearned to fit that mold. As she puts it, "That label permeated me: my songwriting, my demeanor, my aesthetic. I acted older than I was, or how I thought older people acted, because I was unsure of myself, as any young person can be, in many ways." Coming of age, for Crain, probably seems counterintuitive to longtime fans---flame colored hair, increasingly comical stage banter, and, most notably, a new embrace of something previously absent in her catalogue so far: the pop song.
She returned to the Bay Area in California to record, once again, a completely analog record at Tiny Telephone Studio (this time, however, at the newly opened Tiny Telephone Oakland annex studio). The project was recorded in 7 days and mixed in 5 days, consecutively, in August of 2016. Her lyricism is, as always, in turns clever and startling, her signature voice stands boldly out front and unambiguous due to the characteristically audacious, otherworldly production of John Vanderslice (Spoon, The Mountain Goats, Strand of Oaks). The songs feel at once untouchable and welcoming—a lively party full of complete strangers, one of whom chooses you to confide in. This sonic juxtaposition of warmth and cold is apropos. Crain says, "I just wanted to have some goddamn fun and make an album that was a picture of me: searching and whole, confident and paralyzed, happy and sad."
You Had Me at Goodbye opens with the uptempo, sixties-inspired, chamber pop tune "Antiseptic Greeting" in which Crain, over jaunty percussion and fanciful, dreamy keys, details a battle with "resting bitch face." The series of anecdotal encounters portrays an assumed failure to be a woman de rigueur: expected to be pleasant to others instead of engrossed in one's internal thoughts. The feminist tone will be familiar to fans of Crain's last album, 2015's "Under Branch & Thorn and Tree," a heart-wrenching series of social narrative songs.
That album employed a Crain songwriting signature also found in spades on the new album: using verse to paint a narrator's personal encounter with vivid characters. "Oh Dear Louis," from the new album, is another written through Crain's lens. In this realm, Crain tries---and fails---to help a friend but cannot quite get there. "It seems like I'm always loyal, but completely inept" she admits. The song's smart orchestral arrangements (written throughout the album by James Riotto) and powerful rhythm frame the refrain: "Oh dear Louis / I wasn't too far to hear you cry."
During the beautiful slow-burner "Loneliest Handsome Man", clarinets and strings saunter and careen in jazzy ways around Crain's story of a friend completely sucked into an ideal of an personal image, while the following song "Wise One" explores the coexistence of pain and joy in the realm of love and picks up the pace again with a bit of distortion and ethereal helium background vocals.
For "Red Sky, Blue Mountain," Crain, who is a tribal member of the Choctaw Nation of Oklahoma , took on the significant task of writing a new traditional in the Choctaw language. "I've had many conversations with fellow Native American artists and musicians about their worries of not being traditional enough or attached to their heritage enough to seem legitimate. Many tribes have been stripped of their original songs and their languages and traditions because of colonization, and those left behind in the rubble of culture have little resources or education to bring them back to life." The hymn, translated from Crain's lyrics with help from Choctaw elder, Dora Wickson, deals with a lack of connection to Earth and how our intuition about the land has dissipated in the face of modernity human behavior.
"Smile When" buzzes and clicks with an art punk spirit even though the subject matter is an ode to the imagined lover of Jimmy Webb's "Wichita Lineman". The humorous, robot-like chorus of vocals acknowledges Crain's sense of humor and faithfulness to experimentation.
Last year, Crain's friend, Oklahoma based songwriter Beau Jennings, tasked her with writing a song about Oklahoma's Will Rogers for a documentary and recorded album he produced. When she was unable to find any songs about Rogers' wife---also his business partner and confidante---she wrote "Betty's Eulogy." "They seemed so fit for each other, so connected. I felt there would be a missing piece to have this anthology of his life without including her thoughts." Crain said. "I wanted to write a song that was more or less her eulogy and remembrance of him after his death." Crain again touches on her Oklahoma roots with a somber and exploratory take on "When the Roses Bloom Again," her first cover to be included on a record, with lyrics by Will D. Cobb and music by Jeff Tweedy, found in the journals of Woody Guthrie, an Oklahoma folk figurehead and famed political commentator—perhaps a nod to Crain's previous incarnation, the troubadour dragged across the country by wanderlust.
"Windmill Crusader" pleads, "You have to believe me / you have to believe me," touching on the "prophet without honor" trope as in Greek mythology's Cassandra, who had the gift of foresight and a curse bestowed upon her that prevented people from heeding her warnings. The song modulates and changes keys and vibrates as it follows the frenetic desperation of trying to warn and then the battling guilt and peace of being proven right in tragedy.
The lilting album closer, "Wreck," details the frustration of being full of love with nowhere to direct it; think of it as a gentler rendition of Springsteen's "I'm on Fire." After listeners are taken on Crain's zig-zagging stylistic journey throughout the album, "Wreck" serves as the destination, the sudden stop at the end of a winding road she has taken you on: an expansive view of the album's overarching theme, not one that can be found in only lyrics or musicianship, but the soul searching of the artist herself.
In total, Vanderslice's production choices feel unexpected until well into each song, where his vision strikes a modern balance with Crain's familiar expressiveness, which is uniquely audacious for someone in her position. Wandering and static, joyful and lamenting, You Had Me at Goodbye takes listeners down a back alley, away from the easily definable and comfortably digestible, but on a tour of music being make just for the sake of expression and inspiration. It's not storytelling so much as an invitation to search for more. Crain on record, as in life, does not mistake vulnerability for weakness. She'll leave you in the dark and let you in on a secret in the same breath.
Venue Information:
All shows are standing room only unless otherwise notated.
No Smoking/Vaping permitted anywhere inside venue
Bags/purses will be checked at the door.
Must have ID for entry
All tickets are picked up via will call starting at the time of doors.
Children under 3 years old are Free.
Appropriate clothing required at all times (tops and bottoms covered).
Performers
Date and Time
Location
Refund Policy