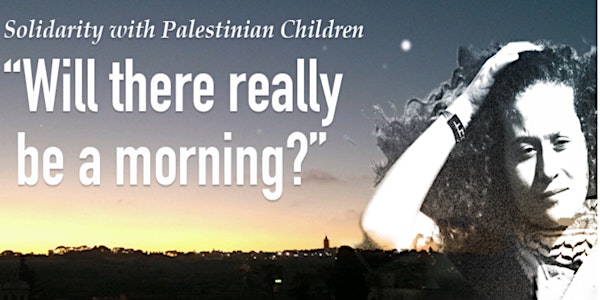 Will There Really Be a Morning? Solidarity With Palestinian Children
The Tree of Life Educational Fund in cooperation with Palestine Museum US invites you to an afternoon of music and conversation
When and where
Location
Palestine Museum US 1764 Litchfield Turnpike Woodbridge, CT 06525
About this event
Presentations & Discussions
Discussion to include what it means to be in solidarity with Palestine, and to hear more about the many challenges of daily life lived under military occupation.
Speakers include:
Cindy & Craig Corrie, Rachel Corrie Foundation for Peace and Justice
Mark Braverman, Kairos USA
Palestinian Student Youth Ambassadors
Musical Performances
Tamer Al-Sahouri, oud player, head of Arabic Music Dept., Edward Said Conservatory of Music; his wife Nadine Shomali, singer from Bethlehem University group WAJD and others; award winning singer, actress, producer of international renown, Amal Murkus, her son, Firas Zreik, kanun player and musical director – graduate in Performance & Jazz Composition, Berklee College of Music; and Alber Baseel, darbuka and rig hand percussionist and 5th year Performance student, Berklee College of Music.
Speakers
Cindy and Craig Corrie
Cindy and Craig Corrie are the parents of human rights activist and observer Rachel Corrie who in 2003 was killed by an Israeli military operated Caterpillar D9R bulldozer in the Gaza Strip, as she tried to prevent the demolition of a Palestinian family's home. Motivated by their daughter's work and example, the Corries have dedicated themselves to the pursuit of peace with justice in the Middle Cindy and Craig CorrieEast and have made many visits to the region, including five to the Gaza Strip. In 2012 and 2016, Cindy Corrie co-led Interfaith Peace-Builder delegations to Israel, the West Bank and Gaza. In pursuit of accountability in Rachel Corrie's case and rights for Palestinians, the Corrie family has for years advocated in the U.S. at both state and national levels of government, and has sought justice through court systems in this country and in Israel.
The Corries reside in Olympia, Washington, where they support the work of the Rachel Corrie Foundation for Peace and Justice. In December 2010, the foundation was recognized for "outstanding service for Human Rights-Unique Achievement" by the Thurston County Diversity Council. The Corries are recipients of a Human Rights Advocates of the Year Award from Seattle University's Human Rights Network and a Pillar of Peace Award from the Pacific Northwest Region of the American Friends Service Committee. In October 2012, they accepted the LennonOno Grant for Peace on behalf of their daughter Rachel.
Mark Braverman
Mark Braverman is a Jewish American with deep family roots in the Holy Land. In his writing and speaking Mark focuses on the role of religious beliefs and theology and the function of interfaith relations in the current search for a just peace between Israel and the Palestinians. He is the Mark BravermanExecutive Director of Kairos USA, an ecumenical organization of churches in the U.S. founded in response to the Kairos call of the Palestinian Christians. He is Research Fellow in Systematic Theology and Ecclesiology at Stellenbosch University in South Africa. Over the years he has worked with the Presbyterian, Episcopal, Lutheran, Congregational, Methodist, Baptist, Catholic, Mennonite and Unitarian Universalist churches on their policies and actions with respect to Israel and Palestine, and also with African American church leaders on the issue. He has been active ecumenically, serving on the Steering Committee of the World Council of Church's Palestine Israel Ecumenical Forum, and as an advisor to the Public Affairs Committee of the General Council of the World Communion of Reformed Churches. Mark serves on the Board of Directors of the Tree of Life Educational Fund and the Advisory Board of Friends of Sabeel North America, and on the Global Kairos for Justice Theology Working Group of Kairos Palestine and on the Advisory Board of Friends of Sabeel North America.
Mark has lectured and trained internationally and is the author of two books — Fatal Embrace: Christians, Jews, and the Search for Peace in the Holy Land and A Wall in Jerusalem: Hope, Healing, and the Struggle for Justice in Israel and Palestine. He has authored articles and book chapters on Zionism, ecumenism, and the role of the global church in support of the Palestinian struggle. His writings, blog, and sermons can be found at www.markbraverman.org.
Palestinian Student Youth Ambassadors
Dalia Shenedah
Dalia Shehadeh is a senior at Bethlehem University where she is majoring in business administration with a minor in marketing. Her interests include making connections with people from different cultures, and business operations including project management and marketing. Dalia is a volunteer with the Palestine Red Crescent Society and she is a student ambassador for Bethlehem University. When Dalia has free time, she works as an intern in the emergency department at the Palestine Red Crescent Society hospital. Her experiences as both a student and an employee have taught Dalia the value of hard work, efficiency and good communication.
Rawan Ali
Rawan Ali earned her degree in Business Administration, with a minor in Translation, from Bethlehem University. She was an active student and enrolled in many extra-curricular activities. She especially credits the student ambassador program in helping her to grow and mature as it gave her the opportunity to meet people from all over the world, talk with them on important topics and issues, and feel pride at being able to represent her country, Palestine. Because of the occupation, unemployment is high, even among college graduates, so currently Rawan is unemployed, however, she has interned at banks, non-governmental organizations (NGOs) and a school. Currently she is working as a freelance photographer and translator and hopes to make a difference in the world.
Sofian Ali
Sofian Ali, 24, was born in Bethlehem, Palestine and is a law student at Palestine Ahliya University in Bethlehem. Sofian is an active member in the Student Senate and works as a volunteer for new students, helping with applications, registering and orientations. He also volunteers to help manage the student elections.
In addition to his studies, Sofian currently works as a waiter in his father's restaurant and has also worked as a cashier in other restaurants in Bethlehem. Sofian will soon be starting an internship as an advocate in a law office in Bethlehem.
Lama Abed
14-year old Lama Abed from Gaza City first traveled to the U.S. during winter 2019 as part of a delegation sponsored by Rebuilding Alliance to speak to Congress about the crisis in Gaza and her vision for peace. While a student at the UN's al-Mamounia School in Gaza City, she entered the competition to select a delegate from Gaza along with hundreds of other students attending UN schools throughout the strip. Her very strong English (she is self-taught) and public speaking skills earned her a spot on the delegation.
In addition to visiting Congress, Lama also went on a speaking tour throughout the mid-Atlantic states and New England. In a report on her trip by We Are Not Numbers, Lama is quoted as saying "I did my best to ask for support on behalf of all Gaza children, but how effective I was depends on the hearts of the listeners."
Musicians and Performers
Tamer Al-Sahouri
Tamer Al- Sahouri was born in 1987 in Beit Sahour, Palestine, and started learning the Oud at the Edward Said National Conservatory of Music (ESNCM) in 2000, graduating with distinction in 2009. He also earned a B.A. in Business Administration from Bethlehem University and another B.A. in Arabic music from Birzeit University. He is currently the head of the Arabic music department at ESNCM where he also teaches the Oud.
Tamer has performed in masterclasses and workshops with some of the world's leading Oud players, and at national and international festivals in Europe, Africa, USA, South America and the Middle East with the Palestinian Youth Orchestra. In 2009 he founded and leads the Bethlehem University's musical group "WAJD" which has represented Palestine in local and national events. Tamer has participated in four prior TOLEF Fall Series programs from 2011 – 2014
Nadine Shomali
Nadine Shomali was born in 1990 in Beit Sahour, Palestine. She obtained her B.A. in Business Administration, with a minor in Marketing, from Bethlehem University in 2012. She currently works as the Administrative Coordinator at QADER for Community Development in Bethlehem, working with people with disabilities.
She is the proud wife of talented musician Tamer Al-Sahouri, and mother to their beautiful 2-year old son, Hani. She was always passionate about music and started singing at an early age, joining the church choir and continuing throughout her university years with Bethlehem University's musical group WAJD.
In 2009, she joined the choir that celebrated a mass with Pope Benedict, and in 2014 she was part of the welcoming ceremony for Pope Francis.
She participated with the French singer/songwriter Hervé Demon in a series of concerts in France, and represented Palestine with WAJD in Tunisia at Sousse University's Music Festival twice. This is her second time joining the Tree of Life Fall Series.
Amal Murkus
Amal Murkus is a leading Palestinian singer and actress of international renown, who is also a producer and host of numerous TV and radio programs. She was born in the village of Kfar Yasif, in the Galilee and graduated in 1990 from the Beit Zvi Institute for the Performing Arts (Tel Aviv) and in 2007 from the Musrara Arts College in Jerusalem. She is a lecturer at the Arab Teachers Training College in Haifa.
She has had numerous collaborations with other artists including American folk-singer/activist Joan Baez, Argentine folk singer Mercedes Sosa, and the radical rock star Robert Wyatt, along with many others.
As an actress, Amal has appeared in numerous theater productions and TV shows and she is a regular cast member in the Palestinian/Israeli version of "Sesame Street." She was nominated for an Israeli Oscar (the Ophir prize) for her performance in the 1998 movie "The Milky Way," and has won several acting awards, including "Best Actress" at the Haifa International Film Festival in 2003.
Amal serves on the board of Free Muse, an organization working against the censorship of art and music, and was honored for her role in promoting freedom and peace by the Italian Province of Avellino, and for her support of women's issues by Women to Women USA.
Firas Zreik
Firaz Zreik is a Composer and Arranger and plays the Kanun. Firas was born in Haifa, Israel in 1995 and is currently based in Boston, MA. He received a full-scholarship from the Berklee College of Music where he studied for five years, earning two bachelor degrees in Performance & Jazz Composition with high distinction. Firas has recorded and performed with master musicians and artists from all over the world, including Roger Waters, Shankar Mahadevan, Amal Murkus, FabrizioCassol, Amir Al-Saffar, and many more.
Firas has performed throughout the U.S., Europe and the Middle East both as a Kanun player and as a musical director. He has participated in many international festivals including the Carthage International Festival – Tunisia, the Savannah Music Festival, Festival D'Aix-en Provence, and more. Venues played include Boston Symphony Hall, Lincoln Center – NYC, Berklee Performance Center, and many others. His mother, Amal Murkus, is a leading Palestinian singer of international renown and Firas is the musical director of her band.
Alber Baseel
Alber Baseel is a hand percussionist from Bethlehem, Palestine. He is a sixth semester Performance major at Berklee College of Music. After graduating from Bethlehem University, Alber was on staff as a percussion teacher at Sounds of Palestine, a childhood music and social
development program, as well as a workshop leader for the international music program Musicians Without Borders. A student of Edward Said Conservatory, Alber began his music education in the Classical Arabic tradition, where he learned what would become his principal instruments: Darbuka and Riq. While those instruments remain at the center of his discipline, his style has expanded to include Latin and African percussion. Throughout his career as a musician, Alber has enjoyed extensive travel performing throughout Europe, Northern Africa, the United States and South America.