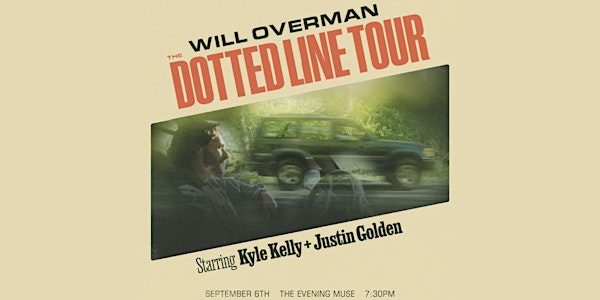 Will Overman with Kyle Kelly and Justin Golden
Performers
Will Overman
Kyle Kelly, Justin Golden
Location
The Evening Muse
3227 N. Davidson Street
Charlotte, NC 28205
\Will Overman with Kyle Kelly and Justin Golden
About this event
Will Overman is a singer-songwriter based in Charlottesville, VA.
Will's genre-bending, storytelling approach to songwriting is a product of being born and bred on the east coast, finding love and being tested on the west coast, and finding a renewed passion for his art around the world.
The central VA based singer-songwriter's music carries a maturity to match the up-and-down life he has lived over the past 26 years. From fronting a touring band while attending college, through-hiking the Appalachian Trail and traveling around the world for several months, to witnessing his parents divorce, standing by his wife as she fought and beat cancer twice, and going through tough financial situations while trying to make it as a creator; Will's songs evoke the wisdom of an old soul with youthful optimism. Listeners can easily recognize a blending of genres such as Folk, Pop, Country and Rock n' Roll in Will's music, bearing to mind the approach that legends Bob Dylan, Bruce Springsteen, or James Taylor took, and how today's singer-songwriter heroes such as: John Mayer, Jason Isbell, and Josh Ritter, have expanded on it.
Will initially found success with his collaborative project, Will Overman Band, touring up and down the east coast on the weekends while attending college at UVA. Consisting of musicians from central VA, the Southern Rock 'n Roll influenced Americana project released two EPs and an LP, playing bar gigs and festival slots (Merlefest, Appaloosa Music Festival, Roosterwalk) until in the spring of 2017, Will graduated and the band decided to go their separate ways. Not sure what to do next, Will began writing again, culminating in the release of his first solo studio work, 2017's Crossroads EP.
In the three years following the recording of his EP Crossroads, Will underwent a major growth and maturing period as life threw everything at him - both good and bad, all of which is captured on his debut solo LP, The Winemaker's Daughter (released Feb. 12, 2021). Will says, "The Winemaker's Daughter is about as close as you can get to a concept album without calling it one." Consisting of nine songs, The Winemaker's Daughter, is a retelling of the stories and moments from the last three years, of beauty made possible through pain, all with an undertone of hope for the future.
Although the record focuses on Will's pursuit of his wife Janey, his intimate, personal lyrics and dynamic melodies invariably lead listeners to trade places with Will and find their own romantic moments, intense heartbreaks, and fight for hope, woven in the songs on The Winemaker's Daughter.
Facebook | Spotify | Instagram
************
Kyle Kelly, a North Carolina native, discovered his love for music at the early age of eight. Kyle was drawn to the old classic sounds of greats such as Lynyrd Skynryd and Waylon Jennings, which inspired him to learn guitar and drums.
During college, Kyle was a pitcher for Catawba College baseball team, until he suffered a career ending injury. After recovering, Kyle found perseverance in music. As a self taught musician, Kyle began to write songs about his life, his truck, and his friends. Not long after, Kyle began to play live shows across North Carolina.
Kyle Kelly released his debut record "Lake Weekend" in July 2020, which is seeing a tremendous amount of success on Spotify. In response to the graciously warm reception by thousands of listeners, Kyle released a follow up music video to "Lake Weekend", where you can see his love for classic cars, friends, and having an all around good time!
From classic cars to classic country music, this 26 year old country music artist is a true throwback, embracing the look and sounds of the '70s and '80s. A nostalgic feel is often reflected in Kyle's music while still implementing his own personal touch of a modern spin.
************
With roots in the Mississippi Delta, Chicago, and the Piedmont of Virginia, Richmond-based guitarist and songwriter Justin Golden's origins are deeply vested in the blues. First picking up the guitar at age 19, Golden did what came naturally and let the music flow through him. With an extremely diverse musical palette, Golden aims to bring some new ideas to traditional blues forms. In addition to his work as a recording and performing artist, Golden maintains a busy teaching schedule and works with the non-profit The Rhapsody Project to provide community enrichment through anti-racist cultural heritage programs.