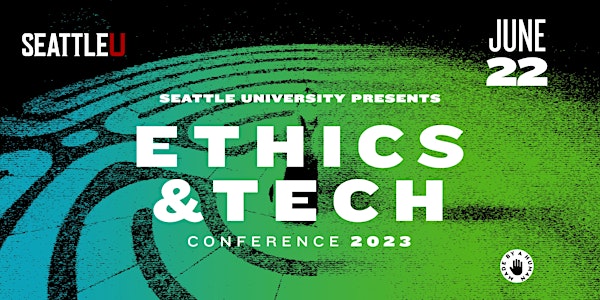 Will Intelligent Machines Prepare the Next Workforce? Three Perspectives
Will Intelligent Machines Prepare the Next Workforce? Three Perspectives
By Seattle University Advancement
Date and time
Thursday, June 22 · 12 - 5:30pm PDT
Location
Seattle University 901 12th Avenue Seattle, WA 98122
About this event
5 hours 30 minutes

Mobile eTicket
Rapidly emerging technologies are already reshaping workforce preparation as artificial agents inform, provoke, influence, and facilitate change. The rise of machine learning raises ethical concerns surrounding the values-laden nature of human-to-human knowledge transfer.
At Seattle University's 2023 Ethics and Technology Conference we will hear three perspectives, exploring the role of AI in preparing workers for short- and long-term success, the implications for the shifting educational landscape, and the potential impact of intelligent machines on tomorrow's workforce. Join the thought-provoking discussion as together we tackle the big question: will intelligent machines take over the jobs of the very workers they train? 
Meet the speakers
Blaise Agüera y Arcas
VP & Fellow at Google Research
Blaise Agüera y Arcas is a VP and Fellow at Google Research, where he leads an organization working on basic research and new products in Artificial Intelligence. He is the inventor of Federated Learning, an approach to training neural networks without compromising data privacy, and many of the AI features in Android and Pixel phones were developed by his team. Blaise also founded Google's Artists and Machine Intelligence program, and has been an active participant in cross-disciplinary dialogs about AI and ethics, fairness and bias, policy, and risk. In 2008, he was awarded MIT's TR35 prize. He has given TED talks on Seadragon and Photosynth (2007, 2012), Bing Maps (2010), and machine creativity (2016), and written widely read essays on art and technology, physiognomy and bias in AI. He has written a novella, Ubi Sunt, and his recent articles and op-eds express heterodox views on current hot topics in AI.
Fr. Paolo Benanti
Rome Call for AI Ethics Advisor to Pope Francis
Professor, Pontificia Università Gregoriana 
Paolo Benanti, born in Rome (Italy), on 20 July 1973, has been a Franciscan of the Third Order Regular since 1999. His studies have included engineering (La Sapienza), as well as philosophy and theology (Lateran, Gregorian), with special interest in ethics and moral theology; his doctorate was in the area of bioethics. Professor of Moral Theology, Bioethics and Neuroethics at the Gregorian. He is a member of the Task Force on Artificial Intelligence of the Agenzia per l'Italia Digitale and the Prime Minister's Office. The author of many academic and more popular articles, he has recently published the books Postumano, troppo postumano. Neurotecnologie e human enhancement, Castelvecchi, Roma 2017, and, Oracoli. Tra algoretica e algocrazia, Luca Sossela Editore, Roma 2018.
Kate Schmidt
Director of Operations, Deloitte AI Institute
Kate Schmidt is Operations Leader for the Global Deloitte AI Institute. Kate focuses on amplifying Deloitte's Age of With™ messaging in the market, and connecting Deloitte's clients to the AI ecosystem. Prior to her role within the Deloitte AI Institute, Kate led large scale global finance transformation programs in consumer and industrial products, life sciences, and high tech industries.
ROUNDTABLE MODERATOR
Daniel Kluttz
Director of Sensitive Uses, Office of Responsible AI at Microsoft
Daniel leads Microsoft's Sensitive Uses of AI program in its Office of Responsible AI. In that role, he has built the Sensitive Uses team that advises engineers, product managers, and legal affairs professionals on Microsoft's most critical and sensitive AI-driven products. In addition to product consulting, Daniel drives responsible AI strategy, develops governance programs, and advances policies so that Microsoft delivers on its responsible AI principles and innovates responsibly. Daniel's unique background as an attorney and sociologist informs his work bridging the legal, societal, and technical dimensions of developing and deploying AI at scale.
Agenda
12 p.m. Registration
1 p.m. Welcome
1:15 p.m. Perspective 1: Blaise Agüera y Arcas
2 p.m. Perspective 2: Kate Schmidt
2:45 p.m. Networking break
3:30 p.m. Perspective 3: Fr. Paolo Benanti
4:15 p.m. Roundtable Discussion moderated by Daniel Kluttz