Join Project AIHR for a discussion on 'Will AI bury Human Rights?' with our guest lecturer Rowena Rodrigues.
About this event
Project AIHR at Jindal Global Law School is delighted to present our Inaugural Lecture series in 2021. The lecture on 'Will AI bury Human Rights?' is the second event which is being held during Fall 2021.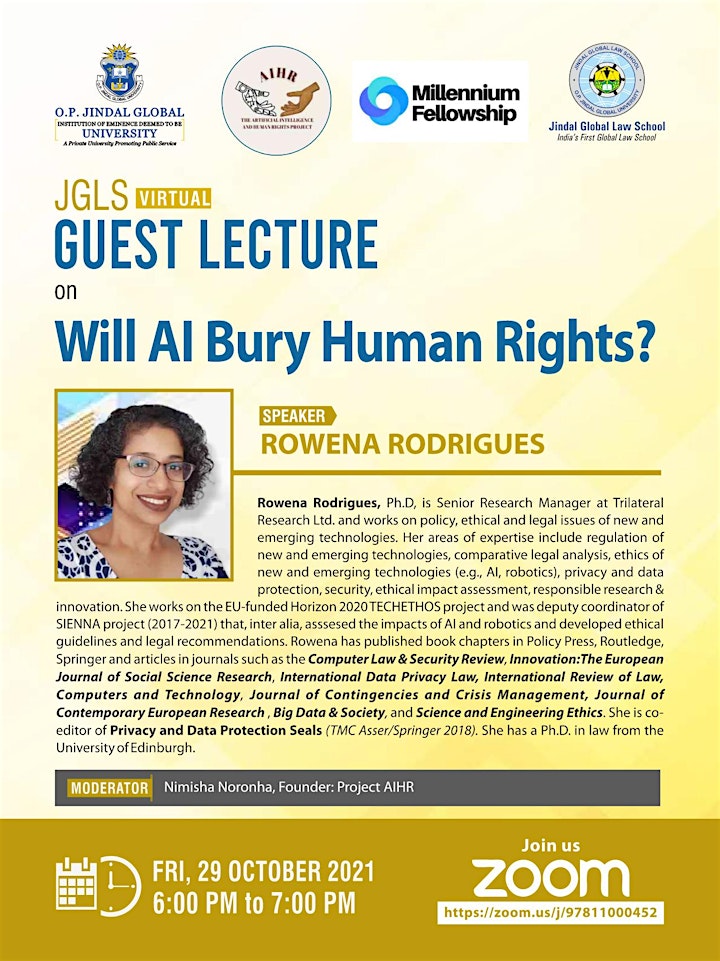 Organizer of Will AI Bury Human Rights? - Rowena Rodrigues
The Project on Artificial Intelligence and Human Rights aims to facilitate research, leadership, and student curiosity in the field and to emerge at the forefront for spearheading student involvement in regulation. The focus of the project will be to contribute and lead the ongoing debate on the emerging gaps in the legal framework. With the idea of initiating information dissemination through webinars, it will lead the student cohort into innovative, inventive discussions surrounding the legal, ethical, philosophical complexities that surround the ever-increasing intersection of artificial intelligence and society. The Project shall offer a host of experiences that shall contribute towards networking initiatives and increasing the knowledge available to the members. Further, it shall work towards capacity building in the varied specializations within artificial intelligence and human rights discourse and inspire students of JGU to contribute to the field collectively and effectively.
The field poses immense challenges for human rights violations especially considering the pandemic and the development of deep fakes, humanoid robots, and criminal investigation through AI. It will also explore the possibility of legal personhood for AI and the implications of rights for the same. It will also initiate discussion surrounding the philosophical approach to artificial intelligence and aims to analyze the implications of artificial intelligence and its ethics through the lens of various philosophical theories that aim to understand and develop an ethical framework based on an understanding of the system and the level of interplay with sentience. It aims to provide students the opportunity to interact with stalwarts of the field and gain exposure as an emerging field of regulation.