Description
The 2018 Wildlife West Music + Art Festival produced by Southwest Pickers kicks off with a Chuckwagon Supper and Show on Friday, July 27, 2018 at 7pm featuring The Merlettes! Then on Saturday, July 28, 2018 the concerts, jamming and workshops kick off at 11am. Headliners include Karl Schiflett & Big Country Show, Wood & Wire, The Cowboy Way, Higher Ground Bluegrass, The Merlettes, David Thom Band, Lani Nash Band, Gerard Bezzeg, Pegie Douglas and Just Larry. PLUS: Enjoy FREE Dry camping at Wildlife West during the festival. Food vendors, art vendors and beer by Sierra Blanca Brewery. Admission to the park to view the animals is included with festival ticket price.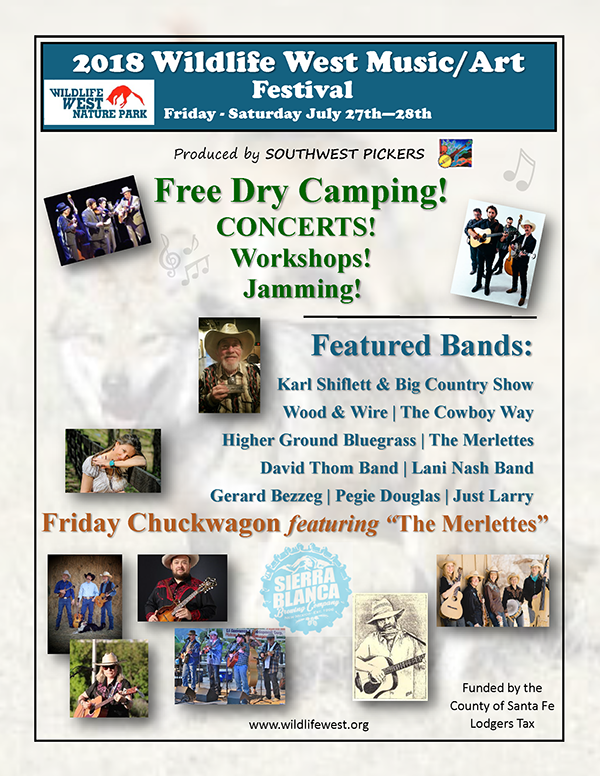 FRIDAY JULY 27 CHUCKWAGON AND SHOW FEATURING THE MERLETTES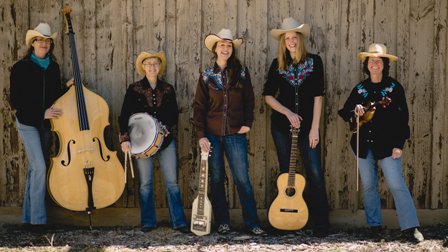 The Merlettes are all about the twang. And the girls: five sassy, up-to-date honky-tonk ladies fronted by vocalist Kristina Jacobsen on rhythm and lapsteel guitars, with mandolin and fiddle leads, a slap-happy upright bassist, and a deep-pocketed drummer. Featuring the tunes of Merle Haggard, Loretta Lynn, Kitty Wells, and Tammy Wynette, along with Jacobsen originals in a classic C&W vein, theyíll have you scorching the sawdust on the dance floor one minute and crying in your beer the next. Their air-tight, high lonesome harmonies captivate the ear and the heart as they celebrate the strength of our connections and the gritty twang of the human spirit.
SATURDAY JULY 28 CONCERTS, JAMMING AND WORKSHOPS FROM 11AM-10PM FEATURING:
Karl Shifflet and Big Country Show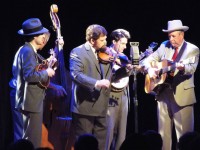 Among the most beloved and respected entertainers in the music industry today, The Karl Shiflett & Big Country Show continues to keep the spirit of the past alive with their 'Old School' delivery of Vintage Bluegrass and Classic Country Music. "Real Country Music" as they like to put it. Harnessing the synergy and raw edginess of Classic Country Acts of the 1940's and 50's they bring the best of the past to the present with an energized fusion of bluegrass, western swing, honky tonk and classic country music. Delivered in a fast paced, high energy stage show around a vintage RCA ribbon microphone their name has become synonymous with quality family entertainment.
Wood & Wire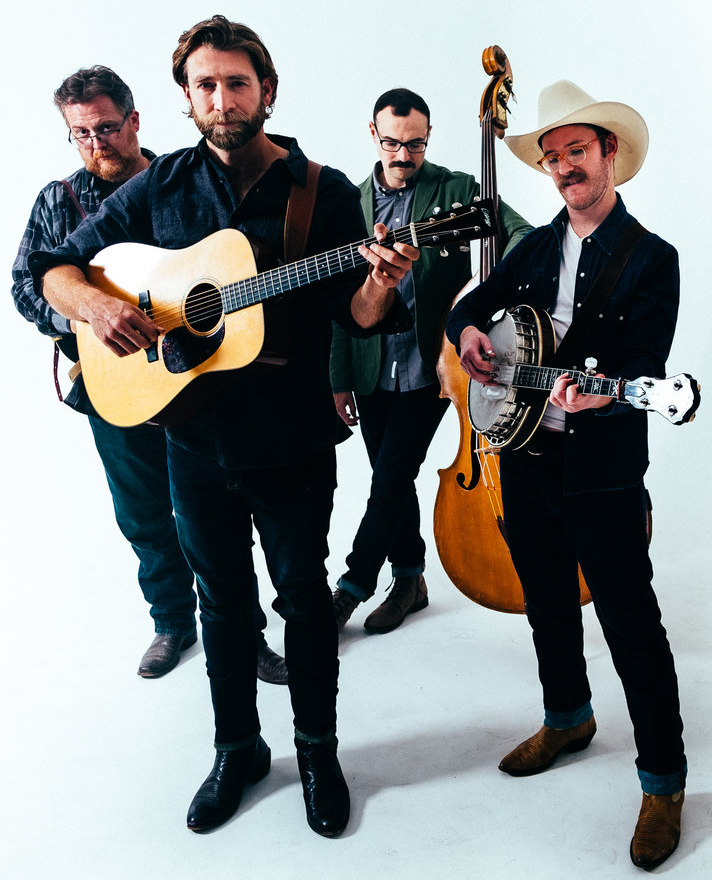 It's been five years now since Wood & Wire sprouted out of the rich musical soil of Austin, Texas. In that time,
they've written music, recorded albums, and performed at some of the most notable festivals and venues across the country. In the often tightly defined genre of bluegrass music, Wood & Wire's "band-style" ethos are not unheard of. Nor are the elements of song crafting, so often associated with their Texas home, that permeate their sound. That said, what comes out of the Wood & Wire blender is something entirely its own.
The Cowboy Way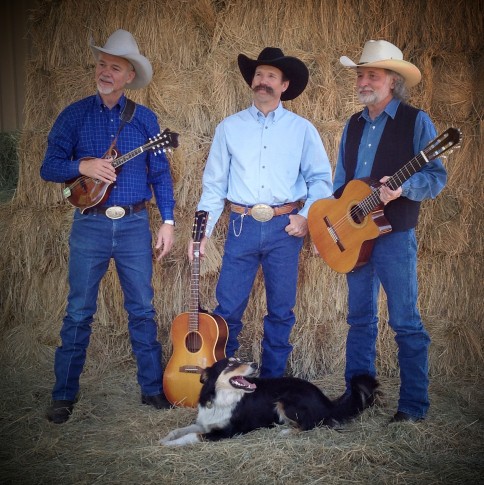 The Cowboy Way is a trio of award winning musicians from New Mexico. Their family friendly shows feature tight harmonies, high energy and smoking instrumentals. These prolific songwriters take you on the ride of a lifetime as they honor the traditional cowboy songs and bowl you over with a dynamic cover of a southern rock tune. The Cowboy Way presents professional , crowd pleasing entertainment sure to fit right in with your festival, concert, educational or corporate event. WINNER 2017 Western Heritage Wrangler Award Western Album of the Year.
Higher Ground Bluegrass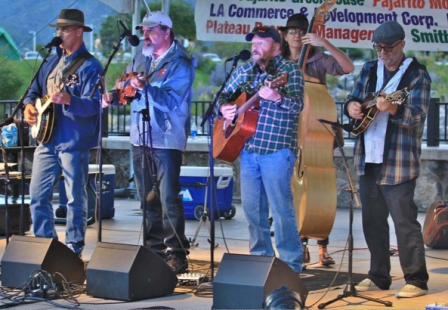 With four members providing vocal contributions, the swapping of lead and harmonies offers something new and appealing for each song in their repertoire. Higher Ground was established in early 1998 when a group of talented New Mexico musicians found they shared a common interest in Bluegrass music. Performing original material penned by members of the group, the band also plays a variety of Bluegrass oriented tunes to include traditional and contemporary selections. Their philosophy remains one of developing interesting arrangements of original material and lesser known songs, and adding something new and unique to standard bluegrass tunes. With four members providing vocal contributions, the swapping of lead and harmonies offers something new and appealing for each song in their repertoire. Performing in NM and CO, Higher Ground delivers a superb blend of, and interpretation of, Bluegrass music.
David Thom Band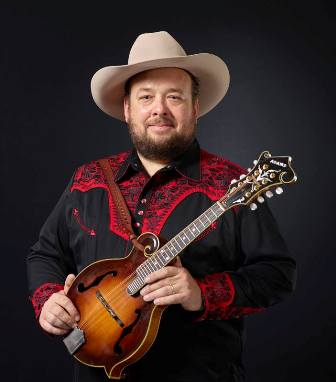 In a career spanning over 22 years, David Thom has established a solid musical reputation, growing from mainstay of the California bluegrass scene, to becoming a nationally and internationally recognized performer.
Lani Nash Band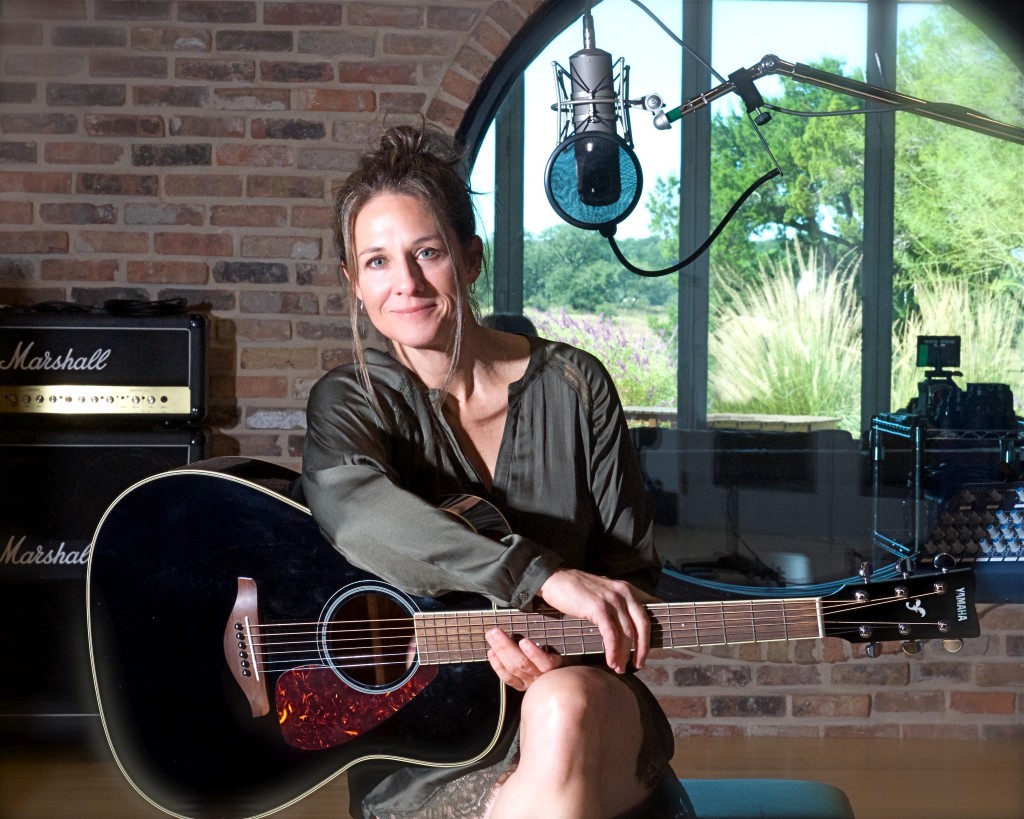 Lani Nash, a notable singer-songwriter moves audiences of all ages with her poignantly beautiful lyrics, and vocals that linger with a genuine heartfelt quality. Lani is just recently signed a production and publishing deal with Lucky Hound Music in Austin, Texas.
Gerrard Bezzeg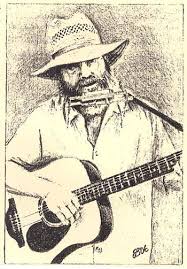 Gerard Bezzeg, musician and poet.
Pegie Douglas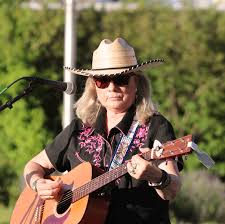 While Pegie Douglas grew up in North Carolina, her roots are on the prairie near Faith, South Dakota. She retired as a Special Education Teacher after 20 years with the North Carolina school system. Before retiring, she enjoyed singing and creating original songs. She discovered South Dakota's first poet laureate, Badger Clark, while visiting the area. Since 2007, she has set fourteen of his poems to music. She has enjoyed living in the Black Hills from May to October since 2009 and performing these songs throughout South Dakota and other parts of the West. In 2012, she created the show: 'The Life and Music of Badger Clark' to be performed at the Tatanka Barn Theater at Custer State Park. The hour long show features stories about Badger Clark's life and poetry set to music.
Just Larry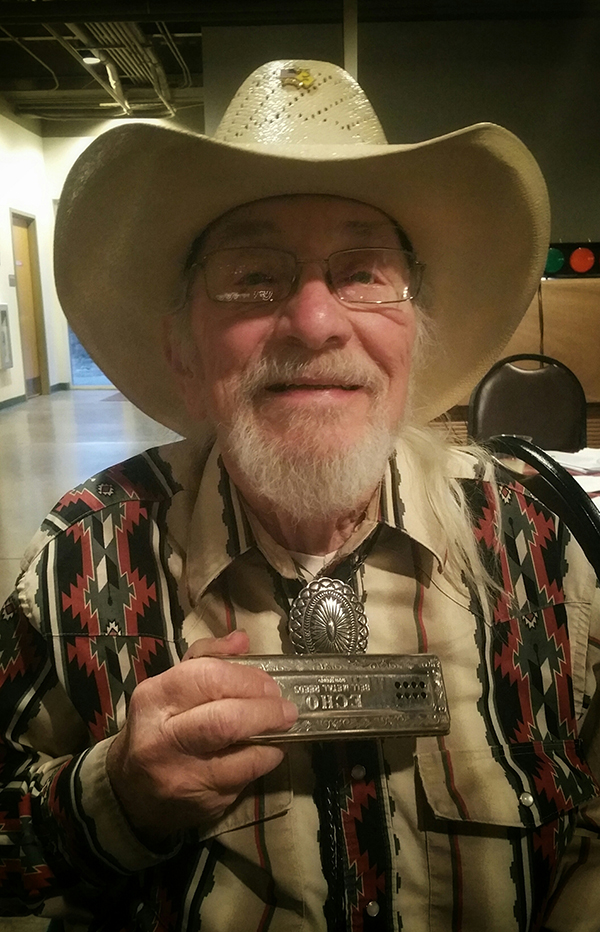 Larry brenner, harmonica (mouth harpist) extraordinaire.