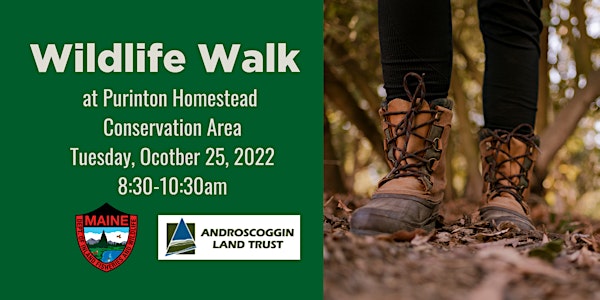 Wildlife Walk at Purinton Homestead Conservation Area
Join us for a fun and relaxing walk on the trail. We will keep an eye and an ear out for various signs of wildlife.
When and where
Location
Purinton Homestead Conservation Area 267 West Rd Bowdoin, ME 04287
About this event
Join MDIFW staff for a delightful walk through the Purinton Homestead Conservation Area in Bowdoin, ME
Tuesday, October 25, 2022 8:30-10:30am
Join us for a fun walk through the forest and along the Gillespie Brook as we look for various autumn bird species, which are typically our winter birds by this time of the year, and signs of other wildlife as they prepare for winter. We could see various signs of woodland mammals such as deer, raccoon, squirrels, and more. This preserve includes a 40-acre field and 100-acre forest. This property is managed by the Androscoggin Land Trust and it was donated to them by the Purinton Family.
Mostly an easy - moderate walk – approximately 2.5 mile round trip**
Meet at the trailhead in the parking area at 267 West Road, Bowdoin, ME 04287 near the West Bowdoin Baptist Church
To learn more about the Androscoggin Land Trust and this property: https://androscogginlandtrust.org/land-projects/purinton-homestead-conservation-area/
Registration is required
**Trails may have uneven terrain due to the nature of outdoor trails and could include but not limited to lose substrate, hard or uneven surfaces, logs, roots, rocks, wet, damp, or slippery, have an incline, fallen trees, or other trail hazards and variable conditions. We will do our best to accommodate and guide you through, but some natural features just occur. Please plan accordingly and be prepared. We ask that you use your best judgement based on your abilities. If you have questions, please call and we will do our best to explain the trail to you 207-592-0750.
**Be sure to wear sturdy and comfortable footwear such as sneakers or hiking boots. Bring walking sticks as desired and based on your experience. Also dress for the weather (non-cotton is best and dress in layers), bring water and a light snack, have the appropriate sunscreen and bug spray as well. Binoculars are not required but can be fun to have if you have a pair (a few pairs may be available to borrow if needed). It is good practice to also wear orange during hunting seasons.
Pets are not allowed on these guided wildlife walks, but service animals are welcome. Please be sure to leave pets at home since weather conditions vary by season and vehicles can become uninhabitable quickly for those left unattended inside vehicles.
MDIFW will cancel a program when weather or conditions presents an unsafe environment for participants. In most cases, decisions will be made 4 hours prior to the event. For morning programs, we will try and make the decision by 6pm the evening prior. Due to the unpredictability of the weather, MDIFW reserves the right to cancel programs at any point when it is deemed unsafe. Participants will be notified of cancellations via contact info provided at registration.