Sales Have Ended
Ticket sales have ended
Thank you for your interest in the 2018 National Park Photography Workshop Series. While registration for the Wildlife Photography Workshop has closed, please check out all of our other available options here: http://nationalparktripsmedia.eventbrite.com
Sales Have Ended
Ticket sales have ended
Thank you for your interest in the 2018 National Park Photography Workshop Series. While registration for the Wildlife Photography Workshop has closed, please check out all of our other available options here: http://nationalparktripsmedia.eventbrite.com
Description
Overview:
More than 460 lions, tigers, bears, wolves and other large carnivores roam freely in natural habitats in a rural area less than an hour from Denver. Come see them and learn how to become a better photographer during our incredible wildlife photography workshop at The Wild Animal Sanctuary in Keenesburg, Colo.
As an added bonus, our Tamron USA instructors will have their full complement of lenses available to loan out to you for the entire evening, including their award-winning 15-30 (FX and DX in Canon, Nikon, and Sony mounts).
The workshop will begin with a 2.5-hour photography class taught by Tamron's professional staff in a Welcome Center classroom. We'll cover tips on wildlife and sunset photography, as well as how to get stunning photographs using post-processing software and techniques. Afterwards, we'll take a 30-minute break to fuel up at the Lion's Den Cafe (food not included in your workshop fee) on site before we head outdoors with our cameras.
Standing 30 feet above the ground, we'll set up our cameras along the "Mile Into The Wild Walkway," an elevated boardwalk that stretches over 1.5 miles in length. From the boardwalk, which is the world's largest footbridge, we will spend the next 2.5 hours photographing lions, tigers, bears, wolves and more. Tamron's staff will work with you the entire time to help you finetune your techniques and answer your questions. Be sure to wear comfortable walking shoes, a sun hat and sunscreen since the boardwalk stretches 1.5 miles one way.
The sanctuary closes at sunset, so we will time our shoots, so that we can pack up our cameras and say our farewells at 7:50 p.m.
National Park Trips Media and Tamron USA have teamed up for the third consecutive year to offer Photography Workshops in and near national parks across the West.
What's Included:
Expert instruction by Tamron photographers
In-the-field personalized instruction at The Wild Animal Sanctuary
Full line of Tamron lenses available for all participants to use throughout the workshop
2.5-hour pre-shoot seminar (sunset techniques + post processing)
Coffee during the classroom portion of the workshop
Itinerary for Wild Animal Sanctuary:
Sunday, August 19th, 2018

1:15 p.m. – Meet at entrance of The Wild Animal Sanctuary to receive your entrance ticket and to make your donation.
1:30 p.m. – 4 p.m. – Pre-shoot seminar will take place in the Welcome Center classroom.
4 p.m. – 4:30 p.m. – Break to fuel up at the Lion's Den Cafe (or eat your food from home in classroom).
4:30 p.m. – 7:50 p.m. – Photograph the animals in the sanctuary via the 1.5-mile boardwalk with the class.
Workshop Headquarters and Host Lodging Partner
The Wild Animal Sanctuary
2999 County Road 53
Keenesburg, CO 80643
https://www.wildanimalsanctuary.org/
Transportation:
All participants must arrange transportation to and from The Wild Animal Sanctuary. Once there, you will be on foot to the classroom and then along the 1.5-mile boardwalk to photograph the animals.
Meals:
No meals are provided, but we will have a break from 4 pm- 4:30 p.m. during which participants can eat at The Wild Animal Sanctuary restaurant, the Lion's Den Cafe. It serves oven-fired, pizza, sandwiches, burgers and has a salad bar. The menu includes vegan, vegetarian and gluten-free options. There's also an ice cream shop.
Weather:
In August, average highs in the Keenesburg area are 84 with lows in the 50s. Because we're shooting in late afternoon/early evening, we could experience a summer lightning and rainstorm. We will follow all sanctuary rules in regards to inclement weather. Dress for the weather and bring extra layers in case we get afternoon rainstorms.
Inclement Weather:
In the event weather prevents us from using the boardwalk, we will have a contingency plan.
What to Pack:
DSLR, tripod, wide angle and zoom lenses (Tamron will have their full complement of lenses available for all participants to use, in both full-frame and crop-sensor models, including their new 15-30mm), a water bottle, extra memory cards, comfortable walking shoes (the boardwalk is 1.5 miles long), sunscreen, rain jacket or shell, sun hat, and sunglasses. A fully charged laptop is strongly recommended for the post-processing portion of the class.
Fee:
$179 + processing fees. Includes workshop and entrance fee to The Wild Animal Sanctuary. A separate donation that goes towards animal care, amount open to your discretion, is strongly encouraged to enter The Wild Animal Sanctuary. Airfare, meals, transportation to and from the sanctuary and lodging are NOT included.
Your Instructors:

Armando Flores
Armando studied photojournalism in college and worked at a camera store to support his new expensive photo habit. He has worked for Nikon, Sony and now Tamron, where he has honed his photographic skills for over 30 years. Photography has enabled him to travel to many foreign lands and to attend large media and sporting events. He's photographed professional sports for over 17 years and has worked for Reuters, AP, AMPAS, HFPA and IGLA as a contributing photographer, but his passion has always been to lend a hand to new aspiring photographers.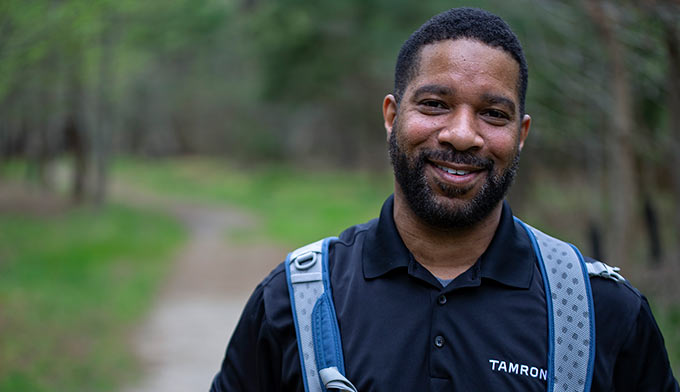 Damion Fearron
Damion has always been an avid admirer of the visual arts. His photography has been published in both solo and collaborative projects. As a Technical Representative, Damion's combined real world experience and extensive product knowledge will help inspire others to expand their interest in photography. With a strong in-depth understanding of the technology implemented in Tamron lenses, Damion is able to educate customers around the country. He enjoys the opportunities to travel on assignment, collaborating with his tech team members, and engage with photographers from beginner to professional.
Questions:
Please email Mikaela Ruland at MRuland@aimmedia.com.