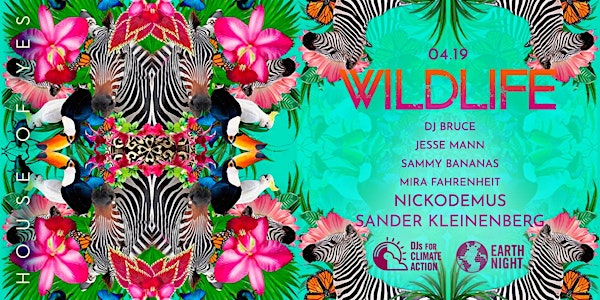 Wildlife: Earth Night
When and where
Location
House of Yes 2 Wyckoff Avenue Brooklyn, NY 11237
Description
A global celebration of creation, in honor of this mother planet and all that she gives us.
YES limited tickets will be available at the door - come at 10pm sharp to grab them!
Orbit the dance floor and move your body in the raw bliss of biodiversity, explore the environments of installations and surround yourself in the sweet sounds and all life forms that exist in this world. Live and breathe the beat of Earth Night!

: : : LOOKS : : :
Dress in Divinity for the Earth Mother. Prints, patterns, colors and vibrance, Global Gala, Biological beauty, Animal print perfection, Creatures & Creations, intergalactic excellence, Flora & Fauna, Earth Spirits, Plants and Planets.

See more inspiration here: https://pin.it/cioghxlvba2lpf
: : : MUSIC : : :
Sander Kleinenberg
Nickodemus
Mira Fahrenheit
Sammy Bananas
Jesse Mann
DJ Bruce
: : : FEATURING : : :
Live painting creations
Biodiversity Beauty Parlor
Earth & Air aerial art
Earth mother cleansings
Performance Rituals

::: The Beneficiaries :::
CO2 Logic: Facilitating projects around the world that offset humanity's carbon footprint, and help people whose lives will be most affected by climate change. www.co2logic.com
Little Sun: a non-profit that brings clean, reliable, affordable energy to the 1.1 billion people in the world living without electricity while raising awareness for energy access and climate action worldwide. https://littlesun.com
::: DJs for Climate Action :::
A coalition of DJs and Musicians using the power of music to amplify your role in protecting our planet's future. EARTH NIGHT is a global initiative to harness the energy of nightlife to raise awareness and funds for effective climate action. www.djs4ca.com #EarthNight19
100% of the DJ fees and ticketing fees are being generously donated to the beneficiaries.

21+ | No Re-Entry

::::::: FREE-BEFORE-11PM RSVPS :::::::
• An RSVP on Eventbrite is required to get in Free before 11pm.
• There is no free entry at the door without an RSVP.
• Free RSVPs go live when the party is announced.
• A final batch of 50 RSVPs will become available at 9am Monday on the week of the event.
• RSVPs are NON-TRANSFERABLE. Your name on the RSVP must match your legal ID.
• Selling a Free RSVP for money is against the spirit of House of Yes - don't do it!

::::::: CONSENT POLICY :::::::
Behave with beauty, connect with intention. We are obsessed with Consent. Always ASK before touching anyone at our events. If someone is violating your boundaries or harassing you, please speak to staff or security. We have a zero tolerance policy for harassment. If you feel something, say something, and we will help. Questions about consent at House of Yes? Let us know: consent@houseofyes.org.
::::::: COMMUNITY & ACCESSIBILITY :::::::
This is a space for everyone to feel welcome. Racism, sexism, ableism, ageism, homophobia, transphobia, or any other form of discrimination will not be tolerated. All restrooms are gender inclusive. Everyone is free to use the restroom that best fits their gender identity or expression. All entrances and spaces within the venue are single-level. Strobe lights are used during performances and parties.
::::: TICKETING POLICY :::::
All events are 21+. Valid ID is required for entry. We can only guarantee the validity of your ticket if purchased directly from Eventbrite or Resident Advisor. Any tickets purchased second-hard or via third party vendors cannot be validated or accommodated in the event of an issue (fake or duplicate tickets). Be vigilant about ticket scammers; do not send money unless the ticket seller can prove they are able to do an official ticket transfer. Reselling a ticket above face value goes against the spirit of the event - Don't do it!