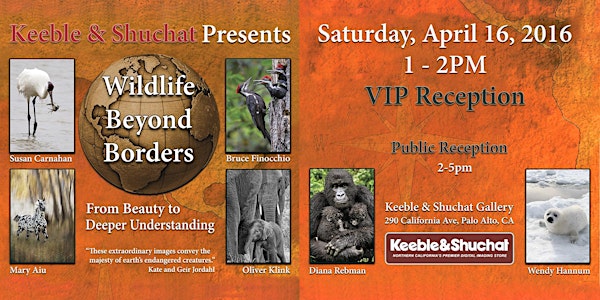 Wildlife Beyond Borders - VIP Opening Reception
When and where
Location
Keeble And Shuchat Photography 290 California Avenue 2nd Floor Palo Alto, CA 94306
Description
The glue that binds these photographers exhibiting in Wildlife Beyond Borders lies in an evolution of thought and practice. Each has answered the question of what matters, what is important and what is worth doing by looking outside the human condition. One was a lawyer, one a doctor, another one was once a cattle ranch manager, and one was even a hunter - they now share a common goal, concern and love for wildlife.

Location: Keeble and Shuchat. 290 California Ave, Palo Alto, CA 94306
VIP Reception: April 16, 2016, 1:00 to 2PM (Limited seatings, free event)
Public Reception: April 16, 2016, 2:00 to 5:00 PM (Free Event)
Artists: Oliver Klink, Wendy Hannum, Diana Rebman, Mary Aiu, Susan Carnahan, and Bruce Finocchio
Come to the April 16 VIP reception and meet the artists personally and hear their stories of inspiration, share their passion for wildlife, and learn more about their creative processes.