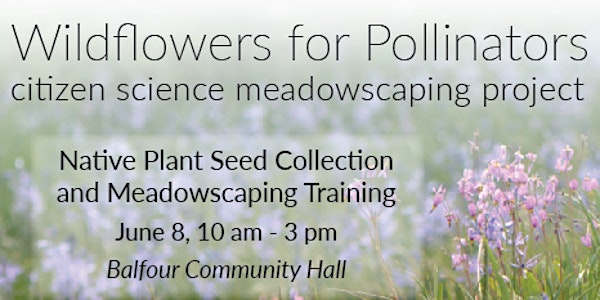 Wildflowers for Pollinators: Native Plant Seed & Meadowscaping Training
Description
The Kootenay Native Plant Society has a new project called Wildflowers for Pollinators developed to introduce meadowscaping to the West Kootenay and to launch the Kootenay Lake Wildflower Seed Library. As part of this project we are hosting free Native Plant Seed Collection and Meadowscaping Training.
During this Citizen Science themed workshop Kootenay Lake residents will be trained in native plant and pollinator identification, seed collection and care, and the meadowscaping approach. Refreshments and lunch will be provided. The workshop includes a site visit to a local natural area.

For the Wildflowers for Pollinators project we will be selecting six natural areas on private or conservation lands for the creation of a new meadow or enhancement of a degraded meadow.
If you have, or know of, an area to be considered for this meadowscaping project, please email us directly at: kootenaywild@gmail.com

Please note that selected meadows for creation or enhancement can only occur in Electoral Areas A, D, or E of the Kootenay Lake region. See Map for Electoral Areas.

The Wildflowers for Pollinators Project is supported by the Kootenay Lake Local Conservation Fund and partners include Idaho Panhandle Bees to Bears Climate Adaptation Project (B2B), Yellowstone to Yukon Conservation (Y2Y) Initiative, and KinSeed Native Plant Seed and Consulting.

Organizer of Wildflowers for Pollinators: Native Plant Seed & Meadowscaping Training