WildFlower, NYC's first vegan pop-up, will feature 3 days of innovative, creative and flavorful plant based cuisine by Chef Ayinde Howell.

Multiple Dates
Event Details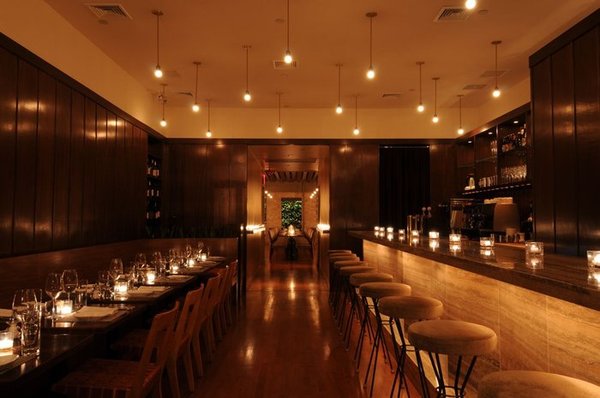 About WildFlower
The pop-up will run Friday, 6/10 through Sunday, 6/12 @ LTO 171 East Broadway,
 New York City, NY
NYC's first plant based, pop-up restaurant was hatched by Chef Ayinde Howell and made possible by his I Eat Grass (dot) com community via Kickstarter. Howell, a life long vegan and vegan chef for over 12 years would not call himself an expert on the subject of plant based cuisine. He's still learning , "I want to give people the full spectrum of vegan cuisine as I have experienced it as a lifestyle and as career." From that thought, the seed for WildFlower grew. Growing up in the food business, the budding chef was always in the kitchen, "Some of the most memorable and important moments in my life happened in the kitchen."  Through WildFlower, he will share his story through 28 courses over three days. There will also be an a-la carte brunch Sunday where Howell will bring back crowd favorites from his Petit Dejeuner aka the Brooklyn Waffle Brunch mixed up with a few new items.  The most notable addition is The Closest I'll come to Chicken & Waffles Waffle.
Earth, Grill & Fire Menu 
*All ingredients organic when possible.
Friday Night: Southern Contemporary American Supper
Amuse: Spinach, Avocado & Watermelon                                      
with balsamic Grand Mariner glaze
Mac & Yease                                                                                                                         
Chef Ayinde's version of mac & cheese, a creamy, savory old family recipe
Grilled Romaine                                                                                   
with cashew ranch dressing and smoky "bacon placebo" bits
Mr. Howell's Potato Salad                                                                
New potatoes, celery, chives, and crushed mustard seeds
Hot Water Cornbread                                                                      
with rhubarb chutney
Grilled, BBQ Rubbed Seitan Brisket                                            
with sautéed mustard greens
Cherry Cobbler Topped Biscuit                                                            
with vanilla ice cream
Featured Cocktail:
Los Lonely Hearts Margarita
Saturday Brunch: Louisiana Cajun

Mate Au lait with Beignets                                                          
Chef Ayinde explores a classic with sweet yerba mate, almond milk topped off with Louisiana sweet bread.
Dirty Quinoa                                                                                                 
A gluten free super food twist on a traditional southern staple.
Cajun Mac & Yease                                                                                  
With hot chilies and bits of "bacon placebo" Chef Ayinde's smoky, fatty, plant based gesture for all bacon lovers.
Muffletta                                                                                                                               
Chef Ayinde's take on the poor man's sandwich with bits of flavorful tofu, quinoa, lettuce, olives mix, capers, pickled onions.
Rum Spiked Pralines                                                                                
A sweet heady finish.
Featured Cocktail:
Sazerac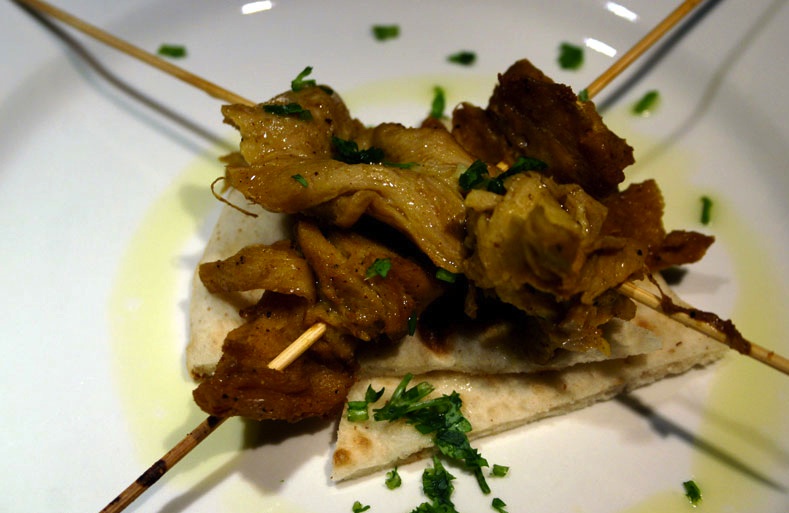 Saturday Night: Raw-Fusion (gluten free)
Amuse: The chef's secret course.
Fire-Roasted Polenta Quinoa Cakes                                                            
with radish slaw & raw dill aioli
Spicy Gazpacho Shooters                                                                   
accompanied with radish chips
Roasted Breadfruit                                                                              
with raw, spouted sunflower scallion pesto
Fire-kissed Tempeh, Chimichurri                                                   
with apple mofongo
Cardamom, Chia Seed Pudding
Raw Chocolate Ice Cream
garnished with bourbon infused orange slices
Featured Cocktail:
White Grape Cucumber Martini
Sunday: Petit Dejeuner Waffle Brunch
 A la cart pricing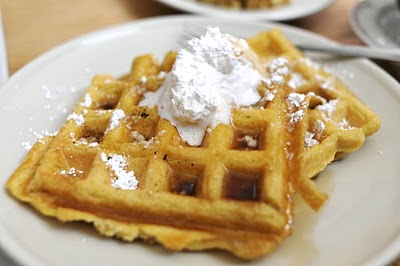 The Closest I'll Come to "Chicken & Waffles"                                                 
Roscoe ain't got nuthin on this… two crisp classic waffles topped with Spicy Tempeh
Reese Cup Waffle                                                                                                          
Two vanilla cocoa waffles topped with chocolate and peanut butter sauce  & hand whipped cream. 
Mexican Hot Cocoa Waffle                                                                                                      Two vanilla cocoa waffles topped with cinnamon and toasted cayenne & hand whipped cream. 
Orange Creamsicle                                                                                                               
Two orange, vanilla scented waffles topped with orange reduction & hand whipped cream.
Le Classic Waffle                                                                                                         
Two, vanilla waffles topped with butter, maple syrup & hand whipped cream (add fresh fruit).
Mac & Yease                                                                                                                             Chef Ayinde's version of mac & cheese, a creamy, savory old family recipe.
Bacon Placebo                                                                                                                           

A kind smoky, fatty, plant based gesture for all the bacon lovers out there.
Jerk Ackee Scramble                                                                                                 
Scotch bonnet pepper laced ode to the Jamaican breakfast fruit
Featured Cocktail:
Smoked Bloody Mary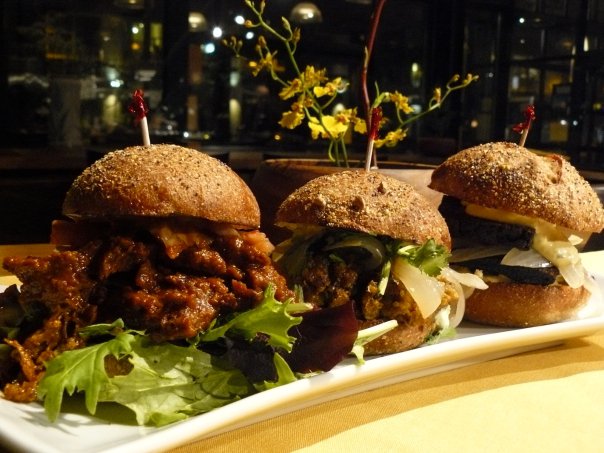 Sunday Night: Street Food Favorites
Biscuit Slider Duo:                                                                               
featuring the Crazy Jamaican Burger & the Flaming BBQ Burger
Seitan Shwarma                                                                                       
The favorite plant based meat substitute… on a stick
Pineapple Pizza Sliders                                                                     
Hearty tomato sauce, italian tofu sausage, red peppers pineapples & white onion   
Quinoa Nachos                                                                                      
Savory quinoa, onion, black olives, cheesy sauce served over yellow corn chips 
Street Taco Duo:                                                                                              
Ayinde's twist on two classics, Korean seitan taco & Beer battered tempeh taco
Churros                                                                                                   
A classic street food served with hot chocolate
Belgian Beer Floats                                                                             
Vanilla ice cream over an ice cold stout.
Featured Cocktail:
Poached Pear Manhattan
Have questions about WildFlower, NYC's first vegan pop-up, will feature 3 days of innovative, creative and flavorful plant based cuisine by Chef Ayinde Howell.?
Contact www.ieatgrass.com