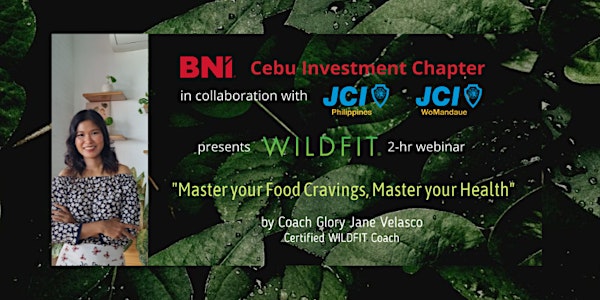 WILDFIT Webinar: Master Your Food Cravings, Master Your Health
BNI Cebu Investment Chapter and JCI WoMandaue proudly present this eye-opening webinar on how to master our health by WILDFIT Coach Glory
About this event
Do your food temptations and cravings make you eat more and feel guilty later?
Are you finding it hard to lose weight and feel afraid to look at the weighing scale?
Do you want to feel consistent, but you keep on yo-yo dieting and can't keep a promise to yourself?
Then this is for you! Learn how to master your food cravings and yourself so you can master your health.
Join us in our quest to help build healthier communities thru a 2-hr 'eye-opening' seminar on: "Master Your Food Cravings, Master Your Health" by Philippines' 1st Certified WILDFIT Coach Glory Jane Velasco.
The webinars will be held on:
* Oct 04 (Tue) at 7:00 to 9:00 PM* Oct 06 (Thu) at 7:00 to 9:00 PM* Oct 12 (Wed) at 3:00 to 5:00 PMRegister for FREE.