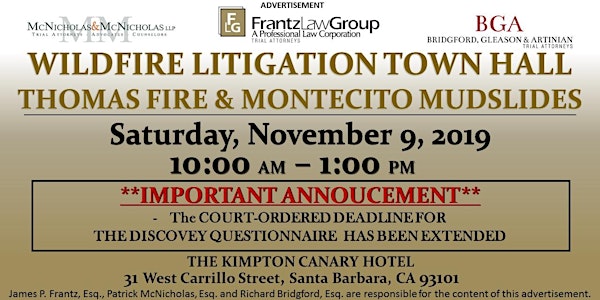 Wildfire Litigation Town Hall Meeting for Thomas Fire & Montecito Mudslide
NOVEMBER 9, 2019 - WILDFIRE LITIGATION TOWN HALL MEETING FOR THOMAS FIRE & MONTECITO MUDSLIDES
When and where
Location
Canary Hotel 31 West Carrillo Street 1500 Palma Drive Santa Barbara, CA 93101
About this event
***IMPORTANT ANNOUNCEMENTS***
- DISCOVERY QUESTIONNAIRE DEADLINE HAS BEEN EXTENDED!
- DEADLINES TO PURSUE CLAIM ARE QUICKLY APPROACHING
- TRIAL DATE SET for APRIL 20, 2020
* If you have not started or completed your Discovery Questionnaire, please join us at this Town Hall Meeting to get this Court-Mandated Discovery Questionnaire completed.
**If you know of any neighbors, friends or family who are interested in bringing a claim for damages from the fires and/or they are interested in retaining with our offices, they need to act immediately to be included in any future settlement or trial.**
Experts will be available to discuss the status of the settlement/litigation, the cause & origin of the wildfire, obtaining compensation for damages, handling the insurance company, rebuilding options, and how Southern California Edison (SCE) is allegedly at fault.
If there is no recovery, you are not responsible for payment of any attorneys' fees to us or costs advanced on your behalf.
We charge no fees on your undisputed insurance recovery.
We only charge fees on what we recover from SCE.
- Our Extensive Experience -
• In September 2018, Frantz Law Group, APLC successfully resolved (just prior to trial) several wildfire disaster claims against SCE for millions of dollars.
• Currently represent over 13,000 victims of public utility alleged negligence.
•Frantz Law Group successfully represented over 1,000 homeowners and businesses harmed by the 2007 wildfires in Southern California which were caused by the alleged negligence of several utility corporations (Sempra Energy and SDG&E). That fire disaster ultimately resulted in payouts by the utility companies and others (for all the clients represented by attorneys, including our clients) of over $2 billion dollars*.
•Obtained a national-record-setting $55.4 million* ** wrongful death jury verdict against a public utility for failing to maintain its electrical equipment, causing the death of four U.S. Marines.
Food, Refreshments, and Valet Will Be Provided. All that have suffered fire losses are welcome!
For more information, please call (323) 425-8138 or (805) 586-3605
Visit our website: www.frantzlawgroup.com
Our Office Location:
Century Plaza Towers, 2029 Century Park East, Suite 400, Los Angeles, CA 90067
Barrister Suites, 1500 Palma Drive, Ventura, CA 93003
If you have already retained a lawyer regarding this matter, please disregard this notice.
*Results in other matters are not a guarantee or prediction of the outcome of your legal matter. Results are dependent on the facts of each case, and different facts can result in different outcomes.
**Reduced and appealed, resolved for a confidential amount. (The successes and honors listed above were obtained individually by Frantz Law Group, APLC).
James P. Frantz, Esq., Patrick McNicholas, Esq. and Richard Bridgford, Esq. are responsible for the content of this advertisement.