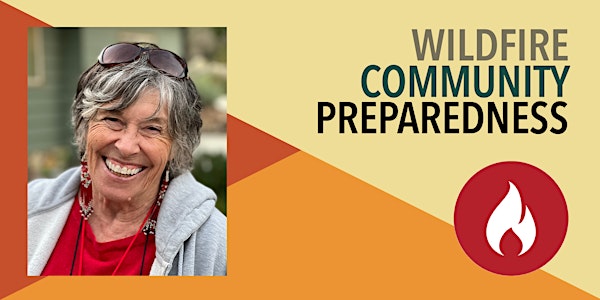 Wildfire Community Preparedness with Kat High
Are you and your neighbors prepared for wildfire?
When and where
Location
Theodore Payne Foundation - Ed Center 10459 Tuxford St Sun Valley, CA 91352
About this event
Wildfire is an inherent part of life in Southern California. It is both an essential element of our local ecology that contributes to the rich biodiversity of the region as well as a very real and dangerous threat.
Join special guest, Kat High, to learn how communities are responding and organizing to create wildfire resilient communities. Kat is a native plant gardener who has lived in Topanga Canyon for over 40 years and is a participant in Topanga Coalition for Emergency Preparedness (TCEP) Neighborhood Network for Zone 7. Learn how neighborhood fire safe councils are created and how communities support and protect each other in the wildland-urban interface.
Kat High is a Native Californian of Hupa descent. She served as the Director and Program Coordinator for the Haramokngna American Indian Cultural Center for over 15 years. Kat is a member of the California Indian Storytelling Association, and has done storytelling at libraries, schools, the Dorothy Ramon Learning Center, and other locations in Southern California. Kat has been trained by traditional elders in Native American land management traditions, and is a teacher on adapting those principles to the modern world, a participant in the KCET "Tending the Wild" documentary, and is part of the California Continued exhibit at the Autry National Center.
June 4th Wildfire Resilience Schedule (sign-up for one or all three events):
2 pm - Community Preparedness with Kat High (this event)
This program was made possible in part by Edison International.
*Please note that class participants are asked to park on the street, Wheatland, Tuxford or Ledge, and if able to, walk up the driveway to the nursery.
This class will be held indoors.
COVID Policy for Outdoor Classes: All individuals must wear a mask indoors and outdoors when in proximity to other community members.
If you are feeling sick or experiencing any COVID-19 symptoms, we urge you to stay home, regardless of vaccination status. COVID-19 symptoms include: fever or chills, cough, shortness of breath or difficulty breathing, fatigue, muscle or body aches, headache, new loss of taste or smell, sore throat, congestion or runny nose, nausea or vomiting, diarrhea)