Celebrate the art and science of wild fermentation with over 50 natural winemakers, wild-fermenting brewers, cidermakers, and industry pros.
About this event
Experience an unlimited salon-style tasting of over 150 organically-farmed wines, farmhouse beers, and other beverages and foods fermented with wild yeast and bacteria. Learn from panel and classroom-style discussions in which producers, importers, writers, and retailers share knowledge within and across categories toward a greater understanding of an ever more delightfully-complex continuum of fermentory enjoyment.
PRODUCERS INCLUDE: Andy Brennan, Aaron Burr Cider, Catskills & Hudson Valley, NY / Justin Knoll & Aiyana Knauer, Grimm Artisanal Ales, Brooklyn, NY / Ricky Taylor & Katie Jablonski, Alta Marfa, TX / Niklas Peltzer, Meinklang, Burgenland, Austria / James Priest, The Referend Bier Blendery, Kutztown, PA / Lyndon Smith, Botanist and Barrel, NC / Megan Bell, Margins Wine, Central Coast, CA / Bob Florence & James Wayman, Moromi, New Stonington, CT / Nate Winters, Troon Vineyard, Applegate Valley, OR / Marta Piotrowicz, Shacksbury Cider, VT / Matthew Schulze, Arrowood Farm Brewery, Hudson Valley, NY / Zak Elfman, Mission Wines, Ribeira Sacra, SP / Bryan Lindner, Lindner's Cider, Catskills, NY / Hank Beckmeyer, La Clarine Farm, Sierra Foothills, CA / Joey Fox, Old Westminster Winery, MD / Nathaniel Ready, Hiyu Wine Farm, Columbia Gorge, OR / Raphael Lyon, Enlightenment Wines Meadery, Hudson Valley, NY / Alexander Pomerantz, Subject to Change Wine Co, North Coast, CA / Erin Rasmussen, American Wine Project, Mineral Point, WI / Josep Samsó, Can Sumoi, Penedés, SP / Leif Sundström, Sundström Cider, Hudson Valley, NY / Young Stowe, Unified Ferments, Brooklyn, NY / Eleanor Leger, Eden Specialty Ciders, VT / Chris Denesha & Lauren Turpin, plēb urban winery, NC / Ross McLauchlan & Cooper Anderson, The Austin Winery, TX Hill Country / Ryan Stirm, Stirm Wine Co, Central Coast, CA / Patrick Alfred & Dean Babiar, Cantina Cantina, Long Island, NY / Kimberly Kae, Metal House Cider, Hudson Valley, NY / Felipe Higgins, Other Half Brewing & In Bloom, Finger Lakes, NY / Alice Jun, Hana Makgeolli, Brooklyn, NY / Aaron Brown, Bardos Cider, Sonoma & Napa Counties, CA / Nika Carlson, Greenpoint Cidery, Brooklyn, NY / Morten Sylvest-Noer, Æblerov Cider, Oddsherred, DK / Davon Pulliam, Tortuga Kombucha, Baltimore, MD / Joseph Ryan, Edaphos Wines, Sonoma, CA / Maureen Eden & Audie Smith, Swick Wines, Willamette Valley, OR / James Jelks, Florez Wines, Central Coast, CA / Kreso Petrekovic, Vinas Mora & Podrum Franjo, Plješivica, Croatia
Discussion Panels:
11:30am:
BLURRING THE BOUNDARIES
Co-Fermentation or Infusion: Origins, Trends and Differences
Moderator: Alice Feiring, The Feiring Line (NYC)
Featuring Andy Brennan of Aaron Burr Cidery (NY), Raphael Lyon of Enlightenment Wines Meadery (NY), Nika Carlson of Greenpoint Cidery (NY), Morten Sylvest-Noer of Aebelrov Cider (DK), and Aiyana Knauer & Justin Knoll of Grimm Ales (NYC)
1pm:
WORLD BUILDING THROUGH NATURAL WINE
Examining Structures of Power in the Community
Moderator: Roni Ginach, Roni Selects (Los Angeles, CA)
Featuring Aaron Brown of Bardos Cider (CA), Lauren Friel of Rebel Rebel (Somerville, MA), Jirka Jireh of Industry Sessions (Oakland, CA), and Nate Ready of Hiyu Wine Farm (OR)
2pm:
THE EVOLUTION OF TASTE
A conversation with New York Times Wine Critic Eric Asimov (NYC) & Wine Professional Amanda Smeltz (NYC)
Interviewed by Bill Fitch, Wine Consultant and Importer (NYC/The World)
3pm:
SO MANY OPEN BOTTLES
Taming the Beast of Overconsumption as Beverage Professionals
Moderator: Lee Campbell, Wine Consultant (NYC)
Featuring Amanda Bowman of Boisson NYC (NYC), Cynthia Sexton of Global Industrial and Former Wine Buyer (NY), and Young Stowe of Unified Ferments (NYC)
4:15pm:
THE ETHICS AND AESTHETICS OF NATURAL WINE
How We Think and Talk About Natural Wine Right Now
Moderator: Katherine Clary, The Wine Zine & Wine, Unfiltered (NYC)
Featuring Eric Moorer of Domestique (DC); Jim Sligh of The Children's Atlas of Wine (NYC); Bill Fitch, Wine Consultant and Importer (NYC/The World); and Megan Bell of Margins Wine (CA)
5:30pm:
BRETT AND BACTERIA: BLESSING OR CURSE?
A Conversation about Wild Flavors
Moderator: Joe Carroll, Spuyten Duyvil, Fette Sau, St. Anselm
Featuring Matt Schulze of Arrowood Farm Brewery, James Priest of The Referend, Felipe Higgins of Other Half/In Bloom, and Alice Jun of Hana Makgeolli
Monday, November 1st, 2021 11:00AM-7:00PM
TICKETS - TIMED ENTRY
11AM: $75 + tax and eventbrite processing fee
2PM: $55 + tax and eventbrite processing fee
Ticket price includes entrance to both the tasting floor and panel discussions between 11AM and 7PM. We will cap attendance for each panel discussion at 30-50 guests, fc/fs.
Food items, coffee and merchandise are additional. 
You must provide proof of vaccination to enter and no refunds will be given to those who cannot. As always, please drink responsibly and respect the minds and bodies of your fellow attendees and participants.
Instagram: @wildworldfestivals
YOU MUST BE 21 OR OVER TO ATTEND
YOU MUST PROVIDE PROOF OF VACCINATION, NO REFUNDS DAY-OF
Tickets are refundable until Saturday, 10/23 at 12:00AM.
Due to travel challenges, lineup may change without notice.
Festival to take place rain or shine!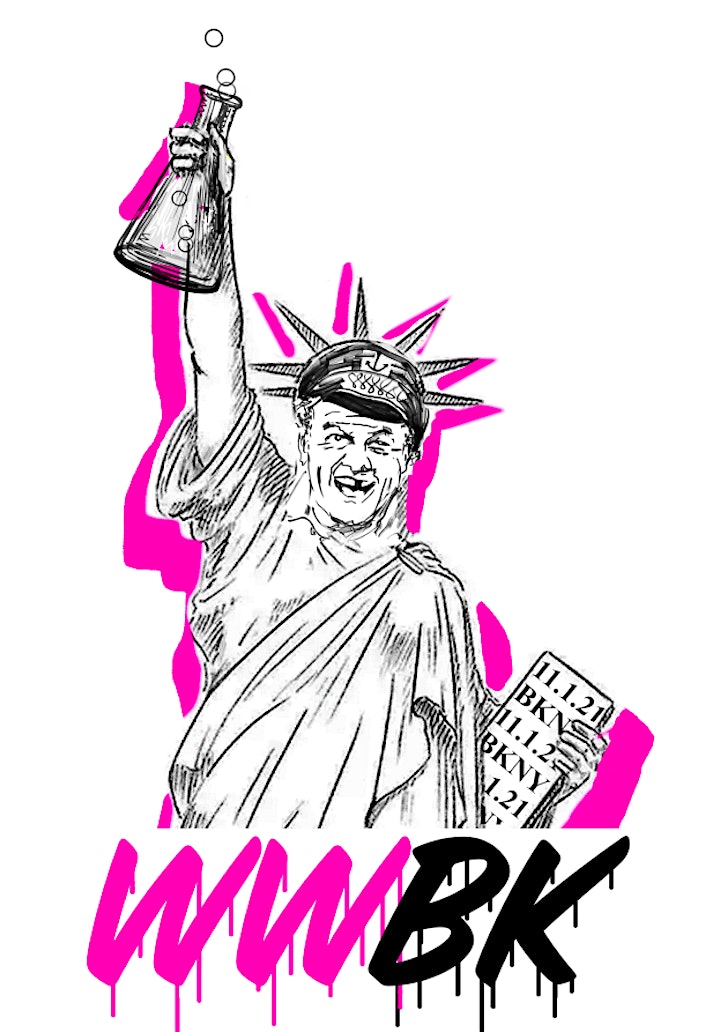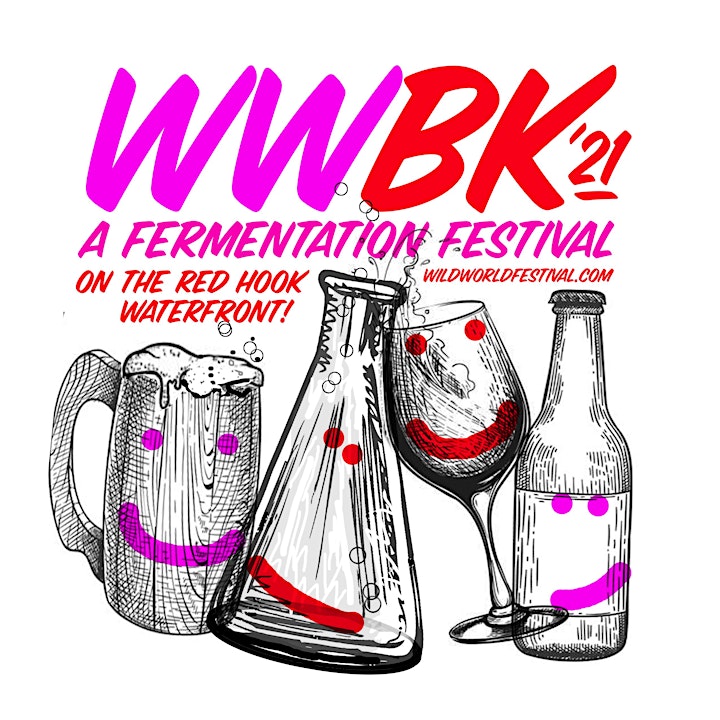 Organizer of Wild World Brooklyn: A Spontaneous Fermentation Festival
In Spring of 2019, Byron Bates, a Texas native, wine importer, and early supporter of natural wine in NYC, partnered with Jeff Stuffings, founder of Austin's Jester King Farmhouse Brewery - known for making astoundingly expressive ales fermented with their local culture of wild yeast and bacteria - to launch WILD WORLD on the sprawling grounds of Jester King's farm. The first-ever festival centered not only on natural wine, but on wild fermented beers, ciders, meads, and food, was born.
WILD WORLD showcases all that wild fermentation has to offer within the world of beverages and food. It's one hell of a good time, and unlike other natural wine and beer festivals, it's also a fact-finding mission that seeks to debunk myths of "natural" fermentation where necessary and break down the barriers that have long divided beverage communities.
The inaugural event brought together over 60 wild-fermenting producers from 5 states in the US, and a host of outstanding producers from Mexico, France, Italy, Spain and Austria. 800 guests from within the beverage industry and among the general public were treated not only to a comprehensive beverage tasting, but to local food, music, fermentation classes, and panel discussions with beverage producers and industry insiders.