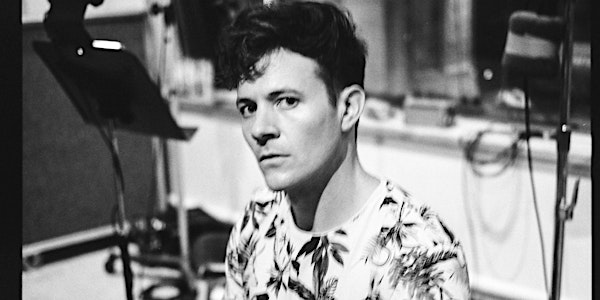 Wild Up | darkness sounding | Valitutto plays Hennies | SOVT
When and where
Location
Cal Perc 1965 Blake Ave Los Angeles, CA 90039
Refund Policy
Refunds up to 7 days before event
Eventbrite's fee is nonrefundable.
Description
The West Coast premiere of Sarah Hennies's hour-long prepared-piano solo SOVT (2017), performed by Richard Valitutto.
SOVT (semi-occluded vocal tract) refers to a vocal relaxation technique wherein one speaks with one's mouth partially closed, usually closed around a straw. The simple backpressure of the straw allows the vocal folds to vibrate more easily and with reduced physical exertion. The technique helps rejuvenate tired voices, and warms up the human instrument. Unbeknownst to Sarah when she chose the title, SOVT is also a military abbreviation for System Operability Verification Test. For the duration, the piano is muted with reusable adhesive blu tac across almost all the strings. This softens the instrument's timbre and increases the presence of sympathetic vibrations as each string is more connected to those adjacent to it.

Richard Valitutto, curator / performer
With a focus on contemporary keyboard performance, including organ and harpsichord, Grammy-nominated pianist Richard Valitutto is a soloist, chamber musician, vocal accompanist, and composing/improvising creative with an active performance schedule that spans both coasts of the U.S., across the country, and abroad. Described as "a keyboard superstar" (The New Yorker), and as a "vivid soloist," "vigorously virtuosic," "quietly dazzling," and "all around go-to new music specialist" (LA Times), he is a member of the critically acclaimed Wild Up Modern Music Collective and the "startlingly versatile" (NY Times) quartet, gnarwhallaby. He regularly performs modern and contemporary art song with various singers and concert series. Richard is currently in residence at Cornell University's Keyboard Studies DMA program. He holds degrees in piano performance from the California Institute of the Arts (MFA) and the University of Cincinnati's College-Conservatory of Music (BM, summa cum laude). for more info about Richard
Sarah Hennies, composer
Sarah Hennies (b. 1979, Louisville, KY) is a composer based in upstate New York whose work is concerned with a variety of musical, sociopolitical, and psychological issues including queer & trans identity, love, intimacy, psychoacoustics, and percussion. She is primarily a composer of small chamber works, but is also active in improvisation, film, performance art, and dance. She presents her work internationally as both a composer and percussionist with notable performances at Le Guess Who (Utrecht), Festival Cable (Nantes), send + receive (Winnipeg), O' Art Space (Milan), The OBEY Convention (Halifax), Cafe Oto (London), ALICE (Copenhagen), and the Edition Festival (Stockholm). As a composer, she has received commissions across a wide array of performers and ensembles including Bearthoven, Bent Duo, Cristian Alvear, Claire Chase, R. Andrew Lee (Denver), LIMINAR, Thin Edge New Music Collective, Two-Way Street, and Yarn/Wire.
About darkness sounding
What is it about the end of the year? It's dark already, our clocks have jumped. And even in LA nights seem to overtake the days. Pagan and sacred holidays abound: rituals collecting themselves around the darkness. We're hungry for something new, for something wrapped and warm, yet we search for a newness unbounded by the trappings of the past. In December 2019 and January 2020 Wild Up embarks on a new venture, a series set against the darkest days of the year. We make mindful, joyful and maybe melancholic music, endeavoring to drone sounds of the earth. The sounds of community being drawn together in contemplation.
darkness sounding is made possible through generous support from Ruth Gilliland and Arthur Rieman, and Bill Anawalt.
About Wild Up
Called "a raucous, grungy, irresistibly exuberant … fun-loving, exceptionally virtuosic family" by Zachary Woolfe of the New York Times, Wild Up has been lauded as one of classical music's most exciting groups by virtually every significant institution and critic within earshot. Artistic Director Christopher Rountree started the group in 2010 with a vision of a group of young musicians that rejected outdated traditions and threw classical repertoire into the context of pop culture, new music, and performance art.

In 2019 - 2020, the group celebrates 10 years of bringing people together around the belief that no music is off limits, that classical music concerts can defy convention and address the need for heart-wrenching, mind-bending experiences.

Over the past decade the group: accompanied Björk at Goldenvoice's FYF Fest; premiered David Lang and Mark Dion's "anatomy theater" at LA Opera; played the scores to "Under the Skin" by Mica Levi and "Punch Drunk Love" by Jon Brion live with the films at L.A.'s Regent Theater and Ace Hotel; premiered a new opera by Julia Holter at Brooklyn's National Sawdust; premiered a new work of avant-pop icon Scott Walker and celestial loop-maker Juliana Barwick at Walt Disney Concert Hall; played a noise concert as a fanfare for the groundbreaking of Frank Gehry's new building on Grand Avenue and First Street in downtown L.A.; was nominated for a Grammy for their 2019 Chris Cerrone portrait "The Pieces That Fall to Earth; and held performance and educational residencies at the Los Angeles Philharmonic, the Colburn School, Los Angeles Chamber Orchestra, National Sawdust, University of North Carolina, and the Hammer Museum, among others.