wild Up | Craft at Beyond Baroque

Multiple Dates
Event Details
Craft 

 
9pm March 23rd, 2012 at Beyond Baroque in Venice
3pm March 24th, 2012  at Beyond Baroque in Venice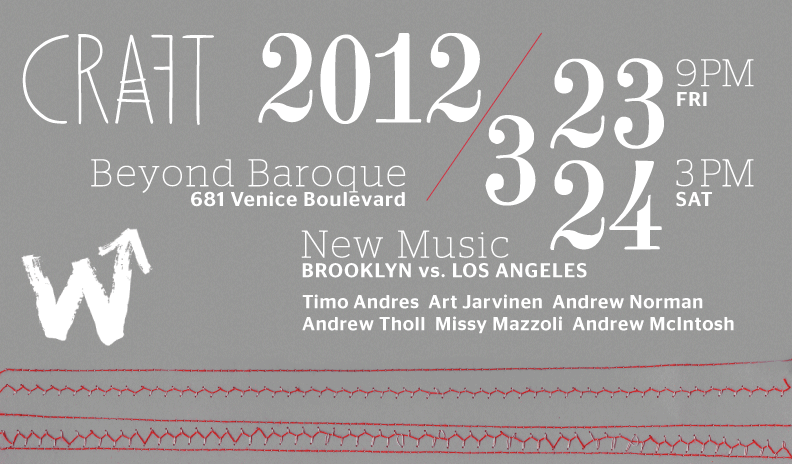 Hipster Music. A compendium.
The music of right now, right this very moment, is being created in basement and recorded in living rooms in high definition. We are the generation of DIYers, of Urban Homesteaders, who plant vegetables in our backyards and knit each other sweaters. Our music is raw, unabashed, and we made it ourselves. In March, we present a concert in conjunction with Beyond Baroque and Venice Arts, about the music we're writing now, why we're here and how we think things should go forward. 
new music: Brooklyn vs. Los Angeles
All Ages
$20 cash at the door
Organizer
We make music.  New music. Old music. Dissonance. Consonance.
We'll play it, as long as we love it.
wild Up is a modern music collective, comprised of young Los Angeles area musicians, committed to creating eclectic, vibrant art.
The idea is: take modern compositions, revitalizations of ancient music,  unusual performance spaces, a flexible band of brilliant musicians and mix them together.
Next, question the "Art Music" concert experience itself...
Challenge.
Evolve.
Ignite.
and Play.