wild Up | at Beyond Baroque

Multiple Dates
Event Details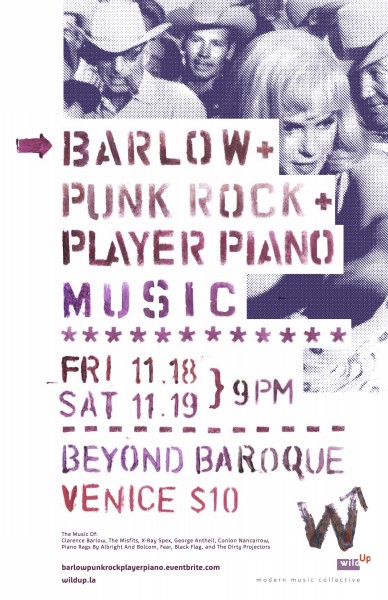 Clarence Barlow, punk rock and player piano music
9pm November 18th, 2011 at Beyond Baroque in Venice
9pm November 19th, 2011 at Beyond Baroque in Venice
Barlow's music is inspired by the intricate man-made sounds of a piano playing itself. It's inspired by the comedy of classical music and by the Sex Pistols. We've put together a night of music that we love. Not only a program of things that have influenced Clarence, but truly a night of music that inspires us.
All ages $10
This is a small space: it's gonna be loud, it's gonna sell out.
Organizer
wild Up
We make music.  New music. Old music. Dissonance. Consonance.
We'll play it, as long as we love it.
wild Up is a modern music collective, comprised of young Los Angeles area musicians, committed to creating eclectic, vibrant art.
The idea is: take modern compositions, revitalizations of ancient music,  unusual performance spaces, a flexible band of brilliant musicians and mix them together.
Next, question the "Art Music" concert experience itself...
Challenge.
Evolve.
Ignite.
and Play.
wild Up | at Beyond Baroque