Description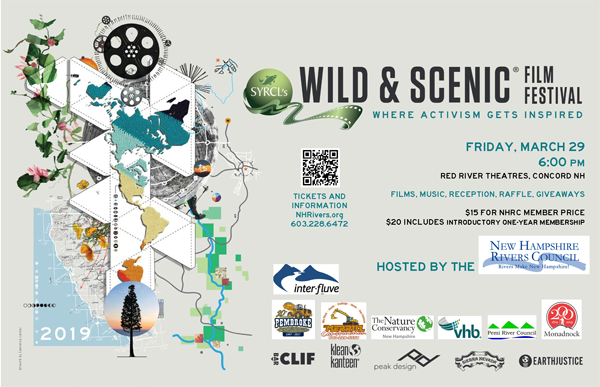 The New Hampshire Rivers Council is bringing one of the largest environmental film festivals to the Red River Theatres in Concord on Friday, March 29, 2019. This is the eighth year that the New Hampshire Rivers Council has hosted this sold-out event.The Wild & Scenic® Film Festival provides environmentally conscious organizations an opportunity to showcase films as a way to reach into their communities and inspire citizens to effect environmental change.
The Festival offers a way for viewers to get energized and empowered to work in the community and get involved in the Council's initiatives and other projects.
The ticket cost for non-members includes a one-year, introductory membership (first time new members only, please) to the New Hampshire Rivers Council and all the associated benefits including discounts to EMS Club Days sales and discounts at next year's film festival and other events. Please call 603.796.2615 if you are not sure if your membership dues are up-to-date.
6:00 pm for the New Hampshire Rivers Council Event Reception
7:00 pm is showtime
Come to meet new friends at the reception, groove to live music, get great door prizes from our sponsors, bid on exciting raffle items, and see awe inspiring films from around the world and close to home.
Questions? Please call 603.228.6472 or, on the day of the event, 603.796.2615.
The event will include a reception; exhibits by national sponsors Clif Bar, Peak Design, EarthJustice, Sierra Nevada, Barefoot Wine & Bubbly, and Klean Kanteen; and a growing list of local business sponsors.
River Benefactors
Inter-Fluve
River Stewards
FL Merrill Construction
Monadnock Paper Company
naturesource communications
Pembroke Sand & Gravel
Pemi River Council
Pennichuck Water Service Corporation
The Nature Conservancy New Hampshire
VHB, Inc.
River Guardians
BCM Environmental & Land Law, PLLC
Gomez and Sullivan Engineers
Newfound Lake Region Association
NH LAKES
Pelletieri Associates, Inc. Landscape Architecture and Construction
Sumco Eco-Contracting
Trout Unlimited Basil W. Woods, Jr. Chapter
River Partners
Above All Collision
Belknap County Sportsmens Association
Comprehensive Environmental, Inc.
Connecticut River Conservancy
Foothills Physical Therapy
Gibson's Bookstore
Granite State Naturals
Tall Timber Lodge
Truslow Resource Consulting LLC
Upper Merrimack River Local Advisory Committee
Reception Sponsors
J Street Extension "a band for all reasons"
The Works Bakery Café
Please contact Michele L. Tremblay at ContactUs@NHRivers.org or 603.228.6472 or 603.796.2615 if you are interested in sponsoring this amazing and always sold-out event.
Click here to learn more about our local sponsors, the films, and more.