Sales Have Ended
Ticket sales have ended
To late slowpokes, online ticket sales have ended. Check our Twitter / Facebook to see if we'll have tickets on the door (we probably will have some)
Sales Have Ended
Ticket sales have ended
To late slowpokes, online ticket sales have ended. Check our Twitter / Facebook to see if we'll have tickets on the door (we probably will have some)
Description

**Online ticket sales close at 5pm on Sat 17th**
**CASH ONLY - Tickets will be on sale at the door for £20**
Almost bang on Wild Rumpuses 5 year anniversary we're finally coming back home to rough-house in the city that most of us live in. We'll be in a sparkly new venue alongside a ridiculous line up of all that is absurd and wonderful in videogames that includes...
Daily Motions - Jenny Jiao Hsia (installation in collaboration with Viviane Schwarz)
On the very top floor of Hackney House is award winning New York game designer Jenny Jiao Hsia's room. This isn't a night club or an arcade, its just her own personal space, a place where she does her make up, practices Yoga or chats on Skype. We politely ask that you keep out.
Cardboard Arcade Presents - The Best of Wild Rumpus - in collaboration with Unstable King
For our 5th anniversary, we're bringing back a selection of some of the favourite games we've shown at previous parties, available to play on the marvellous Cardboard Arcade by the folks at Unstable King.
Featuring those Rumpus classics: Super Hexagon, Samurai Gunn, Nidhogg, 4Forths & Super Crate Box Versus.
Oik OS - David Kanaga
A dog opera. It's like a horse opera but about dogs. It's the new game by David Kanaga, who worked on such games as Proteus and Panoramical, and it's every bit as musical and magical as you'd expect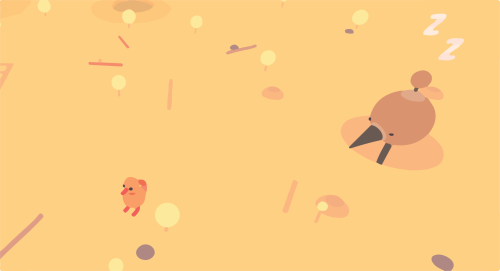 Digital Bird Playground - Tom van den Boogaart
Tom van den Boogaart's game about some birds mucking about in a playground was a big hit when we showed it at Mild Rumpus earlier this year, and he's been working on it ever since. Lots of new fun toys!


Slam City Oracles - Jane Friedhoff, Jenny Jiao Hsia
Slam City Oracles is a rambunctious, riot grrrl, Katamari-meets-Grand Theft Auto physics game, in which you and a friend slam onto the world around you to cause as much chaos as possible in two minutes.


Giraffes Volleyball Championship 2016 - Rémi Forcadell
Embody a giraffe and play volleyball. Compete against the most ruthless giraffes and win!
Bum Rush - Nina Freeman, Emmett Butler, Diego Garcia, Maxo
Just another one of those frantic 8 player car combat dating sim racing games


Multiplayer Wibble Wobble - Daniel Linssen
A special Rumpus 4 Player version of this superb arcade game. Keep on jumping to reach the stars and stay out of the red in this wibbly wobbly world. Jump on each other, for extra height, and resurrect your pals to get even further..
Devil Daggers - Sorath
Devil Daggers places you in an abyssal arena to face endless legions of demons. Fight to survive as long as you can.
Multibowl - Bennett Foddy & AP Thomson
Basically Multibowl is the past 30 or so years of multiplayer videogames smashed together into one big twitching lump for you to play.
With a DJ set from: Faik
From the mariana trench of the internet, draped in outmoded 90s livery, smelling of 56k modems; it's ya boy, Faik. With a virtual recordbox containing over 7 hours of novelty Drake remixes - Faik will be spinning gaming inspired rainbow scented internet music for you to shake your buns to.
…and a Mixtape from Misty's Big Adventure's Grandmaster Gareth, with a selection of wonderfully wonky tracks from around the world and across time, from his superb radio show A Complete Waste of Everyone's Time.