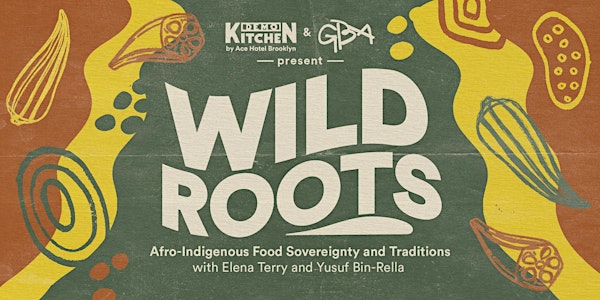 Wild Roots: Afro-Indigenous Food Sovereignty and Traditions
Ace Hotel Brooklyn and GBA/Guilty by Association invite you to a conversation and a cooking demo with Yusuf Bin-Rella and Elena Terry.
Date and time
Thursday, April 27 · 6:30 - 8:30pm EDT
Location
Ace Hotel Brooklyn 252 Schermerhorn Street Brooklyn, NY 11217
Refund Policy
Contact the organizer to request a refund.
Eventbrite's fee is nonrefundable.
About this event
Ace Hotel Brooklyn and GBA/Guilty by Association invite you to a conversation and a cooking demo with Yusuf Bin-Rella and Elena Terry exploring how Indigenous and African-American cuisines supported and influenced each other. This program is part of the celebration of the Duvernay Collective's work, currently on view in The Gallery and at GBA.
Indigenous and African-American cultures have historically helped support each other during times of uncertainty. While some were forced cultivators, others were forced nomads. Ubiquitous, but often overlooked, African American and Indigenous American foods are essential to the American experience, and for Elena Terry and Yusuf Bin-Rella, cooking together is a way to honor that centuries-long relationship while acknowledging the individuality of each culture.
Yusuf Bin Rella is the co-founder of TradeRoots Culinary Collective, a group of Afro-culinary genealogists exploring lineage through food Elena Terry (Ho-Chunk), is the Executive Chef/Founder of Wild Bearies nonprofit which works at strengthening community through Indigenous foods. Inspired by the importance of food sovereignty, together they have started the initiative Wild Roots as a way create dishes that honor the integration of Indigenous and Afro-culinary flavors. "Wild Roots" works with different tribes in the food sovereignty movement, teaching members of tribal communities not only how to grow and cook Indigenous ingredients, but also how to incorporate self-grown and harvested foods into their diets.
While both chefs are based in Wisconsin, they are inspired by ingredients that overlap in different regions across the United States. In New Orleans, for example, gumbo is a dish that exemplifies the culinary harmony of African American and Indigenous American foodways.
Chef Bin-Rella and Chef Terry will be making hominy grits with an Afro-Indigenous gumbo that highlights ingredients from both cultures. The dish utilizes okra as well as ancestral beans & corn and other locally available fresh vegetables and authentic herbs that tell a story of African diaspora and Indigenous reclamation.
About the partnership
EXTENDED FAMILY – Around the corner and down Bond St., our neighbors Guilty By Association are building a digital bridge to empower the creative unseen, redistribute wealth and reengineer an antiquated system — art. This season, we are partnering with them for a trio of solo exhibitions featuring a selection of their artist kin. We're calling it "Extended Family."
Hailing from New Orleans, Charles DuVernay is a member of the Monogram Hunters, one of over forty tribes practicing Black Masking Indian culture. GBA dropped the collective's debut collection of wall works in Fall 2022 and will house their follow up collection at 197 Bond St from March 21 'til the end of the month. "Swamp Party " at Ace Hotel Brooklyn is the collection's largest work and dynamic centerpiece.