Description
Join us for a WILD PUMPKIN ADVENTURE at Beck Family Farms, in Centerfield, Utah (two hours south of Salt Lake City).
Experience an Adventure-filled, family-friendly course through Beck Family Farms. Climb Mount Everest (a giant straw bale pyramid), weave your way through our "Spider's Web" and other fun obstacles. There will be exciting obstacles you won't find anywhere else (like pumpkin chuckin' and scarecrow spearin')! The course will be 1-2 miles long with more than 15 obstacles.
The race starts at 10:00 am (if you happen to be late, we'll still get you checked in and let you run, but your chances of winning the race will drop dramatically). Be there by 9:30 am to check-in, because we will start ON TIME. Participants must be over 8 years old and able to do the course on their own, but parents are welcome to follow their kids of any age through the course. All participants will complete as many laps as they can in 1 hour (you will be able to start new laps until 10:45am). Each lap completed will give you a head start for the Golden Pumpkin Hunt, which starts at 11:00am. (For example if the most laps anyone completed was 5 laps, at 11:00am everyone who completed 5 laps will be let out into the pumpkin patch; people with 4 laps will be let out at 11:05am; people with 3 laps will be let out at 11:10am, etc.-so if you want the best chance to "choose" the prize you win, complete the most laps. Everyone who completes at least 1 lap will get a chance to hunt for a Golden Pumpkin) Each "Golden Pumpkin" will corrpespond to a prize!!!
If you aren't the fastest runner, don't worry, we'll also be bringing back the "hidden skulls." These are skulls that are hidden along the course (making it hard for the fast runners to find). Find one of those and bring it back to the race director and you'll get $50!!!
All participants will get a free pumpkin, a glow in the dark wild pumpkin adventure wristband, a chance to win some of our awesome prizes, and a great experience on the course.
If your whole family wants in on the fun, buy our Family Pass. That will let any members of your household (mom, dad, moody teenagers, overexcited kids, whatever) run in our race.
You won't want to just stay for the Wild Pumpkin Adventure. There is an awesome kid's straw maze ($2 per person), mini-golf, multiple photo-op locations, and a Farmer's Market with more kinds of pumpkins and squash than you ever thought possible. (You will find more than 75 varieties of pumpkin and 75 varieties of squash available for purchase, in addition to jams/jellys/breads, and other in-season vegetables and fruits).
FAQs
Are there ID requirements or an age limit to enter the event?
For the all participants must be at least 8 years old and able to complete the course on their own (parents can follow along with younger children if needed.). All participants under the age of 18 will require the signature of a parent or guardian on the liability waiver.
A fit and determined person could pull a wagon or push a large-wheeled stroller through the course (other than the obstacles). If you want to take the whole family through the course, letting your kids (and spouse) dominate the obstacles, but you just want to walk along with a baby in a wagon, signing up for the Family Pass is a great idea. All participants (or their responsible parent) must sign a liability waiver before participating.
What are my transport/parking options getting to the event?
There will be a field at Beck Family Farms available for free parking. Follow the signs to the Farmer's Market and continue on past the Market, the mini-golf area and the huge pumpkin sheds.
Can I just come and watch?

Absolutely. It's free to come out and watch the race. From near the start line you will be able to see almost the entire course, so you can pull up a chair and watch from there or you can follow your racers around the course. The event is very spectator friendly!!!
Where can I contact the organizer with any questions?
Email Dan Beck at trail2sparta@gmail.com or call at 208-206-5588.
Can I volunteer to help with the event?
We would love to have volunteers. If you want to volunteer, just email Dan Beck at trail2sparta@gmail.com.
What does the course look like?
We won't finalize the course until a week or so before the Event, but you will be going through the pumpkin patch, through a corn field, and more. There will be at least 15 obstacles and 1-2 miles of running through corn fields, pumpkin fields, and farm area.
Last year's Map: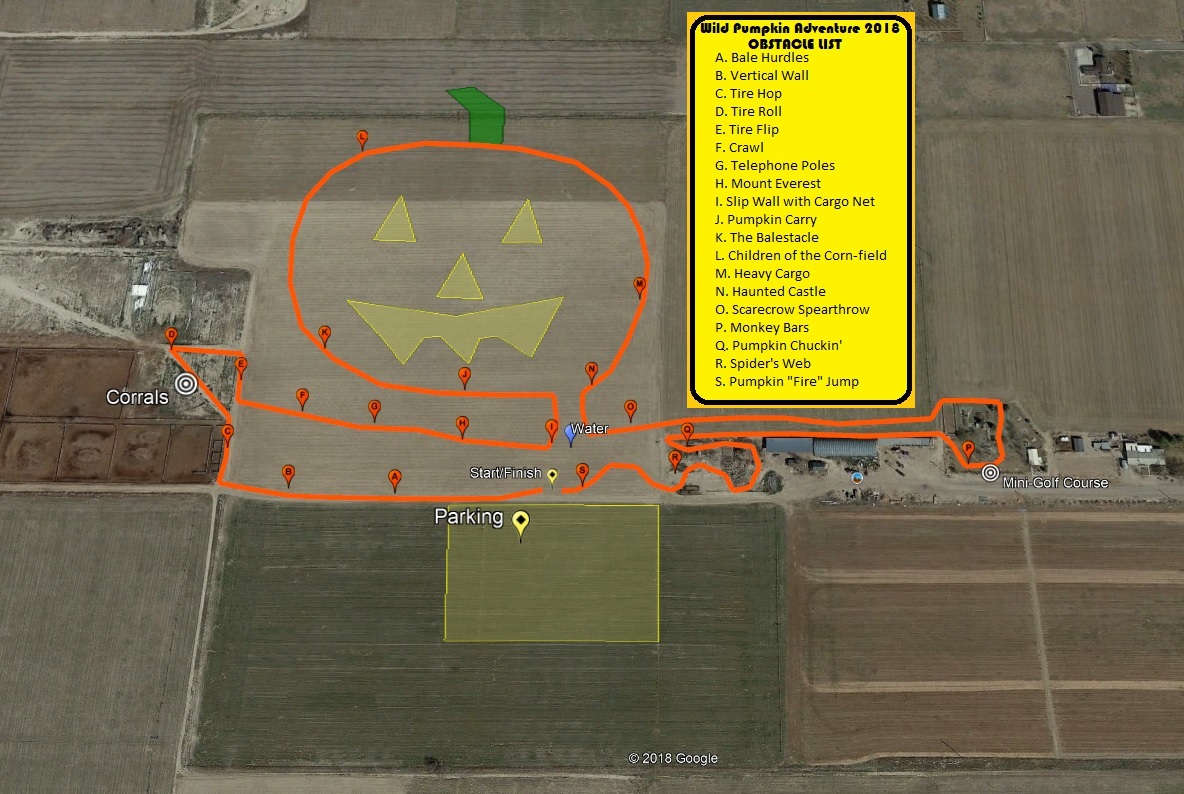 Some Pics from the 2018 Event: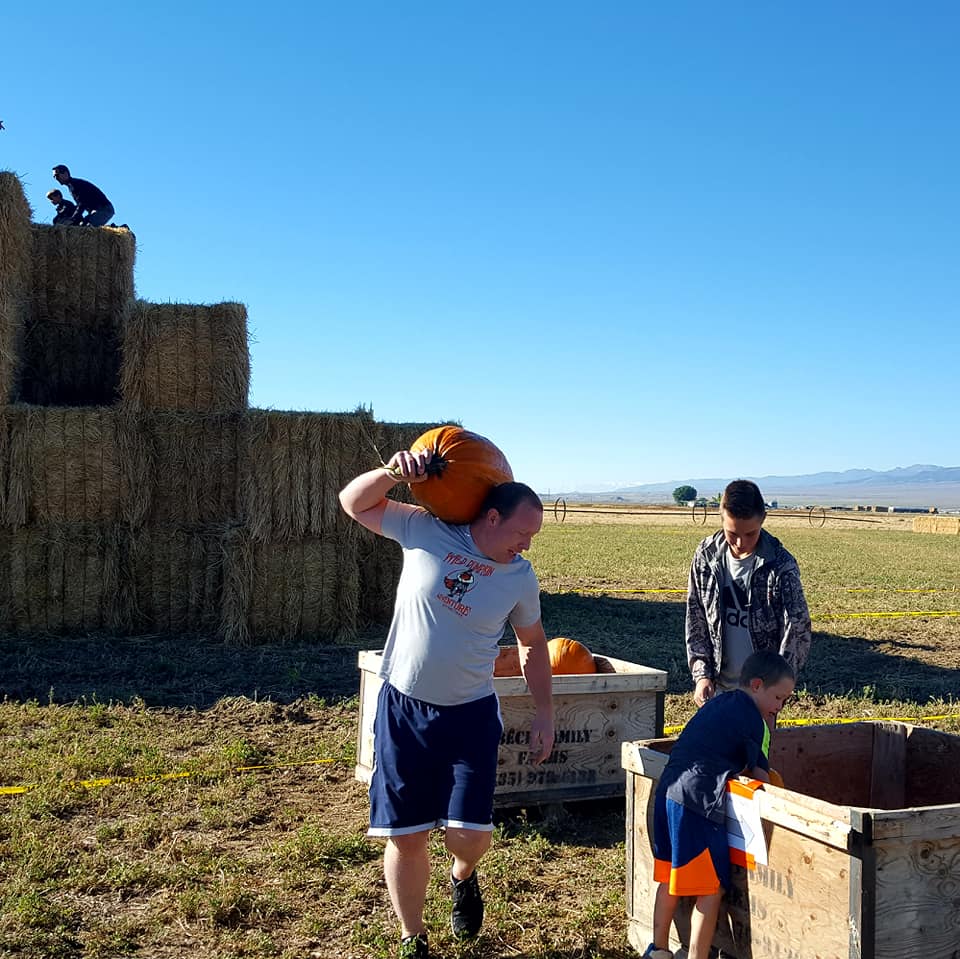 (Pumpkin Carry-with Mount Everest in the background)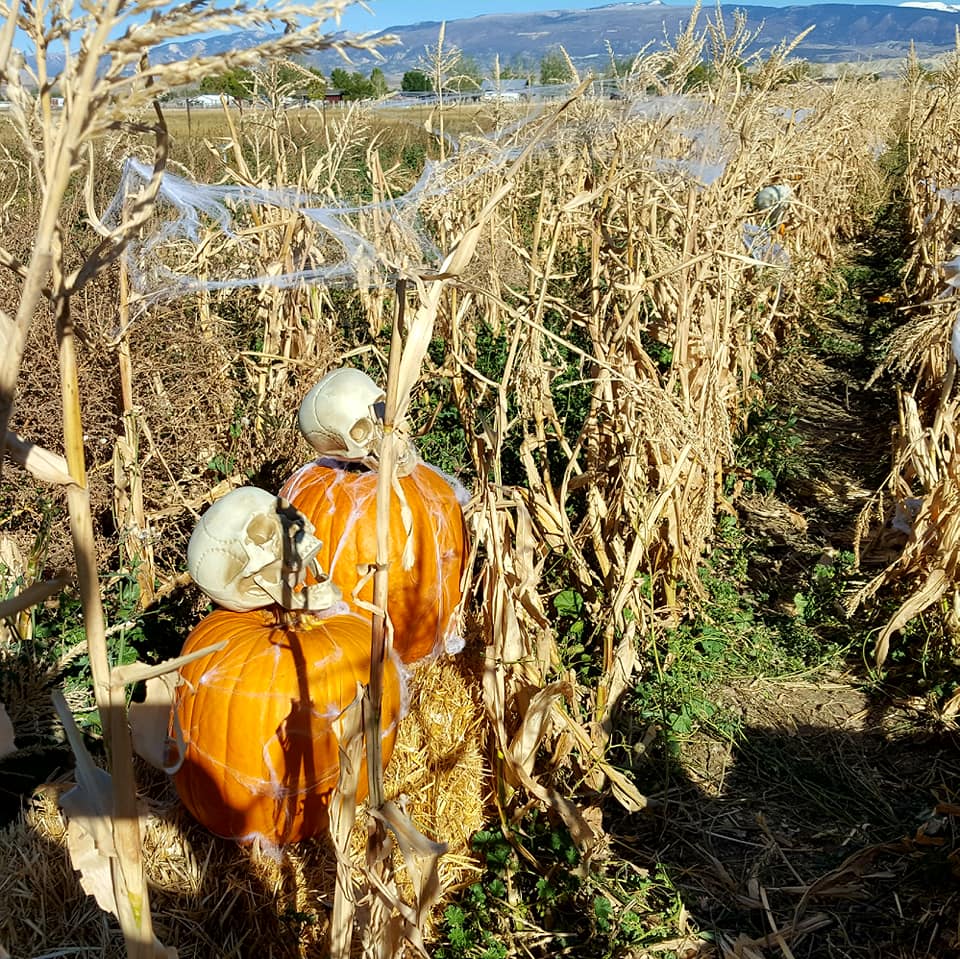 (Children of the Corn-running through the cornfield)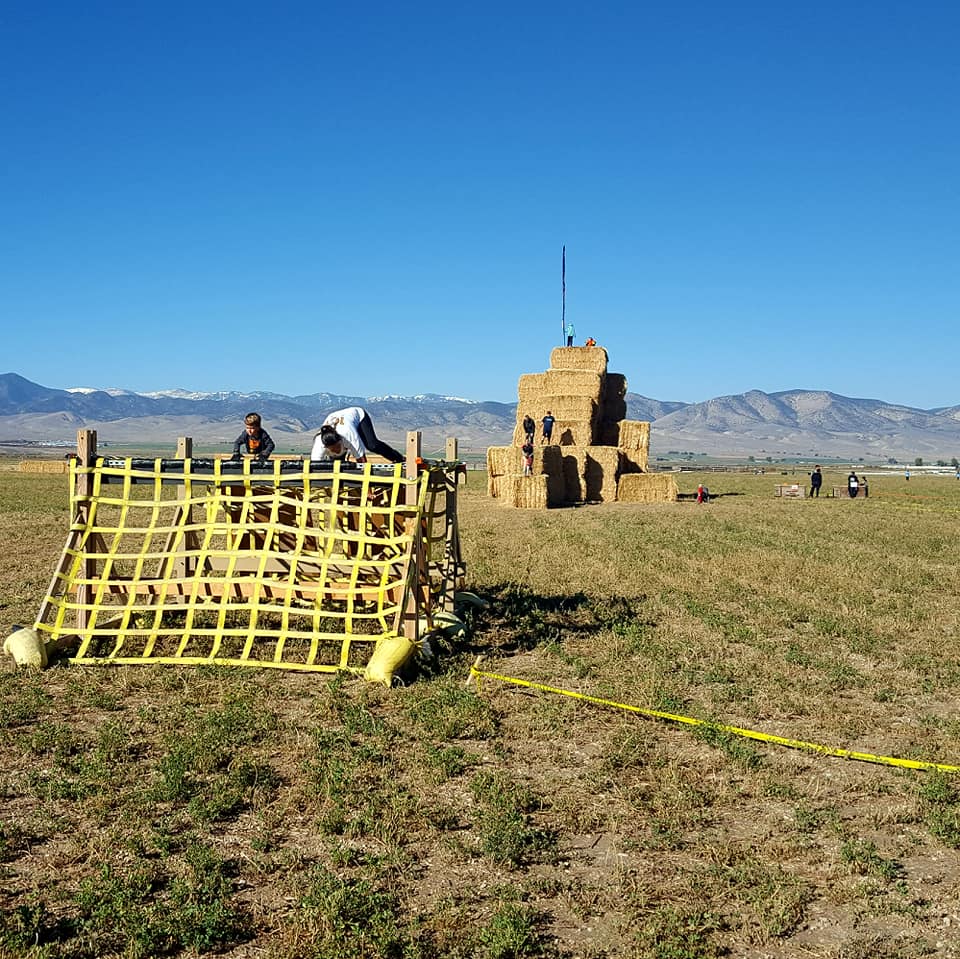 (Cargo Net-with Mount Everest in the background)