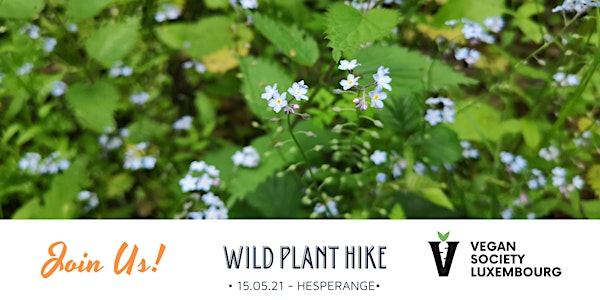 Wild Plant Hike with Meditation and Lunch
Wild Plant Hike with Meditation & Lunch / Wildpflanzen Wanderung mit Meditation und Mittagessen
When and where
Location
Gantenbeinmühle Rue de Draperies Hesperingen Luxembourg
About this event
EN:
After the great success of the previous years, we are organising a wild plant hike again this year.
The hike will take place in Hesperange. You will discover with us edible wild plants, and learn about the effects of wild plants on your health, as well as the way you can prepare them.
On the way, we will have a short break, where we will serve you tea and muffins. In the second part of the hike you will participate in a group meditation aiming to strengthen your awareness and your connection with nature.
After the hike, we will cook together with Fabrizio from Oak a stew with the collected plants and eat together.
For the meal, participants are asked to bring their own cups, cutlery and bowls!
Date: 15.05.2021
Duration: 10 am - 2 pm (please make sure to arrive on time)
Meeting place: Gantenbeinmühle, Rue de Draperies, Hesperange
Price: Please pay 25€ (20 € for VSL Members) via Digicash (621 433 954) or via bank transfer to Vegan Society Luxembourg asbl IBAN: LU60 0019 4355 2831 7000 to definitively confirm your reservation.
P.S. You're still welcome to become a member on our website www.vsl.lu
---
DE:
Nach dem großen Erfolg der letzten Jahre, organisieren wir auch dieses Jahr wieder eine Wildpflanzen Wanderung.
Die Wanderung wird in Hesperange stattfinden. Ihr entdeckt gemeinsam mit uns essbare Wildpflanzen, und lernt die Auswirkungen von Wildpflanzen auf Eure Gesundheit kennen, sowie die Art und Weise wie Ihr Sie vorbereiten könnt.
Unterwegs werden wir eine kleine Pause einlegen, wo ihr von uns Tee und Muffins bekommt. Im zweiten Teil der Wanderung nehmt Ihr an einer Gruppenmeditation teil, um Euer Bewusstsein und Eure Verbindung zur Natur zu stärken.
Nach der Wanderung werden wir zusammen mit Fabrizio vom Oak einen Eintopf mit den gesammelten Wildpflanzen kochen und gemeinsam essen.
Für das Essen werden die Teilnehmer gebeten, ihre eigenen Tassen, Besteck und Schüssel mitzubringen!
Datum: 15.05.2021
Dauer: 10:00 - 14:00 Uhr (stellt bitte sicher dass ihr rechtzeitig vor Ort seit)
Treffpunkt: Gantenbeinmühle, Rue de Draperies, Hesperange
Preis: Bezahlt bitte 25€ (20€ VSL-Mitglieder) per Digicash (621 433 954) oder per Überweisung auf das Konto der Vegan Society Luxembourg asbl IBAN: LU60 0019 4355 2831 7000 um euren Platz definitiv zu sichern.
P.S. Ihr könnt auch gerne noch vorher Mitglied werden über unserer Webseite www.vsl.lu