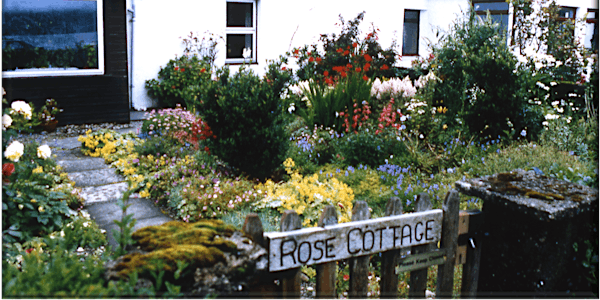 Wild Ones Twin Cities • March Program • A Natural Harmony
A Natural Harmony: Using Feng Shui to enhance how you tend your patch of the planet, presented by Elaine R Anderson
By Wild Ones: Native Plants, Natural Landscapes
When and where
Date and time
Tuesday, March 21 · 5 - 6:30pm PDT
About this event
1 hour 30 minutes

Mobile eTicket
When we hear about Feng Shui it is often in relation to home and business interiors… where is the bed or desk to be placed? what do I do about so many stairs? Is our bathroom in the wrong place?!
However, Feng Shui, the ancient Chinese method of living in harmony with one's environment, originated in the landscape. This introduction to Feng Shui will focus on applying the principles to your own gardening style, helping you create a landscape that more deeply reflects who you are. Feng Shui can provide your gardening efforts, whether large or small in scale, with meaning and intention to positively impact your life. Principles of ch'i (energy) flow, Yin/Yang, use of color, the Bagua (the Feng Shui map), the Feng Shui meaning of plants, and the significance of water in the garden will be explored, illustrated by photos of gardens and landscapes from around the world. 
Lois Elaine R. Anderson, BSN, RN, HNB-BC, is the founder of Red Tortoise Feng Shui. A professional Feng Shui practitioner since 1998, she is certified in both contemporary style "Black Sect" Feng Shui and traditional "Compass School" Feng Shui. She is a founding board member and President Emerita of the Feng Shui Institute of the Midwest, and a former faculty member of the Wind and Water School of Feng Shui. An avid gardener, Elaine provides consultations, classes and customized workshops on using Feng Shui in the home, garden and landscape, as well as business, educational and healing settings. She is an oncology nurse with M Health Fairview Cancer Care, and a certified holistic nurse with broad clinical, administrative and teaching experience. The mother of adult identical twin sons and GramElaine to two grandsons and three "granddogs", Elaine lives in Plymouth, MN, with her husband, Marc.
About the organizer
Wild Ones Twin Cities is one of eight Minnesota Chapters or Seedling Chapters of Wild Ones, Native Plants Natural Landscapes.
We host educational programs, tours and events throughout the year that are free and open to the public. Our plant sale is our primary annual fundraiser.  Our Mission: Educating the public about the benefits of preserving and restoring biodiversity of our native plant communities, beginning in our own yards and gardens.
info@wildonestwincities.org
To join or for more information, visit www.wildones.org