Sales Have Ended
Ticket sales have ended
Thank you for your interest, this year's conference is currently sold out. We do expect some cancellations and have started a wait list. Please add your name to Eventbrite waitlist, call 612-293-3833 or email info@designwithnatureconference.org for more information. We are tracking wait list in order received and will contact you when a ticket becomes available or if we are able to accommodate more attendees. Again, thank you. DWN Conference Committee
Event Information
Location
University of St Thomas | James B. Woulf Alumni Hall
Anderson Student Center
2115 Summit Ave (at Cretin)
St. Paul, MN 55105
Refund policy
Refunds up to 30 days before event
Sales Have Ended
Ticket sales have ended
Thank you for your interest, this year's conference is currently sold out. We do expect some cancellations and have started a wait list. Please add your name to Eventbrite waitlist, call 612-293-3833 or email info@designwithnatureconference.org for more information. We are tracking wait list in order received and will contact you when a ticket becomes available or if we are able to accommodate more attendees. Again, thank you. DWN Conference Committee
Description
James B. Woulfe Alumni Hall, Anderson Student Center
University of St. Thomas, St. Paul, Minnesota

Healing and Restoring our Relationship with Nature
To truly live in relationship with nature we must first realize we are "a part of" nature, not "apart from" nature. Only when we acknowledge and celebrate our relationship with the rest of the living world, will we be able to fully understand the generous gifts we receive from the Earth can only be sustained by giving our own gifts in return.
CONFERENCE PROGRAM & SPEAKERS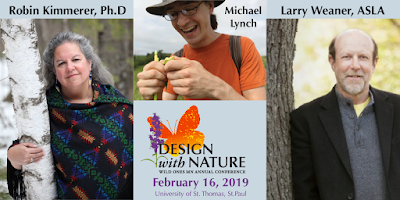 Guest speakers, Robin Wall Kimmerer, Ph.D., Michael Lynch, and Larry Weaner, ASLA, will teach us how our living landscapes can be a source of environmental change, how we can build a personal relationship with nature, and the language of plants, how traditional indigenous teachings can help heal our relationship with nature.
________________________
ROBIN WALL KIMMERER, Ph.D.
Kimmerer is Professor of Environmental and Forest Biology at the State University of New York College of Environmental Science and Forestry (SUNY-ESF) and Director of The Center for Native Peoples and the Environment at SUNY Syracuse. She is an enrolled member of the Citizen Potawatomi Nation, and combines her heritage with her scientific and environmental passions.
She is the author of numerous scientific articles and the books Gathering Moss, which was awarded the John Burroughs Medal for nature writing in 2005, and Braiding Sweetgrass: Indigenous Wisdom, Scientific Knowledge and the Teachings of Plants, released in 2013. In 2015 she addressed the general assembly of the United Nations on the topic of "Healing Our Relationship with Nature."
As a writer and a scientist, her interests in restoration include not only restoration of ecological communities, but restoration of our relationships to land. She lives on an old farm in upstate New York, tending gardens both cultivated and wild.
________________________
MICHAEL LYNCH
Michael Lynch is a botanist and restoration ecologist, who studied Applied Plant Science at the University of Minnesota. He has worked for the City of Minnetonka as a Natural Resource Technician and is now an independent Botanist and Restoration Ecologist, offering his services and expertise to municipalities and individuals.
Michael is the founder of popular Facebook group Botanical Wanderers, encouraging people to become more enthusiastic about getting out into nature, to discuss and share images of plants and biomes visited.
________________________
LARRY WEANER, ASLA
Larry Weaner is founder of Larry Weaner Landscape Associates in Philadelphia, PA in 1982, combining expertise in horticulture, environmental science, and the traditions of garden design. His design and restoration work spans more than ten states and has been profiled in national publications, including The New York Times, The Wall Street Journal, Landscape Architecture Magazine, Garden Design, American Gardener, Wildflower Magazine, and ASLA's "The Dirt" blog.
In 1990, Larry developed New Directions in the American Landscape (NDAL), a conference and workshop series dedicated to advancing the art and science of natural landscape design. This influential series has a loyal following in the landscape field and in 2016 received the New England Wildflower Society's first annual Regional Impact Award.
Larry is the co-author of Garden Revolution: How Our Landscapes Can Be a Source of Environmental Change with Tom Christopher (Timber Press, 2016). Their book received a 2017 Book Award from the American Horticultural Society.
________________________
More information about program at DesignWithNatureConference.org
Find parking and convenient transit options here.


---
GENERAL ADMISSION

Wild Ones Member* Admission $75
Admission + New Wild Ones Membership $100
Non-Member Admission $85
Full-time Student + Wild Ones Student Membership $45
Full-time Student $25

*Member rate applies to 1) current members of Wild Ones, 2) employees of Wild Ones business and affiliate organization members and 3) members or employees of Conference Sponsors.
A service fee determined by Eventbrite will be added to all online registrations.

---
PURCHASE TICKETS

This event is SOLD OUT and we have a long wait list. All ticketed attendees have been asked to contact the registrar if they cannot attend so we can refund their ticket. Wait listed tickets will be released in the order they are received with a 24 hour window to respond.
Our registrar, Lori Andreen, will be accepting wait list requests ONLY VIA EMAIL at info@designwithnatureconference.org up to midnight February 2. Please provide first name, last name and email address so Lori can manually enter your name. If you are not in our current data base we will add your name so you receive notice of next year's conference and other related native plant program information offered by Wild Ones Minnesota chapters listed below.
Please note, all of our volunteer registrars (thank you Lori, Elaine and Sandra!) have been instructed to stop accepting wait list requests after midnight on February 2. You are welcome to send an email if you wish to be added to our database for notification of future programs and events.

Thank you all for sharing our passion for native plants.
Access wait list by clicking TICKETS option on your browser.

WAIT LIST WILL CLOSE FEBRUARY 2, 2019.
Please direct all registration inquiries to the registrar via email in above message. Our phone message center is also closely monitored but adds an extra layer of work for our volunteers. Thank you.

---
CONFERENCE HOSTS

Wild Ones 2019 Design With Nature Conference is planned and managed by volunteers who are members of Wild Ones in the greater Twin Cities metro of Minnesota. Host chapters include Big River Big Woods, Northfield Prairie Partners, Prairie Edge, St Croix Oak Savanna and Twin Cities. Additional Minnesota chapters include: Arrowhead (Duluth area), Prairie Partners (Northfield area) and St Cloud (central Minnesota).

2019 CONFERENCE SPONSORS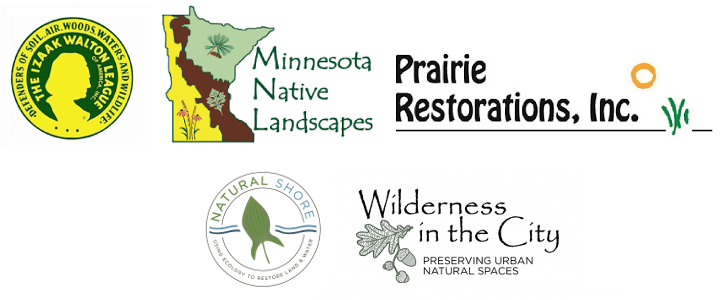 2019 CONFERENCE PARTNERS

Date and time
Location
University of St Thomas | James B. Woulf Alumni Hall
Anderson Student Center
2115 Summit Ave (at Cretin)
St. Paul, MN 55105
Refund policy
Refunds up to 30 days before event
Organizer of Wild Ones 2019 Design With Nature Conference
Plant Sale Benefactor and Host: Wild Ones Twin Cities Spring Native Plant Sale is hosted by volunteer members of Twin Cities Chapter of Wild Ones, Native Plants Natural Landscapes. We host educational programs, tours and events throughout the year that are free and open to the public. Our plant sale is our primary annual fundraiser.  Our Mission: Educating the public about the benefits of preserving and restoring biodiversity of our native plant communities, beginning in our own yards and gardens.

612-293-3833
info@wildonestwincities.org
To join or for more information, visit www.wildones.org