Description
Take part in a unique nature conservation expedition where you will be introduced to the world of practical tracking and birding in the Bison Rewilding site in Armenis, Tarcu Mountains. After 5 days of learning from naturalists you will have a chance to apply your skills, uncovering and idendifying the secrets and character of a Carpathian old growth forest with WWF experts and biologists.

You can book one of two packages:
⎯ 5 days tracking and birding course in the Bison rewilding site at the foothills of Tarcu Mountains @ 900 EUR per person.
⎯ 7 days starting with an immersive tracking and birding course in the Bison rewilding site, at the foothills of Tarcu Mountains, followed by an internsive 2 days in an old growth forest in Semenic Mountains, including e-mountainbike training @ 1160 EUR per person.

We highly recommend the full 7 day experience. The group size is of maximum 12 people (including trainers & experts). Scroll down for for more info!
Why join this experience?
Develop tracking skills, general knowledge and a better understanding of nature. Develop personal naturalist skills like listening, observation, birding, situational awareness. Gain insights into a large scale conservation/rewilding project. Learn skills to enjoy your natural areas at home on a more profound level. Get first hand experience in mountainbiking with expert guides and e-mountainbikes making it highly accessible for those with less experience. Head to the most amazing nature laboratories on bikes and dive deep into a two day workshop to decode and learn to identify virgin forests. Enjoy freshly cooked local food in nature.


Course leaders

Georg Messerer, Wilderness Guides Association of Europe / WWF Romania
Toni Romani, CyberTracker Italy
Cătălin Gavrilă, mountainiking trainer and mountain guide, Bike Attack Reșița
Radu Melu, forestry expert WWF Romania
Adrian Grancea, biologist WWF Romania

Day 1-5 Tracking and birding hands on course

Cost €900 per person, excludes flights and airport transfer.
This course can be booked as a stand-alone expedition.
We will be based in a tented camp in one of the valleys of the Tarcu mountains, roughly 17 km from Armenis, in a small summer village called Pades. Each day we will explore the Armenis rewilding area and its surrounding community forests. You will learn about the wide world of tracking and all its implications from an experienced tracker and naturalist, Toni Romani (Cyber Tracker Italia). And you will be given an introduction to birding and situational awareness along with other general naturalist skills by Georg Messerer (WGA/WWF). The aim of the course instructors is to give you knowledge, experience and the skill sets for you to take home and develop, so to enjoy your local areas fuller.


Focus will lie on tracking and birding. But rewilding, European ecology and other relevant naturalist skills like observation, situational awareness and listening will be addressed, for a fuller nature experience at home and beyond. If the opportunity of trailing wild animals (especially bison) arises, the group will take advantage of this.
The practical training you are receiving and reason this expedition is framed as a course, is necessary to buid up a community of citizen scientists who can actively and confidently contribuite to nature conservation on the ground. During your expedition you will be recording data as part of a pilot programme to involve "unusual suspects" in field monitoring. More information available in your welcome pack.

The group leaders will be very conscious of ethics with regards to wildlife, environment, people and local community, and this is expected from all participants, too.
Unwind in hammock after early morning activity and refresh for afternoon activity (an afternoon snooze is recommended to catch up on sleep). Unwind in the evening at campfire and share stories and insights, jokes and a laugh!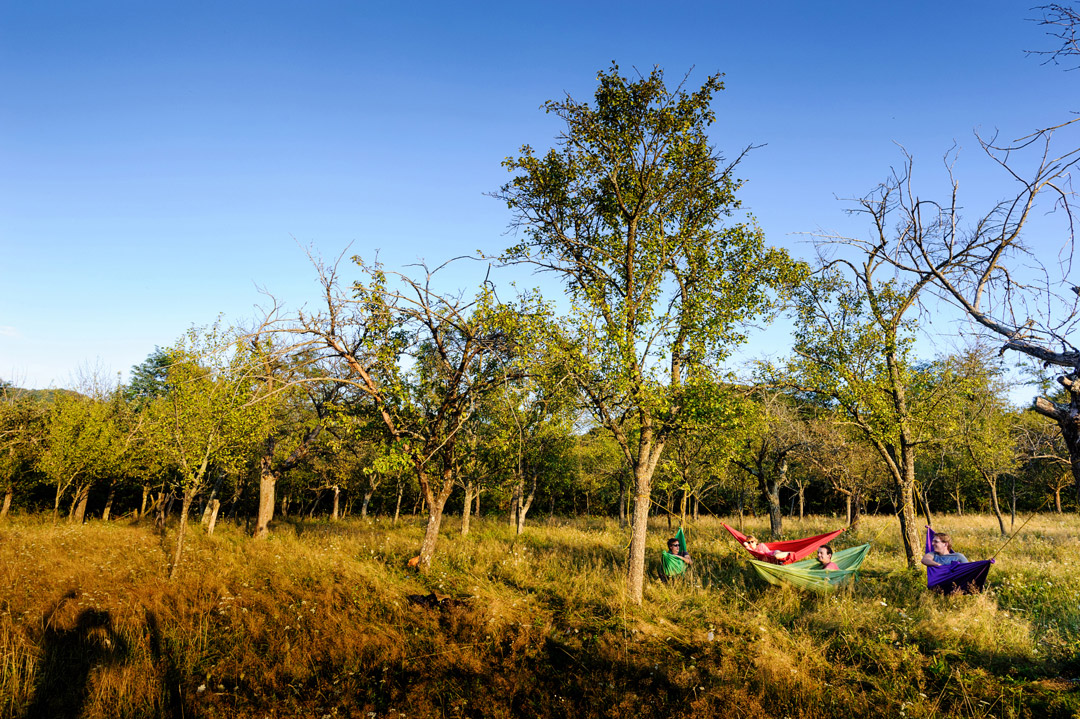 Sleep out: Two overnights in nature, reduced to its basic essentials: a fire, a sleeping bag and a mat, the night sky and the surrounding. No tents will be taken, but a tarp will be hung up in the case of unexpected rainfall. Digital distractions will be left at camp, cell phones will be switched off. The purpose of the sleepout is to experience nature in a different way, challenge your comfort zone (slightly) and have the rare chance to enjoy the night while being exposed to it.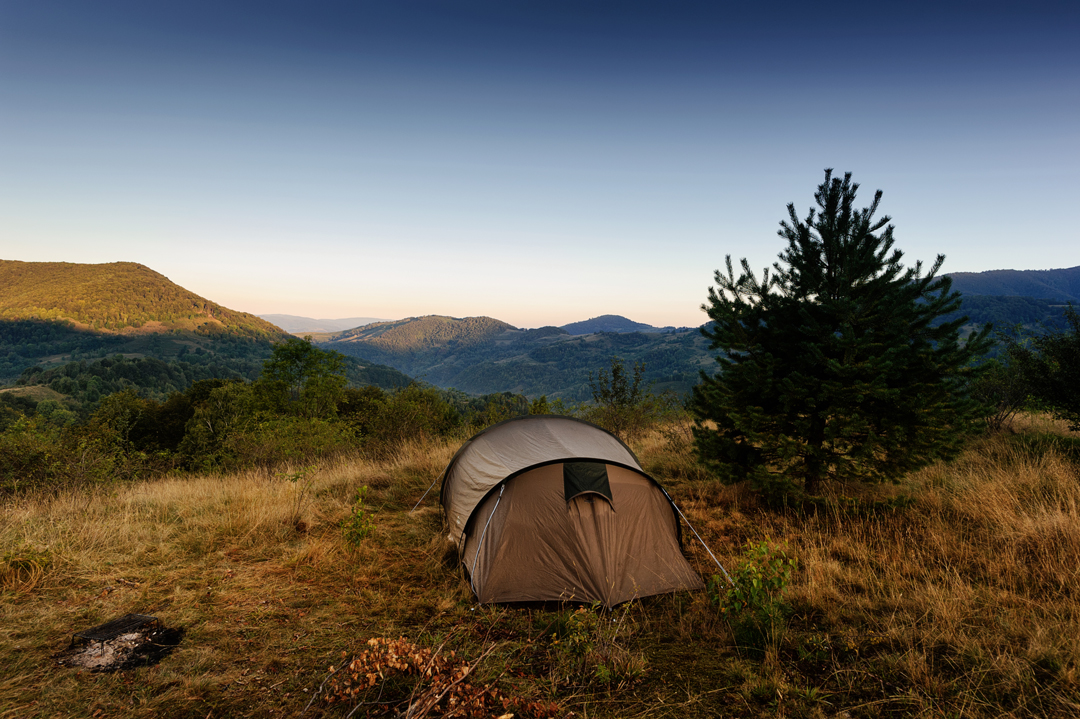 We will keep a small fire burning during the night and take turns in "guarding the group" and keeping the kettle warm for the next guard's cup of midnight tea. There is no real danger of wild animals jeopardizing our safety, so the purpose of this exercise is more of an experiential one. And an unusual one at that! Participation is voluntary but highly recommended. Note that this activity is largely dependent on local weather conditions.
Wildlife encounters: minimal chances for bears, wolves and lynx although present, bison better chance and we will try to enhance chances, especially if we come across fresh tracks! An introduction and general safety briefing will be given at the beginning of the course.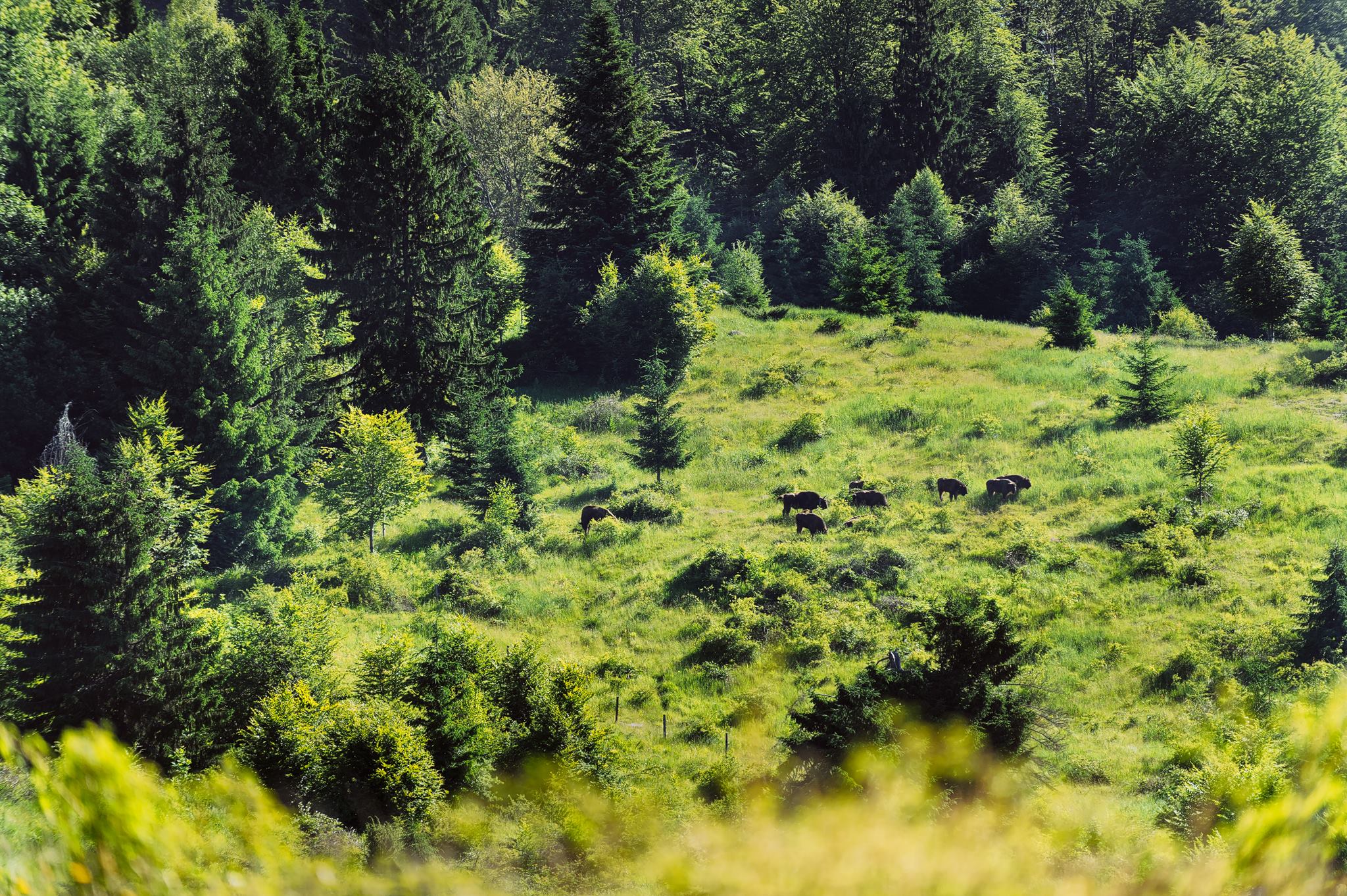 Tracking evaluation: You will take part in a unique experience that will increase your skills in tracking in a very short period of time. This is an individual / group evaluation of your ability to identify and interpret tracks & signs left in the natural environment with support from a professional and experienced tracker. It is the steepest learning curve to develop your track & sign skills and knowledge. Using questions about signs left by mammals, reptiles, birds, invertebrates or even inanimate objects, among many more, you will analyse and interpret as a group so that all doubts can be clarified and discussed.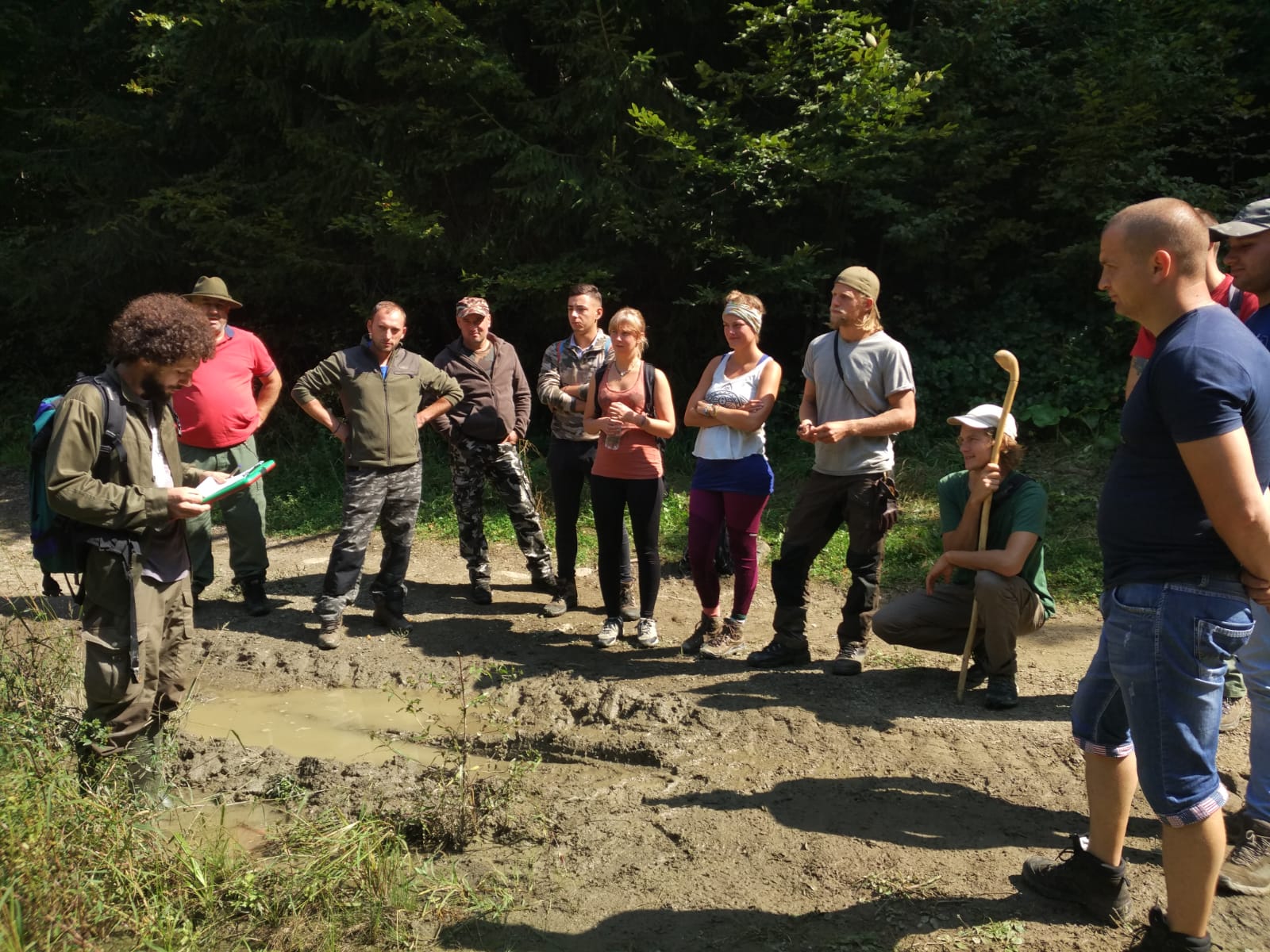 Day 6-7 Understand virgin forests, the untouched wilderness laboratories

Cost €1160 per person (this price includes the full 7 days expedition), excludes flights and airport transfers.
This expedition can be booked only in conjunction with the tracks & birding course/expetidion.
The virgin and quasi-virgin forests are the oldest terrestrial ecosystems in Europe. They are formed without significant human influence, as a result of long-lasting natural evolution. Today, these forests represent true scientific laboratories that help us understand the mysteries of the forest and foster rich biodiversity - our lifeline in the face of the climate crisis we face globally. These forests play an essential role in preserving the cultural identity of local communities too. In the Carpathian Mountains one can talk of a "civilization of wood" - the history, life philosophy, culture and traditions of local communities in these areas are so closely linked to the forest that shelters them.
You can take a virtual tour though a virtual forests right here (you are required to run Adobe Flash to view)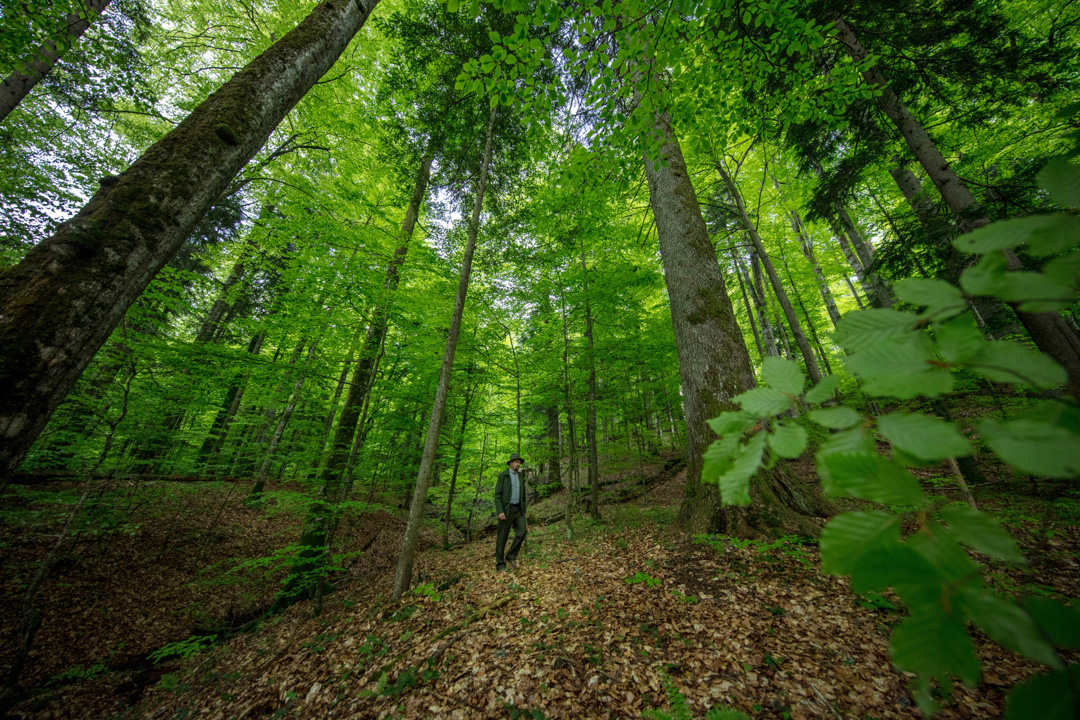 Accommodation
Tented camp: Large, safari-style tents with comfortable beds and fresh towels and linen.
Camp has a basic outdoor toilet, an outdoor shower and is in proximity to a local homestead to accommodate the local chef and kitchen.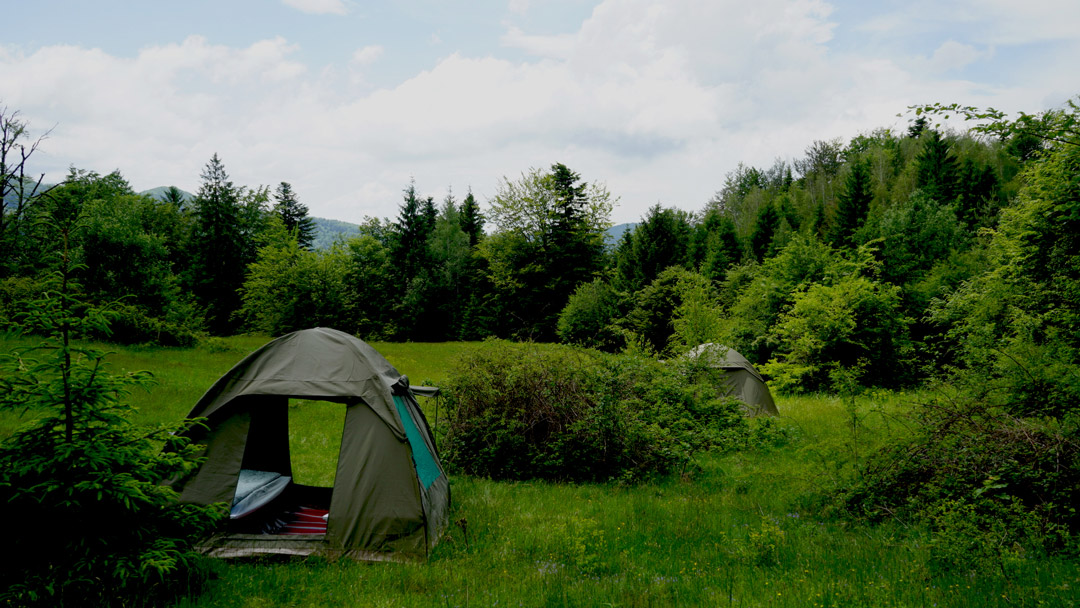 Food
Seasonal and traditional Romanian food supplied by local community and cooked freshly by local chef.
Please contact us for any dietary requirements or allergies we need to be aware of. You can do this by filling in this short questionaire. (You will receive this once you confirm your booking as well)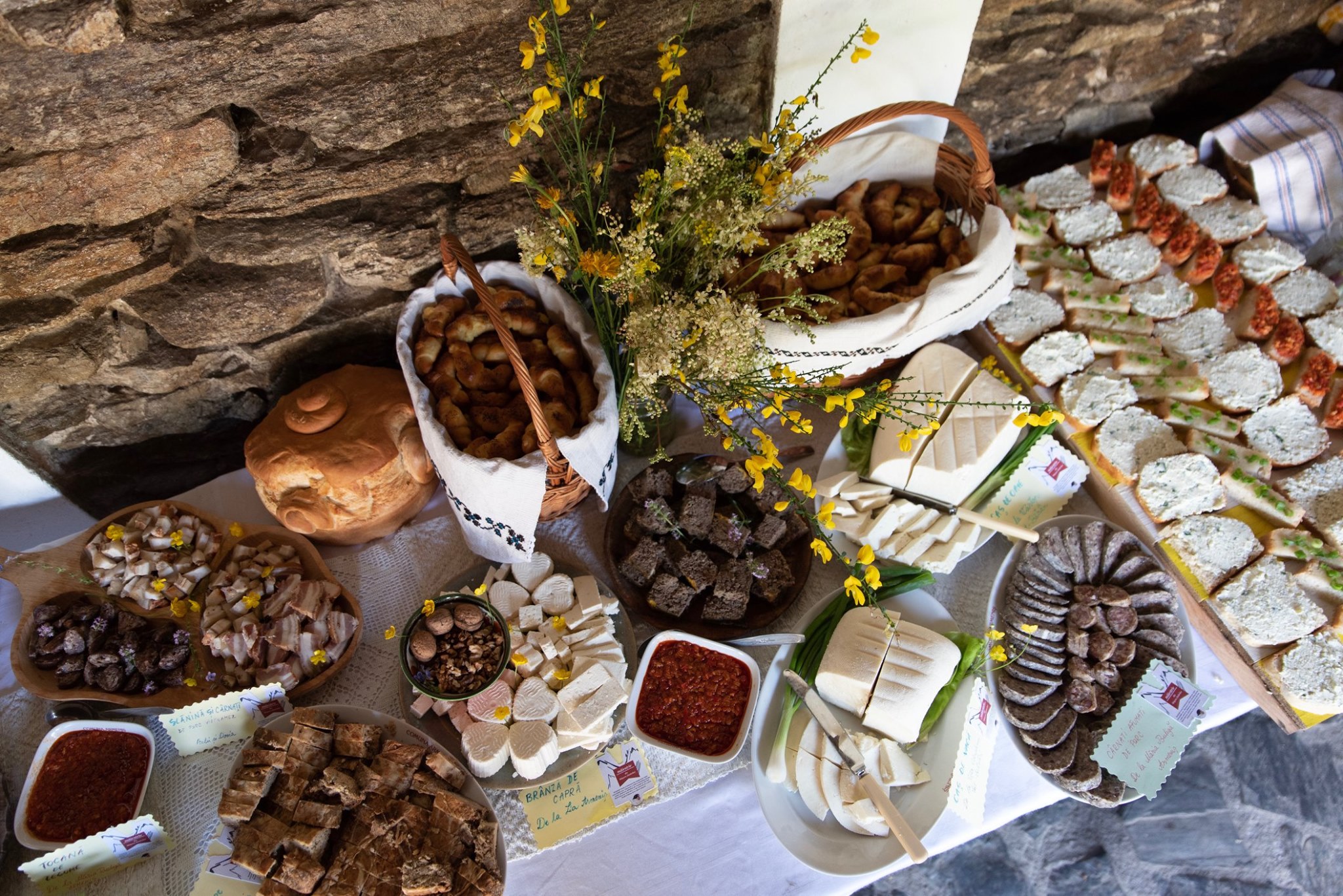 Transport
All transport to the field will be facilitated by locals from the South Western Carpathian areas we are exploring.
You will also have the chance to experience e-mountainbiking if you book the longer 7 day experience which includes the Old Growth forest workshop. Transfer to the old growth forest will be done on e-mountainbikes, guided by the best guide in the region, Catalin Gavrila with over 15 years experience in the area.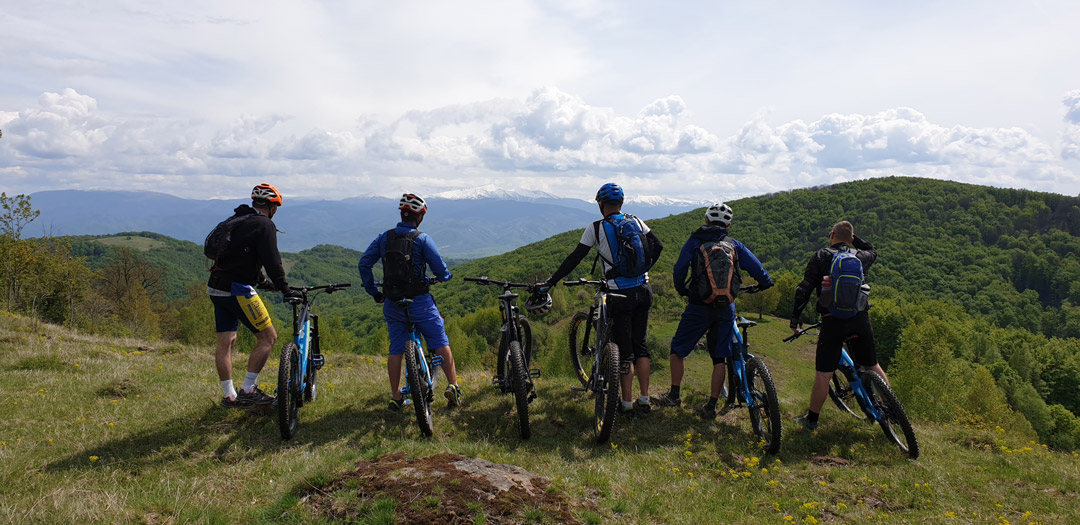 Packing list
Daybackpack and water container (min. 2 L)

Head/-torch

Flipflops or camp shoes

Waterproof outdoor shoes

Sleeping bag (sleeping mats will be provided for two nights sleep outs. Also, if you do not own a sleeping bag, do let us know we can provide one)

Raingear (and gaters, if you like)

Notepad / notebook and pen/pencil for field-activities

Binoculars!

Camera

Any snacks for yourself during activities

Personal medication/first aid kit
---


Programme
Day 1 (28.08.19)
PM: Arrival Armenis, transport to Pades camp site
Arrival campsite, settle in
Early dinner and campfire get to know each other
Day 2 (29.08.19)
Early wake up (05:30), coffee/tea and light breakfast
AM-activity (4 hours)
Brunch and coffee/tea, relax (10:30/11:00)
PM-activity (3-4 hours)
Campfire dinner
Day 3 (30.08.19)
Early wake up (05:30), coffee/tea and light breakfast
AM-activity (4 hours)
Brunch and coffee/tea, relax(10:30/11:00)
PM-activity (3-4 hours)
Early dinner
Sleepout (If weather permits)
Day 4 (31.08.19)
Early wake up (05:30), coffee/tea and light breakfast
AM-activity (4 hours)
Brunch and coffee/tea, relax (10:30/11:00)
PM-activity (3-4 hours)
Early dinner
Sleepout (If weather permits)
Day 5 (01.09.19)
Early wake up (05:30), coffee/tea and light breakfast
AM-activity (4 hours)
Brunch and coffee/tea, relax (10:30/11:00)
Depart
End of programme
Optional
Transfer to Valiug
Baggage transfer by boat and Stand up Paddle to Tree House
Overnight in tree house
Campfire dinner
Day 6 (02.09.19)
Wake up (08:30), coffee/tea and breakfast.
E-bike tour to Semenic National Park / Izvoarele Nerei.
Lunch at Semenic Sheepfold.
PM activity on foot - basics of forest monitoring interactive activity with the goal to identify 10 Species, age groups, dead wood and virgin forest characteristics.
Sleep out / e-bike ride to Gărâna if weather does not permi.
Day 7 (03.09.19)
Wake up (8:00), coffee/tea and breakfast.
Virgin forest detective work in teams, based on knowledge gained so far.
Packed lunch. Sharing.
PM activities
Transfer to Gărâna.
Dinner
End of programme
---
For further enquiries, dont hesitate to get in touch with our team via email. You can also give us a call on +40721 81 95 95.

This expedition is a prototype of Panda Labs, WWF's innovation branch and is implemented by a great local partnership between WWF, Reky Travel, Bison Hillock Association, Cybertracker Italy, Bike Attack Reșita and RoMountainbike bringing together a multi disciplinary and highly experienced team. The goal of this expedition is for people like you to gain deeper knowledge about nature conservation, while nurturing a growing community of citizen scientists who can make a real difference on the ground, here and beyond. The cost this expedition is also creating revenues at local level, for the local gatekeepers biodiversity hotspots, two thirds of the cost of this expedition is paying for local products that facilitate this trip.
Organizer of Wild nature expedition with WWF: wildlife tracking course, birding and old growth forest experience, 5-7 days in the Carpathian Mountains
WWF is the world's leading independent conservation body and our mission is to build a future in which people live in harmony with nature. Founded in 1961, we work in more than 100 countries, 5 continents and have more than 5 mil supporters worldwide. WWF Romania is a program office, established in Romania over a decade ago. It works on small and large scale conservation initiatives, conducting policy and advocacy work relating to protected areas, species, freshwater, forests and rural development.