Wild Moves- Outdoor Dance/Mindful Movement on Rodeo Beach -via silent disco
About this Event
Come join us to dance outdoors on the stunning sands of Rodeo Beach.
We will use silent disco headsets to dance a 5Rhythms conscious-dance class down by the edge of the Ocean.
There are no steps to learn and nothing to "get right"- just moving to the music and to gentle guidance delivered through the headsets. We use the dance to drop down in to the body (in a similar way that yoga does); supporting us to connect deeper- to ourselves, to others and to the wider natural world around us.
No previous dance experience is necessary, just a willingness to dive in and join the dance. We use the dance is a potent movement-based mindfulness practice. It's a great way to enjoy ourselves, to exercise and to meditate- all in the same moment! Dancing in this way not only increase our physical agility and fitness; it also increases our authenticity, our emotional awareness and our effectiveness in the wider world as we become more embodied.
We will gather on the day of the full moon and dance through the afternoon into the "golden hour" at the end of the day.
Rode Beach is Golden Gate National Park land and a stunning dance setting.
Video from our previous events at Rodeo Beach below:
Wild Moves events are facilitated by dance artist and accredited 5 Rhythms teacher, SpiritRock trained Dharma-Yoga facilitator and international dance producer Tess Howell, whom has been running these highly popular events world-wide since 2012.
Tess leads these events with warmth, vitality, humour and depth; skillfully using the dance to guide us back towards what matters most in life. See more info at www.wildmoves.org
Participants say: 
 " Wonderful! Uplifting! Perfect music! Atmospheric setting!"  
"What a great day it was...so beautiful to dance out in the elements.  It was amazing, thank you" 
 "I loved it today! Such an amazing place to dance.. loved the music. thank you- a very rich day :-)" 
We use belt-pack "silent disco" transmitters- and in-ear buds (similar in shape and size to i-phone ear buds.)
Please bring a water bottle and do wear lots of warm layers- the winter events may well be chilly!
There is free parking at Rodeo Beach Parking lot.
We meet at 3pm PROMPT to walk to our dance spot at the bridge across the lagoon. Please be on time ( there is no cell or data service at our location)
We meet at the ocean side end of the bridge across the lagoon ( there's only one bridge - left from the main parking lot as you face the ocean) Full meeting place info sent on booking.
NB tickets need to be purchased in advance due to National Parks Events regulations
This event is open to those over 17 and over- we use the dance as an embodied enquiry/ moving mindfulness practice done to beautiful beats so it's not suitable for children.
We want theses events to be accessible to all and the Bay Area currently has immense variations in income levels. Please choose the ticket type that best honours your situation. Please message us if price is a barrier and we will sort something out so that you can be there.
30 participants max. Further info below so read on....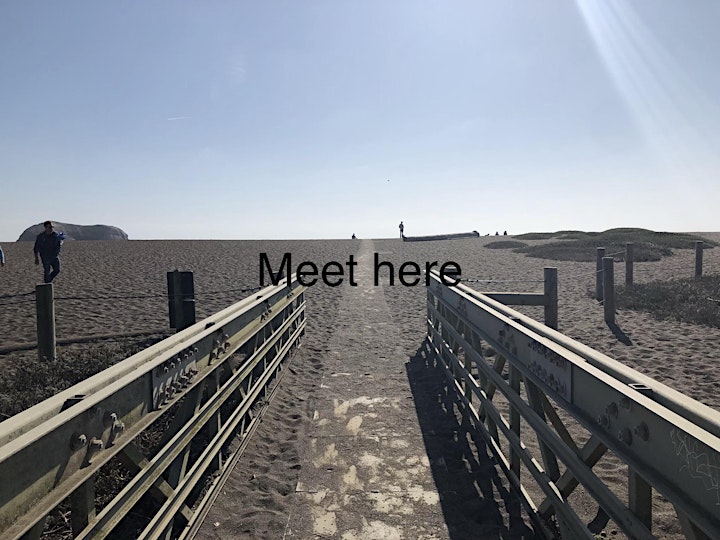 Terms and conditions :
These are drink and drug free events.
Once again: advance booking strictly necessary due to our Golden Gate National Parks permit terms and regulations.
In the event of cancellation due to bad weather (heavy rain) we will refund 100% of the ticket price in full. Eventbrite sadly do not offer a refund on their part of the event -booking fees in this instance. Cancellation will occur by 10am on the event day with notification being sent out by email. If it's a bit overcast /chilly/windy then the event will still go ahead.
8th Feb update- we are happily going ahead today :-)
The single lane tunnel off Highway 101 to the beach can be very slow to get through so please allow extra journey time accordingly. Once we leave at 3pm to walk to our dance spot (ten minutes way towards the red cliffs _you may be unable to find us once we have left) Please, please be on time and allow lots and lots and lots of time to get through the tunnel) We do not issue refunds if you are late!!
These are always magical and memorable days.
Be warmly welcomed to join us. So looking forward to moving with you and seeing what wild goodness we can co-create.
Tess