Description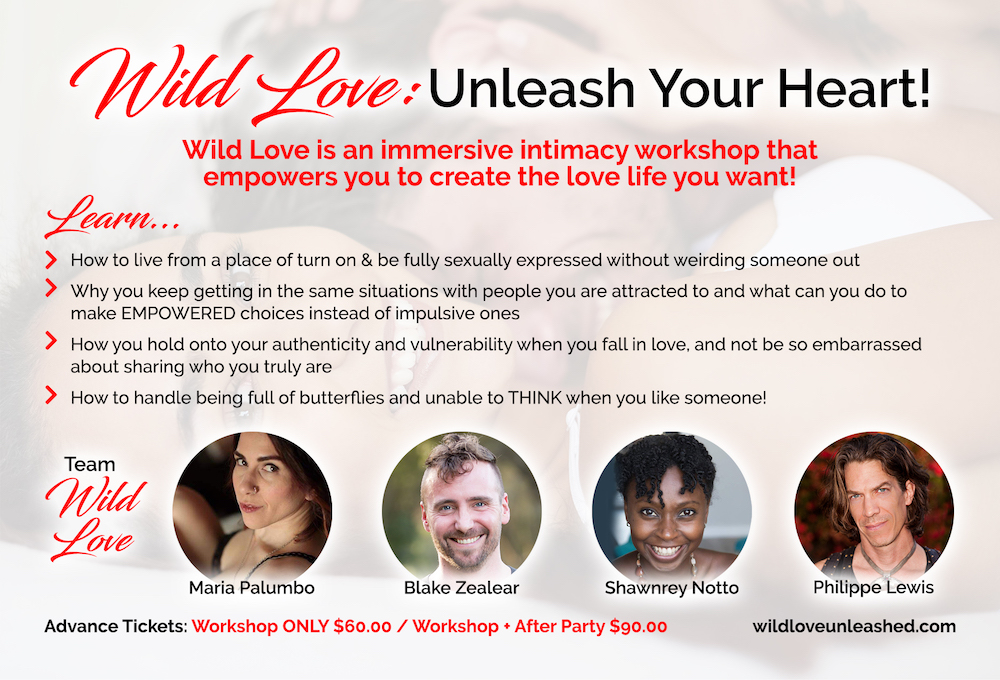 How WILD is your love life? A bit tamer than you'd like? You're not alone! It's becoming harder and harder to make real, passionate connections. Everyone wants pleasure and intimacy, we just don't know how to create it in a world full of swiping and one night stands.
We want something better. Something juicier than what we thought possible and aren't willing to settle.
So we created a workshop to unleash your power, your body, your sacred sovereignty, and your freedom. ALL while supercharging your ability to create empowered connection and intimacy. Because you want it all. And you get to have it.
For couples and singles.
ABOUT WILD LOVE
Wild Love is run by four intimacy, sex and relationship professionals, who simply cannot get enough of each other's brains and can't stop laughing when we get together. When we met we knew we were striking gold and that we wanted to let more people in on it. Wild Love was born.
Wild Love is the beginning of a conscious community that connects desire and the heart. We've decided that we get to be deeply met in our emotional intimacy AND chemistry.
Wild Love is an immersive intimacy workshop that not only empowers you to create what you want in your love life, but gives you the confidence to show up fully in ALL areas of your life.
Wild love is NOT a dating event or another typical conversation about consent. This is not a sex party - and the Unleashed after party will have space to take yourself in a sensual direction - a "2nd base party" - the most fun you can have with your pants on!
We get to the heart of what is getting in the way between you and mind melting love. We give you cutting edge knowledge and tools so you can apply what you learn and embody the confident badass we know you are.
You will leave feeling:
Empowered to create and pursue what you want, in love and life.
Embodied in your clear YES, and your NO.
Expressed in your unique specialness - the amazing gift of YOU.
Energized to move, dance, play, and make love to life.
Engaged with a growing community of conscious BADASSES.
Evolved into a fuller relationship with your deepest self.
Elevated to a higher vibration of loving - yourself and others.
Breakout sessions will hit:
How do I live from a place of turn on & be fully sexually expressed without weirding someone out
Why do I keep getting in the same situations with people I am attracted to and what can I do to make EMPOWERED choices instead of impulsive ones
How do I hold onto my authenticity and vulnerability when I fall in love, and not be so embarrassed about sharing who I truly am
I get all full of butterflies and CAN'T THINK when I like someone! HALP!
You will learn how a calm nervous system is sexier than great abs and pillowy hair. All peppered with corny dad jokes + powerful embodiment exercises. We kid you not.
If you would like to...
meet some special someone(s), AWESOME, we will make it safe for you to speak your desire.
connect as friends, PERFECT, you will have plenty of opportunities to get to know like minded badasses.
soak up some amazing tips on how to create a turned on life, GET IT! We will honor it and celebrate you exactly where you are.
Consensual touch and honoring boundaries is a big one with us. You get to choose how much you would like to explore and with whom at ALL times.
Our first workshop is in Oakland. It is our opener, so this baby is at a low price, but it will not stay that way.
After the workshop we have something saucy waiting to delight the pants on or off of you, depending on what tickles your fancy.
This nighttime event is called WILD LOVE UNLEASHED
This is for those of you who want to take this practice to the next level. It is a conscious communion party that will carry the work of the day into a more intimate realm where ANYTHING is possible. We are creating a sacred temple play space where intimate connection, in the container of consent and respect, will be safely encouraged.
Come-as-you-are, without ANY expectations of you. WILD LOVE UNLEASHED is ONLY available to those who attend the daytime event, so we are all on the same page, with people who are on the same journey together.
What to expect:
30-50 soulful, intelligent, heartfelt ones who want more from the dating/relationship scene and enjoy taking their lives (not just their love lives) next level.
Sexy & empowering tips and tools that are not your parents' guide to finding love.
A sober lunch & party. Because your smile is more than enough.
People who identify as monogamous, polyamorous. All genders and sexualities are not just welcome, but celebrated.
This is how we do it:
9:30am - Open doors
10am - Welcome circle begins and doors are CLOSED
12pm - Lunch (provided)
1:30pm - Breakout sessions
5pm - dinner & social time: hang out, flirt, enjoy the awesome that you are.
7pm - BREAK and put on something that makes you feel DELICIOUS
8pm to 2am - Wild Love Unleashed After Party
Pricing:
Early Bird - Until April 30th
Workshop only - $60
Workshop + Unleashed - $100
Regular Price - Until May 24th

Workshop only - $100
Workshop + Unleashed - $140
Limited seating, so we suggest you get your tix in advance.
We might have to turn people away at the door as we are creating quite a stir. Grab your ticket early to snag a spot.
Some additional details:
PLEASE NO:
Late arrivals
Strong perfume, cologne, or body odor.
Shoes
Phones - (When the workshop begins, it is a NO PHONE zone!)
BRING:
A notebook
A water bottle
Something fun to wear to the after party
A readiness to have fun + learn
As if this couldn't get any better, we ALSO have a surprise! No we can't tell you about it now because we LOVE to tease. Let's just say, this is the beginning of something very special… you will want to be there to get at it first.
LED BY: Team Wild Love
Maria Palumbo
MSW, Sex & Relationship Coach, Expert Flirter
Maria Palumbo began as a psychotherapist in community mental health. She identified how trauma made a lasting impact on the ability to find true love and enjoy sex, and decided to take her findings to begin her own biz. She began creating programs that awaken both the sex and heart. She is passionate about people reversing the effects of trauma and creating a life of vitality and rich intimacy. Since beginning her coaching business, Maria has helped hundreds of people (both virtually and IRL) fully realize that their vulnerability is what makes them sexy. She is known to ignite a high level of turn on (you're welcome).
Shawnrey Notto
Also known as the "Joy Bringer", Shawnrey teaches, facilitates and performs Sensual Embodied Awakening, and is on a mission to help people claim and live in their pleasure, play, and power. Shawnrey applies 17 years of professional dance and choreography, yoga, mindfulness meditation, sensual research, and a of lifetime fun. She invites people to be raw and refined, powerful and soft, wild and elegant.
Philippe Lewis
Sex & Relationship Guide, Exquisite Lover, Badass Producer
Exquisite Love Coaching is yours truly (Philippe Lewis) open sourcing his bits of clarity and wisdom with the whole wide world. My purpose is to support YOU and your COMMUNITY on the path of exploration of love, intimacy, relationships, consent, and connection. My deepest wish is that while on that path, you will meet others like you, love them and support them deeply, and create community with them so that everyone is included and no one is left behind. When we come together, wisdom and support naturally arise, and this is how SHIFT and GROWTH happen! Welcome to the new paradigm of living and relating. Welcome to the path of Exquisite Love. www.exquisite.love
Blake Zealear
Relationship and Intimacy Coach, Sex Educator, Archangel of Love
Blake is a coach and mentor for open/poly folks and those interested in personal growth. He works with singles, couples, and constellations to help them design and navigate the kind of relationships that they want most. Drawing on training in Radical Honesty, Embodied Leadership, NLP, Landmark, sex education, and yogic practice, he makes it his mission to help people find and dissolve the blockages that stop them from living a fully aligned and expressed life. Over a decade of practicing open relationships and personal growth, Blake has worked his way through many of the challenges and conflicts that confront people on their journey to opening up. Approaching that journey from a spiritual standpoint has brought about the creation of this course - a space where folks can speak about what moves them at the deepest levels.