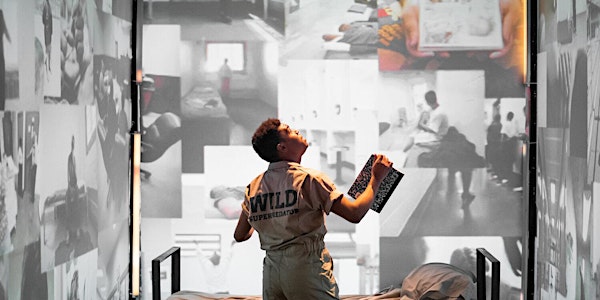 WILD: A Conversation about Juvenile Justice through Dance
A conversation about WILD with Jeremy McQueen, Candice C. Jones, Colton Williams and Chari Glogovac-Smith
Date and time
Sunday, February 27, 2022 · 1 - 2:30pm PST
About this event
ABOUT THE EVENT
Emmy-nominated choreographer Jeremy McQueen encountered a photograph by Richard Ross at the Equal Justice Initiative's Legacy Museum in Montgomery, Alabama. Deeply moved by Ross' work documenting the treatment of young people housed in the criminal justice system, McQueen sought out the expertise of social justice advocates and began crafting his groundbreaking new ballet and four-part dance film titled WILD, presented by the Black Iris Project.
This program will be streamed on Zoom. You must register with your email address in order to receive the link to participate. Please check your email shortly before the discussion to receive the link. Captions for this event will be provided.
ABOUT THE PARTICIPANTS
Black Iris Project. Founded by choreographer Jeremy McQueen in 2016, The Black Iris Project (BIP) is a ballet collaborative and education vehicle which creates new, relevant classical and contemporary ballet works that celebrate diversity and Black history. Based in New York City, BIP hosts a team of predominantly artists of color, and delivers cross-disciplinary and original works. Championing individuality, the collaborative harnesses the Black inherent creative spirit. (www.blackirisproject.org)
Moderator/Speaker bios:
Candice C. Jones (Moderator — she/her) joined the Public Welfare Foundation in Washington, DC as its President and CEO in 2017. Previously, she served as Senior Advisor at Chicago CRED, an organization that focuses on gun violence in Chicago. In that role, she worked on securing greater investments for violence intervention programs as an alternative to the criminal justice system. Prior to her work with Chicago CRED, she served as Director of the Illinois Department of Juvenile Justice, a cabinet level state agency where she supervised operations, programming, budget matters, and communications. During her tenure, she pushed significant reforms that reduced the number of youth in state custody. She also served as a White House Fellow, managing a portfolio within the U.S. Department of Education that included developing education strategies for correctional institutions and shepherding a plan to reinstate federal Pell grants for youth and adults in custody. Earlier in her career, Candice served as a program officer with the MacArthur Foundation, where she managed a grant portfolio focused on decreasing racial and ethnic disparities in the juvenile justice system and on improving the quality of defense for indigent youth. She currently serves on the board of Cabrini Green Legal Aid, a Chicago-based civil legal service organization. Candice received her J.D. from New York University School of Law and her B.A. from Washington University in St. Louis, Missouri.
Jeremy McQueen (Speaker/Choreographer — he/him) is an award-winning choreographer, dedicated to story-telling rooted in experience and social engagement. His work aims to create spaces of comfort, solace, and connection through reflection—a sharing of observations of what is going on around him.
Born and raised in San Diego, California, McQueen is a 2008 graduate of The Ailey School/ Fordham University, B.F.A. in dance program and has also trained in the schools of American Ballet Theatre, San Francisco Ballet, and Alonzo King's LINES Ballet. McQueen is a three-time Emmy® Award-nominated director/choreographer, a 2019 recipient of the Bronx Council of the Arts' BRIO (Bronx Recognizes Its Own) Award, a 2013 recipient of the Joffrey Ballet of Chicago's Choreographers of Color Award [Winning Works] and two-time finalist of the Capezio Award for Choreographic Excellence (2012 & 2013). McQueen was recently named a 2020 recipient of the Soros Justice Fellowship from Open Society Foundations, and is the only choreographer to receive the fellowship since the fellowship's inception in 1997. McQueen has performed in Broadway's Wicked and The Color Purple, the Radio City Christmas Spectacular, and numerous Metropolitan Opera productions. McQueen cites two influential instructors as a source for his work and creative energy. From Donald Robinson, McQueen learned his guiding principle of discipline, doing what you know you're supposed to do even when no one is there to make sure you do it. At a time when McQueen was struggling to make his way as a dancer, Kazuko Hirabayashi encouraged him to choreograph about it. It is in the craft of story-telling and making a way for yourself through discipline and focus that McQueen was led to start The Black Iris Project, a space for like-minded artists to reflect their experiences.
Colton Williams (Speaker/Cinematographer — he/him) is a Filmmaker and Creative Director, currently based in New York and Los Angeles. His craft is built from solving problems and always pushing the script–attempting something different. Much of his work is informed by experience; with his default lens seeking a 'moment after the moment,' shooting the model after the flash, or the artist when the performance ends. Most of Colton's work is based in fashion and non-fiction performative works, with the occasional scripted narrative sprinkled in. In 2018, Colton founded Three Strikes Inc. Servicing both film and photography, the agency has allowed for there to be not only a diversity of thought and craftsmanship, but a collection of trusted creatives, filmmakers and designers. Their clients have included P&G, Amazon, Oribe, Ogilvy, American Express, Tweezerman, Revlon and Cadillac.
Chari Glogovac-Smith (Speaker/Composer — they/them) is a composer, vocalist, instrumentalist, filmmaker, and mixed media artist. Using an evolving mixture of traditional and experimental techniques, Chari is dynamically exploring and illustrating various counterpoints between society and the human experience. Chari's recent works have posed questions about empathy, conflict, emotional intelligence, identity, social justice, healing, listening, and time. Their examinations and integrations of mediums, materials, and methodologies have centered around their research into the theories and practices of afro-futurism, deep listening, minimalism, jazz, classical music, experimentalism, mechatronics, and machine learning. Chari's compositional trajectory was ignited during their MFA studies in Electronic Music and Recording Media at Mills College (2018-2020). During this time Chari had the great privilege to study with Roscoe Mitchell and Tomeka Reid of the Art Ensemble of Chicago, William Winant, Steed Cowart, Zeena Parkins, Laetitia Sonami, Molly Holm, David Bernstein, and John Bischoff. Before this time, Chari spent a decade as an underground vocalist/rapper in various touring rock and hip-hop bands, sharing stages with The Flobots, Nappy Roots, Dj-Quik, Uh-Huh Her, Sage Francis, K-Flay, and Jodeci. Chari currently resides in Seattle, WA, and is pursuing their Ph.D. in Experimental Arts and Digital Media at the University of Washington. Chari is a proud McNair Scholar and a Nevada Art Council Fellow. Chari has worked as a commissioned composer in collaboration with The Center for the Art of Performance UCLA, The Black Iris Project, and has exhibited media works internationally.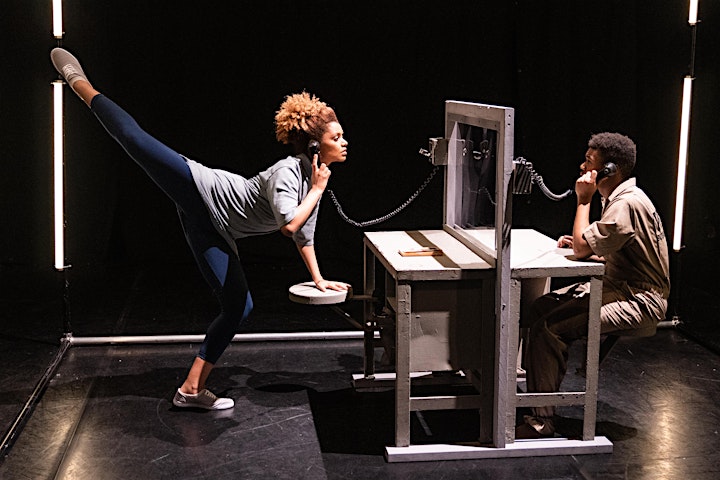 About the organizer
THEARC Theater, is the arts & culture program under the direction of Building Bridges Across the River. We are a multidisciplinary venue in the Congress Heights Southeast neighborhood where we elevate and provide access to the community of Black and Brown residents and beyond. Entertainment genres include: Theater, Dance, Music, Film, Comedy and more.....
THEARC Theater is available for rentals of THEARC Theater (365 seat proscenium theater venue) and THEARC Black Box (configurable venue capacity 150-200ppl).