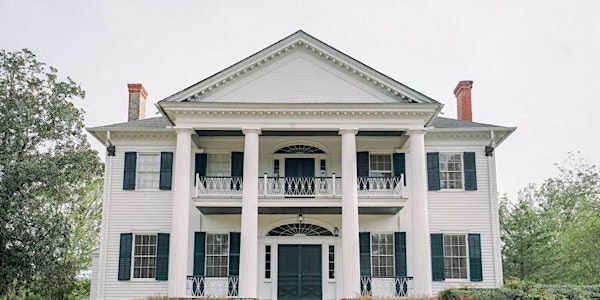 Wilcox Historical Society Tour of Homes
The Wilcox Historical Society is proud to showcase the homes of Historic Camden in their Annual Tour of Homes this year!
When and where
Location
Camden 301 Broad Street Camden, AL 36726
About this event
Set in the heart of Wilcox County, Historic Camden, Alabama, is the site of the Wilcox Historical Society's Tour of Homes , Saturday, March 27,2021. Our event starts with a Welcome Reception Friday Night, March 26, 2021, at 6:00 pm, on the grounds of RiverBend Plantation. This special event will feature wine, hor d'oeuvres and guest speaker, Mr. James Farmer, noted Southern author and interior designer. His visit is sponsored by The Pecan on Broad and The Brittany House Antiques.
TOUR OF HOMES GENERAL INFORMATION:
Our Tour includes seven homes, two churches, and several sites downtown.
Everyone must bring their ticket to registration either Friday afternoon or Saturday to the Wilcox Female Institute, our tour headquarters, 301 Broad Street, Camden, AL.
REGISTRATION HOURS:
Friday, March 26th – 4:30 pm – 6:30 pm
Saturday, March 27th – 9:00 am – 3:00 pm
When you register you will exchange your ticket for an arm band that will get you into the Welcome Reception and Tour of Homes.
We will you provide you with our 2021 Tour Brochure and Map at registration.
We will hold all events rain or shine. However, in the event of rain or saturated ground, we will require you to either remove your shoes or wear shoe covers while in our Tour Homes. Each home will have shoe covers available for your use.
The Tour of Homes Saturday, March 27th, hours are 10:00 am – 5:00 pm.
We will be following a number of safety protocols this year. At registration everyone will have their temperature taken before receiving their arm band. If someone has a temperature they will receive a full refund and will not be allowed entry. Masks must be worn properly inside at all times. Sanitation stations will be set-up at each home with hand sanitizer, extra masks, etc.
Entry into the homes will be limited to small groups. Where possible there will be one entrance and one exit. The Reception at RiverBend and Breakfast at the Brittany House are outdoor events (under tents), but proper table spacing and food distribution protocols will be used. By taking these extra measures we are doing all we can to ensure the health and safety of everyone.
There is no parking at RiverBend on Friday night. You must park in downtown Camden and ride one of our courtesy shuttle buses to and from the Reception. They will run from 5:15 pm – 9:00 pm except during Mr. Farmer's talk at 7:00 pm.
RiverBend and Wakefield are not open for tours on Saturday. You can only see them by attending the Welcome Reception or the Ball.
You do not have to register at the Female Institute to attend the Breakfast at The Brittany House Antiques in Oak Hill. Simply show your ticket or eventbrite printout for admission.
BREAKFAST, SATURDAY MORNING 3/27
The complimentary breakfast at Brittany House Antiques in Oak Hill (5921 AL Highway 21, Oak Hill, Alabama - 15 miles from Camden) is Saturday morning from 8:30 am – 10:00 am. Please use proper social distancing throughout the morning. This is a self-serve breakfast. There will be tables and chairs for your use and you will be provided individual utensils to pick-up your food. The menu includes: Homemade biscuits, ham, fresh fruit, breakfast pastries, coffee, and orange juice.
Here is the complete Tour of Homes Weekend Schedule:
Friday, March 26
4:30 pm – Registration opens at the Female Institute, 301 Broad Street, Camden, AL
5:15 pm – Shuttle Buses start running. There is no parking at RiverBend.
6:00 pm – Cocktail Party Begins at RiverBend
7:00 pm – James Farmer's talk begins9:00 pm – Last shuttle returns to Camden
Saturday, March 27
8:30 am – 10:00 am – Breakfast at The Brittany House – 5931 AL Hwy 21, Oak Hill, AL
9:00 am – Registration opens at the Female Institute – 301 Broad Street, Camden, AL
10:00 am – 5:00 pm – The 2021 Tour of Homes
7:30 pm – The Inaugural Pilgrimage Benefit Ball at Wakefield begins
Lunch locations Saturday, 3/27, 11:00 am – 2:00 pm
The Pecan on Broad – 110 Broad Street - Stand alone restaurant and gift shop, large menu
Masonic Lodge – 201 Broad Street -The Masons will be offering a Bar-B-Que lunch on the grounds of their historic building.
Wilcox Female Institute – 301 Broad Street – Blue Spoon Catering is offering a sit-down lunch inside the historic building. They will be offering Chicken Salad or Pimento Cheese Sandwiches and sides.
Gaines Ridge Supper Club – 933 AL Hwy 10 – Historic Gaines Ridge will be offering lunch from 11am – 2pm. Dinner service will start at 4 pm. RESERVATIONS ARE REQUIRED.
GET TICKETS TO THE BALL!
There are a limited number of tickets remaining to this year's Benefit Ball at Wakefield, Circa 1847. It is the only opportunity to see this beautiful home during the weekend. To get tickets to go:
https://www.eventbrite.com/e/89193884309
We would like to thank our Platinum Sponsors for their generous support!
The Pecan on Broad
Global Medical Products
UB Community Development, a community development partner with United Bank
Bailey Dunagan Properties & Investments
For more information or to book a group of 10 or more for this year's Pilgrimage, please call 256-975-7616.
We look forward to seeing all of you this weekend!