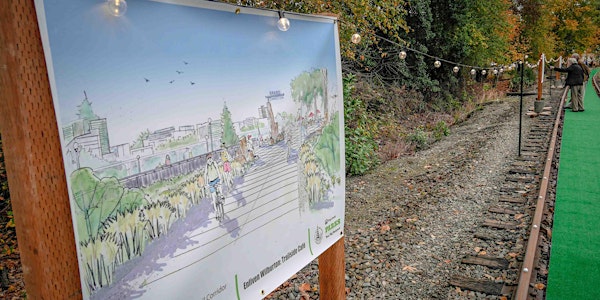 Wilburton Eastrail Virtual Community Walk
Help us understand how the Eastrail Trail can be a welcoming and inclusive space for all ages, abilities & backgrounds
About this event
Built on an historic former railroad, the Eastrail trail will eventually connect Eastside cities from Renton all the way to Woodinville and Snohomish County. But the Eastrail trail has the potential to be much more than a trail; it will hopefully become a signature public space that draws people not just for commuting but to linger and enjoy art, nature, retail, and community events all along the route.
To help make sure this vision is realized the City of Bellevue is partnering with King County Parks and Sound Transit to develop a vision for the portion of the Eastrail trail that runs from SE 5th Street to NE 12th Street in Wilburton. The goals of this effort are to understand what the community would like to see in this space, how the trail could integrate with surrounding businesses, and how the trail can be a welcoming space for people of all ages, backgrounds, and abilities.
We want to hear from the community about what they would like to see in this section of the Eastrail. and invite you to join us for an interactive Virtual Wilburton Eastrail Community Walk on Wednesday, July 28th at 6:00 p.m. to learn more and share your feedback

For alternate formats, interpreters, or reasonable accommodation requests please phone at least 48 hours in advance 425-452-6930 (voice) or email bbrod@bellevuewa.gov. For complaints regarding accommodations, contact City of Bellevue ADA/Title VI Administrator at 425-452-6168 (voice). If you are deaf or hard of hearing dial 711. All meetings are wheelchair accessible.
If you have any questions regarding the ADA statement above or need help please reach out to ADA Coordinator Blayne Amson, bamson@bellevuewa.gov or 425-452-6168.