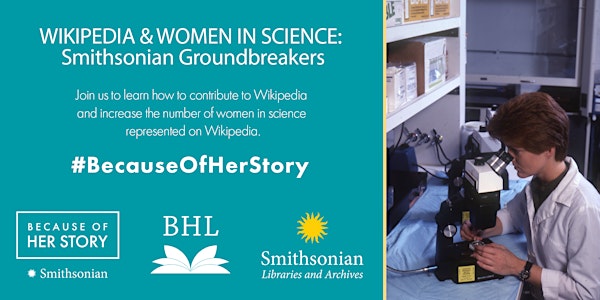 Wikipedia & Women in Science: Smithsonian Groundbreakers Edit-a-thon
Help us to increase the representation of women in science on Wikipedia!
About this event
There are so many inspiring stories about women in science at the Smithsonian in its 175-year history that can educate and embolden future generations, but only if their legacies are discoverable.
On Thursday, March 25, join our #BecauseOfHerStory effort to uncover more about these often underrepresented women trailblazers in various disciplines, from astrophysics to zoology.
During this training, attendees of all experience levels will learn the basics of how to edit Wikipedia by updating articles related to the history of women in science at the Smithsonian Institution in connection with the Funk List. Presenters will share how editors might research the work of these women in the absence of personal papers and institutional records.
As one of the web's most visited reference sites, Wikipedia serves as a starting point for many individuals looking to learn about art, history, and science. However, less than 19% of Wikipedia biographies in English represent women, and less than 10% of Wikipedia editors identify as women. By increasing representation of women scientists on the site, your impact can spark the curiosities of future generations who see themselves in these Smithsonian groundbreakers.
This event is planned in conjunction with the Smithsonian Institution Archives, the Biodiversity Heritage Library, and the Smithsonian American Women's History Initiative a multiyear undertaking to document, research, collect, display, and share the history of women in the United States.