Wig Mastery:Learn How To Make A Lace Closure Wig Using A Sewing Machine
About this event
So, you tried to teach yourself how to make a wig using the sewing machine...
You've watched COUNTLESS Youtube videos-which were slightly helpful, but you're still stuck, not confident in your ability to finish the wig on the sewing machine, and you don't know WHAT to do when you get those cap jams.
Does THIS sound like you?
You can't get your tracks evenly stitched on your cap and your guidelines are crooked.
You don't know how to accurately take measurements AND transfer them to your canvas head.
You spend countless hours hand-sewing your wigs for your clients.
Are you taking 3 hours or more to hand stitch your custom wigs?
It takes you at least an hour to hand stitch your lace closure to your wig cap.
You struggle for hours making a wig and it ends up too big.
You suffer from hair loss and want to save money by making your own wigs.
You are a veteran hairstylist looking to transition to wig-making only.
You want to supplement your income by using the multi-billion dollar hair business
If you fit the above description and said yes to ANY of the above statments WIG MASTERY is JUST what you need.
The art of wig making is just that, art. Inside this one-on-one, in-person class, you will learn the top tricks and steps to creating your wig on a sewing machine, creating a fail proof blueprint that assist in creating a flawless and symmetrical wig, and more. Here is what you will get inside of the WIG MASTERY:
-The blueprint to making closure wigs and frontal wigs on a sewing machine.
-The method to ensure perfect weft placement.
-How to properly take measurements
-How to transfer your measurements to your wig block
-How to double your wefts
-Helpful wig-making tips for a more flawless wig
-Small wig making kit which includes your bundles and closure, wig caps, wig measuring tape, and more.
.After attending the WIG MASTERY class, you will:
Know the blueprint to making closure wigs on a sewing machine.
Know the method to use to ensure perfect weft placement.
The measurements you will need AND how to transfer them to your wig block with ease.
The secret to doubling your wefts on the sewing machine.
Understand the steps to take to help you create your wig in under an hour
*******YOU WILL BE REQUIRED TO HAVE YOUR TEMPERATURE CHECKED PRIOR TO ENTERING THE CLASS ROOM******
***YOU WILL BE REQUIRED TO WEAR A MASK AT ALL TIMES DURING THE CLASS AND WHILE IN THE CLASSROOM********
***YOU WILL BE RESPONSIBLE FOR BRING YOUR OWN SEWING MACHINE****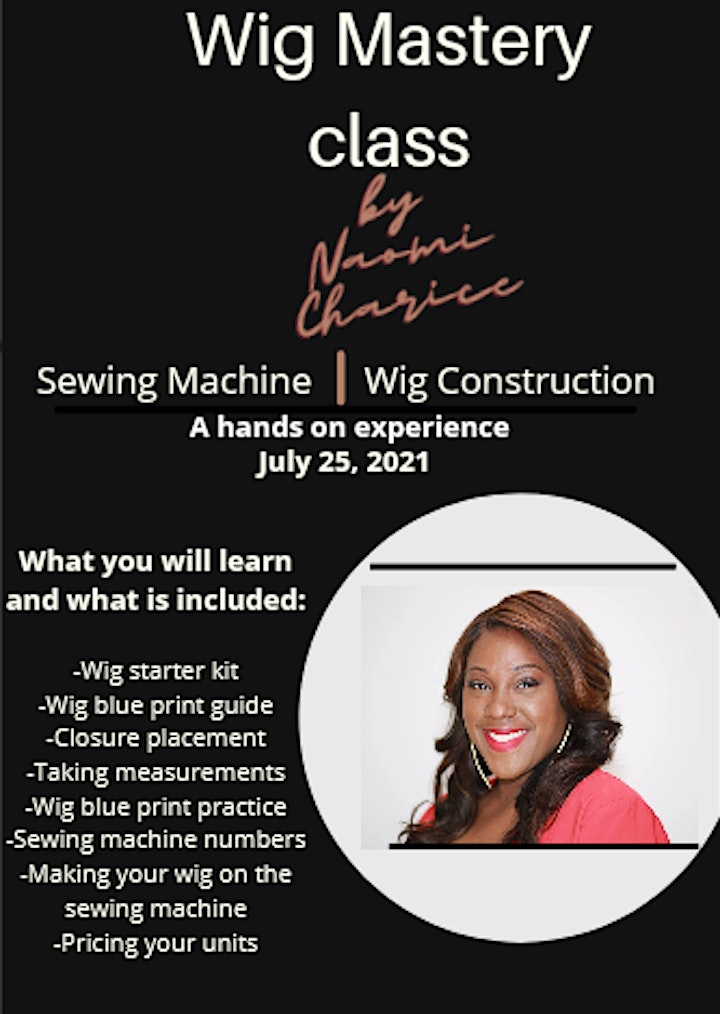 Organizer of Wig Mastery:Learn How To Make A Lace Closure Wig Using A Sewing Machine