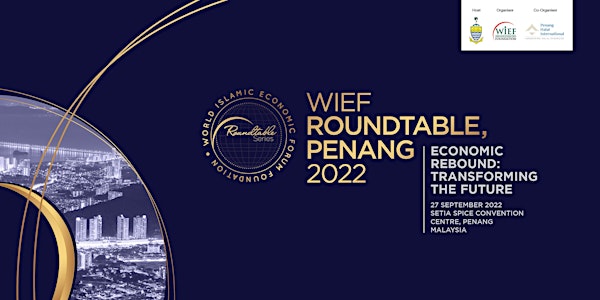 WIEF Roundtable, Penang | Economic Rebound: Transforming The Future
This WIEF Roundtable, Penang addresses relevant issues and strategies pertaining to sustainable economic recovery to transform the future.
When and where
Location
Setia SPICE Convention Centre 108C Jalan Tun Dr Awang Bayan Lepas, Pulau Pinang 11900 Malaysia
About this event
DISCLAIMER : Participants' registration are only considered completed upon submission of RM50 commitment fee.
INTRODUCTION
The COVID-19 pandemic has resulted in massive disruption across the entire socioeconomic spectrum globally. Apart from the effects on lives and livelihoods, its ramifications included higher inflation, rising food and energy prices, slow GDP growth and slowdown in world trade. With the virus receding to endemic in most countries, governments and businesses alike are now exploring ways and opportunities to stimulate growth through various means from digital transformation to business augmentation leading to more sustainable, resilient and equitable development.
This WIEF Roundtable, Penang 2022 held during challenging times, brings together representatives of governments, organisations and private sector as well as prominent individuals to address relevant issues and strategies pertaining to sustainable recovery in order to transform the future.
PROGRAMME
9.00am - 9.30am | Onsite Registration
9:30am - 10.15am | Welcoming Remarks by :
YB Dato' Hj. Abdul Halim bin Hj. Hussain, EXCO Perdagangan, Industri dan Pembangunan Usahawan State of Penang
Tan Sri Dr Syed Hamid Albar, Chairman, WIEF Foundation, Malaysia
Keynote Address by YAB Tuan Chow Kon Yeow, Chief Minister, State of Penang
10.15am - 11.30am | Economic Revitalisation: Mapping a Sustainable Recovery
The COVID-19 pandemic has resulted in both health and economic crises globally. The economic impact is enormous with long-lasting repercussions for people, businesses and governments. Medium and long-term economic recovery programmes by governments as well as revival plans and strategies by organisations and businesses are necessary with the potential to create a sustainable and resilient recovery.
This session will explore:
How global recovery from the COVID-19 pandemic has affected the future of sustainable development
Innovative recovery strategies to help accelerate progress and achieve SDG goals
Could Islamic economy and finance be the panacea to help augment an inclusive, multi-pronged economic recovery agenda
11.30am - 12.15pm | Net Zero Transition: Growing Urgency
Governments and businesses alike are increasingly committed to climate action. Despite the growing importance to achieve net-zero by 2050 as per UN's Race to Zero campaign, the net-zero equation is still unsolved due to the scale of the task at hand. For instance, power and industry are major energy consumers and together they generate about 60 percent of CO2 emissions.
This session will explore:
Opportunities to accelerate decarbonization efforts including investments into low-carbon technologies and new innovations
Policies and institutions required to enable and foster the development and deployment of new environmentally sustainable, climate-resilient and productive assets
Strategies to encourage public action to build a just, fair and inclusive transition for workers and consumers
12.15pm - 12.45pm | Special Address - Halal Transformation Journey
12.45pm - 2.00pm | Lunch
2.00pm - 3.00pm | Digital Transformation Revolution: Embracing Technology
COVID-19 pandemic has transformed society and hastened the adoption of digital technology in all spheres of the economy. By leveraging the internet, smartphones, big data, the internet of things, artificial intelligence, robotics, virtual and augmented reality as well as other digital technologies, governments and private sector can increase productivity, spur innovation and improve livelihoods. However, this process has also exposed and exacerbated the digital inequality and gaps globally.
This session will explore:
Strategies to ensure changes taken in an equitable and sustainable manner and concrete approaches to implement the transformation process across organisations, supply chains and communities
Collaboration between government and private sector to provide people with the skills and opportunities needed in the digital transformation revolution
Incentives and regulatory reforms to encourage digital entrepreneurship as well as private sector innovation to help promote new waves of innovation and economic growth
Role of Islamic digital economy in providing a unique and competitive advantage in the global Islamic digital marketplace
3.00pm - 4.00pm | Muslim-Friendly Tourism and Hospitality: Capturing Opportunities
Despite being the fastest growing global travel sector, the "Muslim-friendly" tourism industry has been affected by the onslaught of COVID-19 pandemic. As travel returns, this, niche industry will be greatly sought after by observant Muslims looking for suitable holiday destinations.
The session will discuss:
Strategies to encourage growth of the industry and awareness among travel industry stakeholders as well plans for the development of "Muslim-friendly" tourism alliances
Policies to develop and environment for innovation and entrepreneurship on "Muslim-friendly" tourism related products and services
Development of a unique "Muslim-friendly" tourism base destination positioning and marketing
4.00pm - 5.00pm | Revitalising Waqf: Role of Islamic Finance
Waqf development has been hampered due to lack of comprehensive ecosystem such as lack of legislation, governance, professionalism and funding. Islamic finance industry particularly Islamic capital market has the capacity to support the development of waqf assets.
This session will explore:
Recent trends of innovative products and services through Islamic finance for the development of waqf assets
Challenges in developing and managing waqf assets to ensure sustainable and responsible development within the country
Prospects and opportunities for waqf guardians to capitalise on new funding mechanisms to provide larger economic returns to its communities
5.00pm - 5.15pm | Closing And Vote Of Thanks
Fazil Irwan Mohd Som, Chief Executive Officer, Penang Halal International Sdn Bhd
Tan Sri Mohd Radzi bin Abdul Rahman, Secretary General, WIEF Foundation
5.15pm | End of WIEF Roundtable, Penang
For further information, kindly visit www.wief.org or email register@wief.org
Book your tickets at https://bit.ly/3PiqvNP