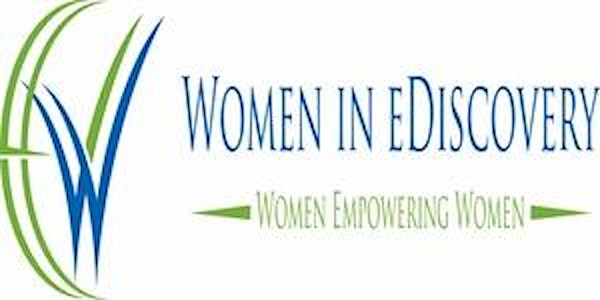 WiE Denver (Virtual) Chapter Meeting - May 2020
When and where
Location
Virtual - WebEx https://attendee.gotowebinar.com/register/1469502095170236686
Description
Dear WiE Members and Guests,
Please join us on May 15 for our next Denver WiE Chapter meeting. This will be a virtual meeting. (You must register here in order to receive the WebEx link: https://attendee.gotowebinar.com/register/1469502095170236686)
The topic for May is: E-Discovery and the Ethical Duties of Competence, Supervision and Confidentiality
Courts and bar associations across the country have recognized that in order to satisfy the ethical duty of competence, supervision and confidentiality, attorneys involved in litigation must have a sufficient understanding of legal technology, in particular, the recurring issues that arise in electronic discovery. Counsel must be able to advise their clients and engage their adversaries effectively concerning the preservation, collection, processing and review of electronically stored information. In this CLE program, a panel of experienced litigators and e-discovery professionals will discuss how these duties of professional responsibility manifest in the context of e-discovery, review the fundamentals of electronic discovery and address measures that practitioners can take to control the costs and burdens involved.

Our speakers are Daniel S. Meyers, Esq., President, Consulting & Information Governance , TransPerfect Legal Solutions and Jackie Michalek, Director, Project Management, TransPerfect Legal Solutions
Please RVSP if you are interested in attending.
We hope to see you on March 10th!
Cheers,
Women in eDiscovery - Denver Chapter
About the speakers:
Dan Meyers is the President of TransPerfect Legal Solutions' Consulting & Information Governance division. Dan advises clients on e-discovery best practices and motion practice, litigation readiness plans, defensible data disposition programs, and data privacy concerns, with a particular emphasis on cross-border data transfers. His clients range from financial institutions and multinational corporations to start-ups and small-to-medium businesses. Dan is certified as an E-Discovery Specialist (ACEDS) and an Information Privacy Professional (CIPP/US/E). Prior to joining TLS, Dan was a Commercial Litigation Partner at an Am Law 100 law firm and the Founder and Chair of the firm's E-Discovery & Information Governance practice group. Dan's commercial litigation practice covered a wide range of complex business disputes before federal and state courts, including cross-border, corporate governance, bankruptcy, securities, breach of contract, and business tort cases.

Jackie Michalek, Director, Project Management, TransPerfect Legal Solutions
Before joining TransPerfect, Jackie worked at law firms in the Chicagoland area for over ten years as a litigation support professional and as a paralegal. At TransPerfect, she works to utilize combined skills in eDiscovery with hands-on technical support. She has managed multi-terabyte matters with a heavy concentration in using TAR and other forms of analytics. Her goal is to positively contribute to Transperfects success by leveraging project management and law firm experience to enhance processes and workflow efficiencies while managing time, controlling costs, mitigating risk, and assuring defensibility in the work performed.
---
Join our Denver Women in eDiscovery LinkedIn group to connect with your Denver peers and stay updated on local WiE events.
Join WiE or Renew your Membership Today!
Join thousands of legal professional women and take advantage of the many networking and educational opportunities offered by the Denver chapter of Women in eDiscovery today! Membership is free. Join today!
---