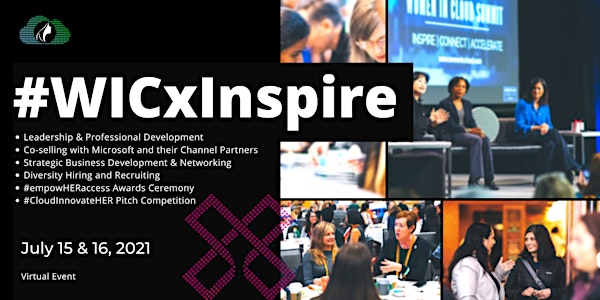 #WICxInspire 2021
A multi-day networking experience with thought-leadership power talks, diverse recruiting, and curated business development
About this event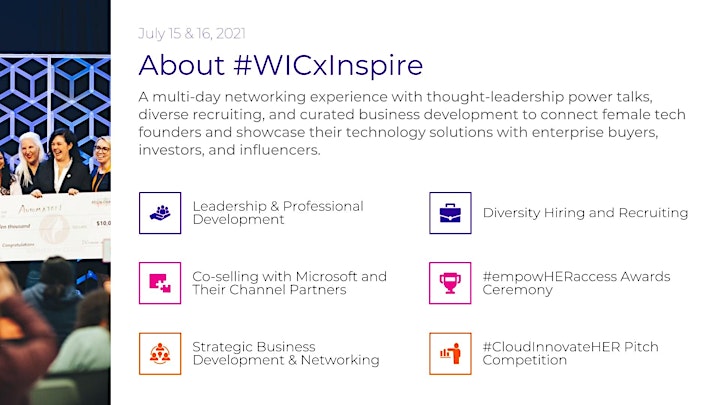 Why Attend?
Expand your network
The opportunities to make valuable connections are endless with our programming focused on driving access, action, and acceleration. Our audience includes Women Entrepreneurs, Corporate & Emerging Executives, Subject-Matter Experts, Procurement Buyers, Investors, Job Seekers, and Job Recruiters.
Explore Job Opportunities
Submit your candidate profile and meet with companies and recruiters actively seeking diverse candidates at the #CloudJobs Diverse Recruiting Lounge
Learn Secrets for Building Business with Microsoft and their Channel Partners
Attend inspirational thought leadership talks focused on leadership, cloud innovation and professional development.
Get Access to Investors
Unlock enterprise cloud opportunities across the global tech market via highly curated, stimulating cross-company collaboration meetings and bi-directional conversation at the #CloudExecConnect session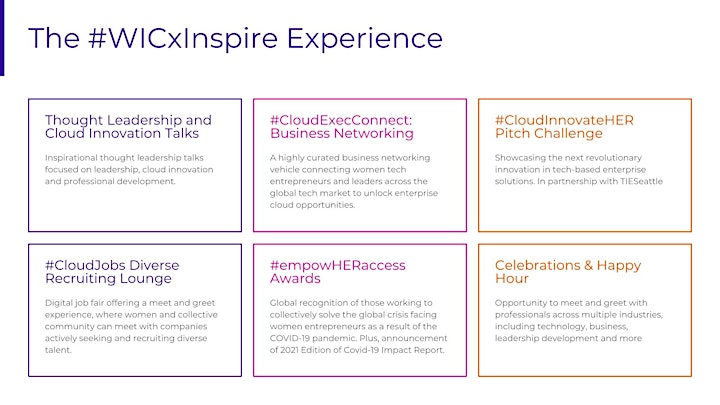 Invite Your Employees for Professional Development
Take advantage of this year's Corporate Pass! Create infinite access for your employees, partners, and customers to exclusive learning and networking opportunities at the event.
We invite you and your company to become one of the top 200 companies championing economic access and equity for women in the technology industry.
This $500 offer includes:
5 Premium Passes
Branding Placement
Table in Virtual Event Lounges
Access to Curated Business Development Meetings
Featured #CloudJobs Listings
and more!
Join us for Two Days of Impactful Experiences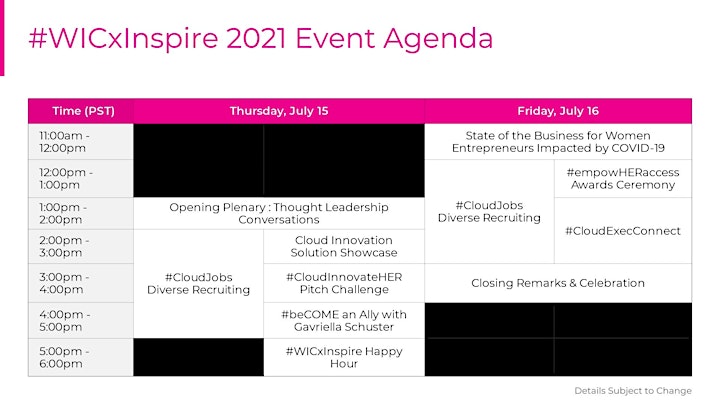 Ticket Packages
Free
Access to two experiences at the #WICxInspire event that will showcase job opportunities and innovative cloud solutions in the industry
#CloudJobs Diverse Recruiting Lounge (July 15 at 2 - 5pm PST AND July 16 at 12 - 3pm PST)
#CloudInnovateHER Pitch Challenge (July 15 at 3 - 4pm PST)
General Admission - $50
Get full event access all programming in the 2-day #WICxInspire event to unlock professional development, get access to investors, participate in curated business development, meet with job recruiters and expand your network.
Corporate Pass
Unlock Premium access for 5 guests to all programming at the 2-day #WICxInspire event. Benefits include: 5 Premium Passes, Branding Placement, Table in Virtual Event Lounges, Access to Curated Business Development Meetings, Featured #CloudJobs Listings, and more!