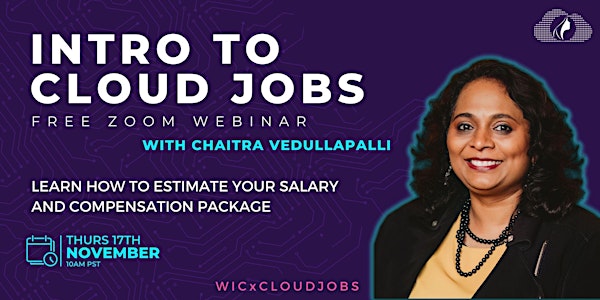 #WICxCLOUDJOBS: Cloud Jobs and Compensation 101
Learn how to estimate your Cloud Jobs compensation package
About this event
Join us for this Free Webinar on Cloud Jobs and Compensation 101
This is the first event in our #WICxCLOUDJOBS Job Readiness Series, where we provide access to information on how to get a job in Cloud, and the resources to help get you there.
In this session, you will learn the following:
What affects your cloud computing salary? Discover salaries for cloud services, cloud engineers, cloud architects, cloud developers, and cloud administrators.
What is the average cloud computing salary?
Learn about Cloud computing salary by location (local and international job)
What are the levers for negotiating compensation?
How is the performance measured for 100K & plus roles?
We look forward to seeing you!
By registering for this event, you grant Women in Cloud permission to share your registration details with applicable sponsors and community partners.
What the community is saying about WIC events...
"Sessions about leadership and roundtable discussions were absolutely the best. " - Sonia Wadhwa
"I loved the content, the speakers and the networking. Single stream meant a very simple and effective way to participate in all the sessions." - Annette Wilde
"I enjoyed the caliber of speakers, the interactive and insightful chats, and the avalanche of connections I have made on Linkedin and Twitter." - Nonye Umahi
"Connections and opening access is key to the Women in Cloud model so definitely encourage folks to take advantage of the introduction page. Also check out the Power Talks with a wealth of information and potential connections." - Cindy Gross
"One of the better online events. You didn't try to boil the ocean. Things were broken down into manageable segments." - Marian Breeze