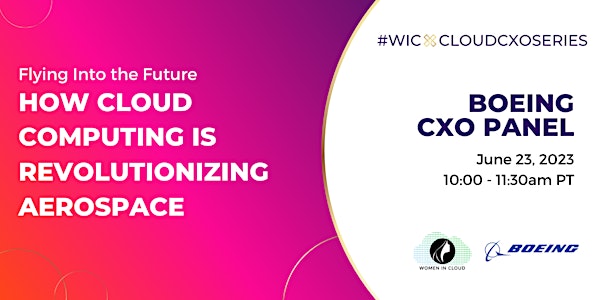 #WICxCLOUDCXOSERIES Aerospace Edition : Flying into the Future
An opportunity for community members to learn from experienced leaders , gain new insights and advance careers in Aerospace Industry.
Date and time
Friday, June 23 · 10 - 11:30am PDT
About this event
1 hour 30 minutes

Mobile eTicket
Join us for an exciting Aerospace Focused Digital Summit on "Flying into the Future: How Cloud Computing is Revolutionizing Aerospace". This event is designed for C-level executives, women professionals, and founders in the aerospace industry who want to stay ahead of the curve and learn about the latest advancements in cloud computing.
Our expert panel will discuss how cloud technology is transforming the aerospace industry, from enabling more efficient supply chains to improving aircraft design and maintenance.
You'll also hear about real-world examples of companies leveraging cloud computing to improve their operations and gain a competitive edge.
Don't miss this opportunity to network with other industry leaders and gain valuable insights into the future of aerospace.
About #WICxCLOUDCXOSERIES:
Women in Cloud's CXO Event Series is designed as a learning and networking experience for community members, providing opportunities for professional development, networking, inspiration, and insights from industry leaders. WIC partners will share company culture and emerging technology trends, and recruitment opportunities for candidates and founders.
Key Takeaways for Participants:
Professional development: Attending CXO events provides an opportunity for community members to learn from experienced leaders and gain new insights and knowledge that can help them advance in their careers.
Networking: CXO events provide a platform for community members to connect and network with industry leaders, peers, and potential partners.
Inspiration: Attending CXO events can provide community members with inspiration and motivation from successful leaders, which can help them set their own goals and pursue their professional aspirations.
Access to information and insights: CXO events provide community members with access to information and insights that they may not otherwise have access to, including updates on industry trends and market conditions.
Opportunities for collaboration: CXO events can provide opportunities for community members to collaborate and work together on projects or initiatives that can benefit their professional or personal interests.
Agenda
Our session is designed to include:
Opening of #CXO Keynote
Thought Leadership Panel on Specific Topic
Ask the Expert Breakout Rooms
Note: This event will be held on REMO, a virtual event platform that fosters interactive collaborations, networking opportunities, and a great attendee experience.
What is included with your ticket?
Event Ticket
Warm Introductions
Access to WIC community & opportunities
Lots of networking
About Women in Cloud
Women in Cloud is a community-led initiative , economic development movement supporting women technology entrepreneurs. Through private-public partnerships with innovative companies and leaders in tech, Women in Cloud creates access to partnership opportunities, programs that accelerate business growth in the cloud, and strategic alliances with industry cloud providers investing in the success of women in tech. Follow us on Facebook, LinkedIn & Twitter and our website at http://www.womenincloud.com
Code of Conduct
Women in Cloud believes we all have the right to be safe and treated fairly in our community. All attendees must abide by our Code of Conduct.
Key Contacts
Sponsorship & General Information Contact: cvedulla@womenincloud.com