Wicomico 4-H Winterfare 2019

Saturday, February 2, 2019 from 8:45 AM to 2:30 PM
Event Details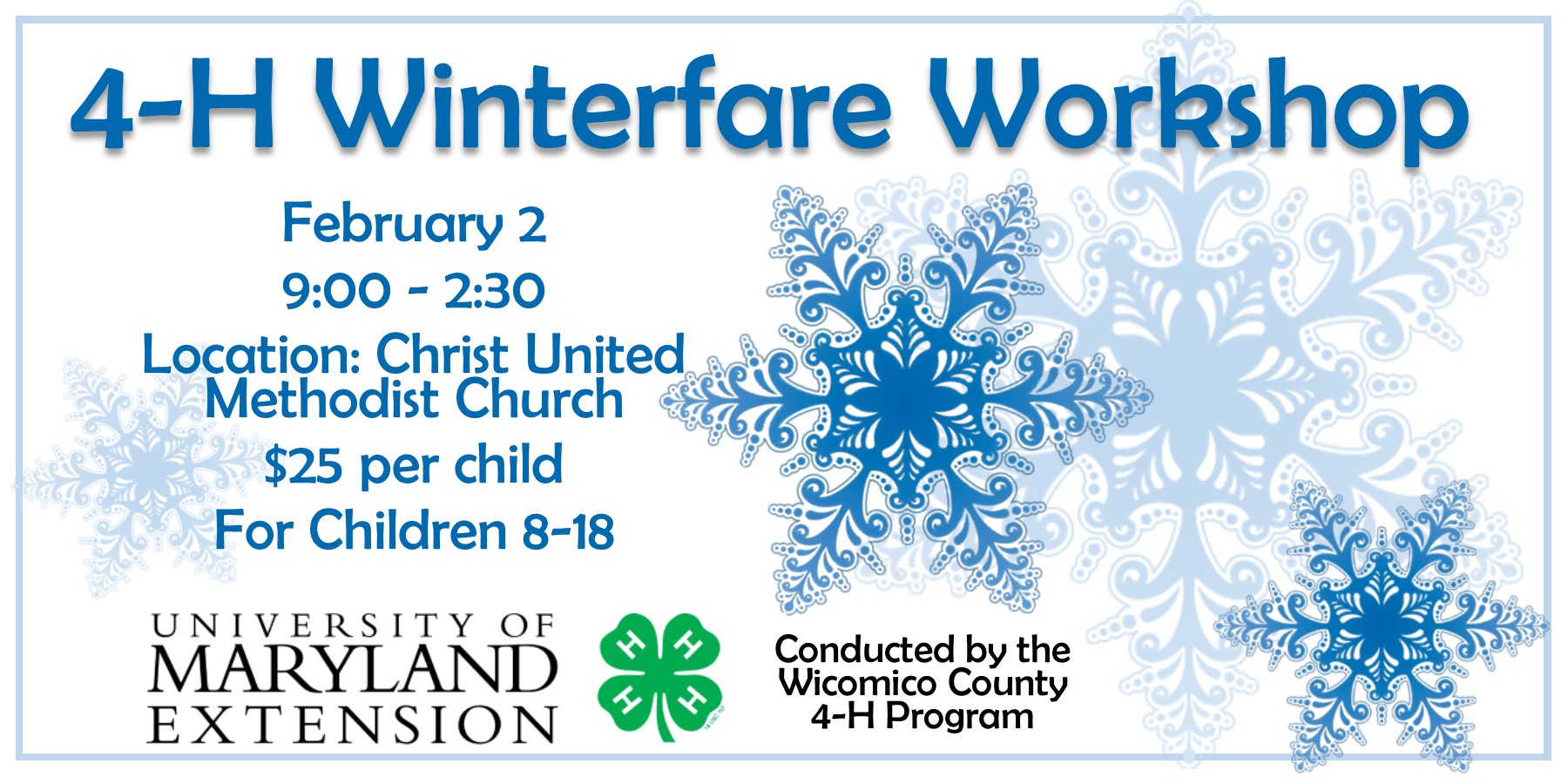 Wicomico County 4-H Presents - 4-H Winterfare Workshop
February 2, from 9:00am to 2:30pm
Located at Christ United Methodist Church
This event is open to youth ages 8-18.
Cost is $25 per child.
Winterfare Workshop is a fun filled all day event, that lets your child choose three different classes to experience and learn from. All classes are hands-on, through make it take it type arts and crafts, to highly interactive educational experiences. Class sizes are limited and registration fills quickly. This event is open to the public, so you don't need to be in 4-H to participate.
--Registration DEADLINE January 21
--Choose one class from each session A, B, and C.
--In some classes participants may get messy, please bring an apron or wear old clothes.
--Lunch is NOT provided. Participants MUST bring their own non-perishable labeled lunch for the day.
--We suggest you bring a tote bag with you to carry you items around with you.
Questions can be directed to Amy Rhodes arhodes1@umd.edu or Barbara Barga bbarga@umd.edu or at 410-749-6141.
Schedule
Check-in 8:45-9:00
Session A - 9:00-11:30
A1 - Silk Painting - Learn how to paint on silk and take home a beautiful silk painting.
A2 - Knit with your Arms - Create your own fabulous scarf by finger and arm knitting. 
A3 - Baskets with a Twist - Make your own coil basket with embellishments. 
A4 - Amazing Mazes and More - Discover the world of mechanical and electrical engineering through the art of mazes. 
Lunch 11:30-12:00 - Participants must bring their own non-perishable lunch for the day. Please label your child's lunch
Session B - 12:00-1:15
B1 - Dissection Inspection - Be the scientist through the discovery of squid dissection.
B2 - Eggstravaganza - Create a beautiful goose egg masterpiece using alcohol inks
B3 - Rock and Shell Art - Make your own natural rock and shell craft!
B4 – Terrariums - Make you own terrarium using succulents.
Session C - 1:15-2:30
C1 –Make it Go with Rubber bands - Using rubber bands and other household items, learn to make working helicopters and cork launchers.
C2 - Animal Lamps – Create a creature of your own by assembling electric cord, craft materials, a repurposed container and turning them into an internal glow lamp.
C3 – Spa Time - Pamper yourself and make your own beauty products
C4 – Fun with Food – Learn to make some yummy treats in the kitchen.
2:30 Pick Up
Save This Event
When & Where

Christ United Methodist Church
211 Phillip Morris Dr
Salisbury, MD 21804


Saturday, February 2, 2019 from 8:45 AM to 2:30 PM
Add to my calendar
Organizer
In Wicomico County, 4-H provides a supportive setting for all youth to reach their fullest potential. 4-H clubs are located throughout Wicomico County for youth ages 8-18, as well as clover clubs for children ages 5-7. 4-H'ers learn life skills through a variety of 4-H project areas including shooting sports, animals science, nutrition, home arts, aerospace, agriscience, robotics, photography, woodworking and so much more. 
Youth can experience 4-H by becoming a member of a 4-H club, attending a 4-H camp, or joining school-based or after-school 4-H programs. 4-Hers can compete with their projects in contests at the local, state, regional or national levels and also attend conferences and events. Contact us or your local 4-H office to find out how to join.
For Questions please contact Amy Rhodes (arhodes1@umd.edu) or Barbara Barga (bbarga@umd.edu) at 410-749-6141.

University of Maryland Extension programs are open to all citizens and will not discriminate against anyone because of race, age, sex, color, sexual orientation, physical or mental disability, religion, ancestry, or national origin, marital status, genetic information, or political affiliation, or gender identity and expression.If you need special assistance to participate in this program, contact us at least 10 days in advance at 410-749-6141.