| | |
| --- | --- |
| Wicket World of Croquet at the Benjamin Harrison Presidential Site | |
Event Details
On Saturday, June 16, Swing is King at the Benjamin Harrison Presidential Site as the all new Wicket World of Croquet® offers opportunities for players of all ages and skill levels to swing a mallet and shoot the wicket.
Queen for a Croquet

Kids' Croquet with Alice - 10 am to 12pm

Families with children can choose to participate in our Alice in Wonderland themed morning event on the lawn of the Presidential Site which begins with a croquet tutorial and ends with a rousing match of golf croquet. Participants will have use of fine equipment, a mid-morning snack from Chick-fil-a, complimentary photo with story book characters, and an Alice in Wonderland themed favor. Guests will have the opportunity to play alongside the Queen of Hearts and Alice herself in this fun family event.

 Jacks are Wicket                Traditional Six Wicket Tournament - 1pm-6pm

Our traditional Wicket World of Croquet® tournament will begin at a new later start time of 1:00pm. Forty teams of two, dressed all in traditional team whites, will vie for the first annual Virginia Z. Willkie Champion's Cup. Players will be seeded into competitive flights for a minimum of five rounds of American Rules Six Wicket Croquet. The winners will advance to the tournament and after a quarter-final, semi-final and championship match, the 2012 winners will be announced. Dinner from Chef Suzanne Catering and drinks from Sun King Brewery and Barefoot Wines are included. All players are invited to stay for the post tournament mixer.

 

Swing is King    

Casual Play and Mixer - 5pm-8:30pm

If your game isn't quite ready to leave the backyard, then consider joining us for the Swing is King Croquet Mixer following the championship round at approximately 5pm. Your ticket includes a chance to watch the end of the tournament, dinner from Chef Suzanne, drinks from Sun King Brewery and Barefoot Wines and casual croquet play on the South Lawn of the president's home. For those just beginning, a quick lesson will be offered before you pair off and hit the courts. The Cool City Swing Band will be playing as you enjoy the warmth of a fine summer's evening out on the President's Lawn.
 This is a rain or shine event.
Organizer
Benjamin Harrison Presidential Site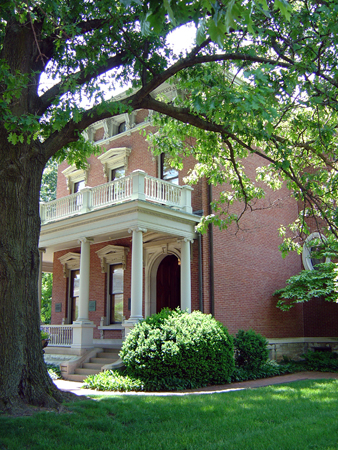 The mission of the Benjamin Harrison Presidential Site is to share the life stories, arts and culture of an American President to increase public participation in the American system of self-government.
Wicket World of Croquet at the Benjamin Harrison Presidential Site