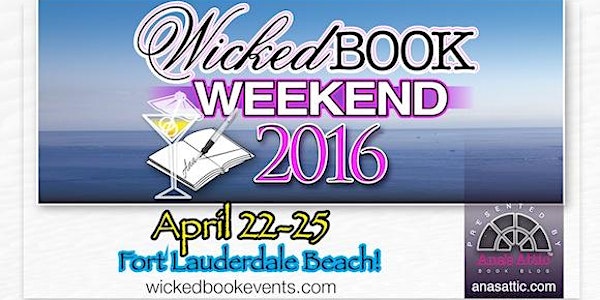 Wicked Book Weekend 2016
When and where
Location
Bahia Mar Fort Lauderdale Beach - a DoubleTree by Hilton Hotel 801 Seabreeze Blvd. Fort Lauderdale, FL 33316
Description
Wicked Book Weekend 2016 is the fifth Wicked Book Event. Our weekend is a little different. We limit it to 50 authors and 350 total attendees. Our signing is intimate and readers are encouraged to go to each author to discover their books. We even have a custom scrapbook for sale at cost for you to get each author's signature. The lines are never more than 10 minutes long. The weekend is not about waiting in line getting your book signed and running to the next, it's about actually spending time with your favorite authors!
Planned at the beautiful oceanfront hotel, the Bahia Mar, there are plenty of activities and restaurants within walking distance, or you can hop on a water taxi right from the hotel to go elsewhere.
ALL EVENTS ARE 18+. NO REFUNDS. Tickets ARE transferable.
For more details and the roomate finder page and more, go to www.wickedbookweekend.com
Hotel room reservations:

CLICK HERE




or call 1-800-HILTONS (1-800-445-8667) for the Bahia Mar Ft. Lauderdale Beach Hotel and use the code WBW
Authors include: (Subject to change)
N.A. Alcorn
Katie Ashley
Tessa Bailey
Chloe T. Barlow
Chelle Bliss
Rebecca Brooke
Terri Anne Browning
Kate Canterbary
L.M. Carr
Melanie Codina
Stevie J. Cole
Jenn Cooksey
Olivia Cunning
Laurel Ulen Curtis
L.B. Dunbar
Jessica Florence
T.M. Frazier
K.M. Golland
S.R. Grey
Sidney Halston
Z.B. Heller
Ella James
Danielle Jamie
Anne Jolin
Andria Large
Heather C. Leigh
R.K. Lilley
L.P. Lovell
Felicia Lynn
M. Mabie
Aly Martinez
Sibylla Matilde
Rae Matthews
Kristen Hope Mazzola
Ryan Michele
Portia Moore
Rochelle Paige
Danielle Pearl
Taryn Plendl
Katy Regnery
Penny Reid
Julie A. Richman
M. Robinson
Kate Roth
Ahren Sanders
M.D. Saperstein
Tara Sivec
Harper Sloan
Susan Stoker
Alessandra Torre
B.T. Urruela
Jettie Woodruff
Planned events:
FRIDAY April 22:
6:15 – 9: LIPS Drag show with full dinner including Ceasar Salad, and your choice of entree: Chicken Marsala, Atlantic Salmon, Grilled Chicken, Baby Back Ribs, Shrimp Scampi Linguini, Italian Lasagne, or Roasted loin of pork, plus dessert. Cash bar. Meal, tip and show price included, but it is encouraged to tip the entertainers more. $52.50 per person including show price and dinner.
Shuttle bus to and from lips is $10/pp payable to the driver, but you must get the free ticket for head count.
9-11: Author check in and set up (or wait till morning), Poolside hang-out.
SATURDAY April 23:
10:30-11:30: Private signing for hotel guests with all day tickets (MUST show room key)
11:30-1:00: Signing for all ticket holders.
1:15-3:15: Buffet Lunch with a minimum of one random author per table. Seating is not reserved, and you will not know which author will be at your table. Raffle prizes will be given.
3:30-5:30: Signing continues. At 5:30 we'd like to give all authors a break. But many are very generous and will sign until they have everyone. But we'd like them to have a private dinner break!
8:00pm-1am: After party with light cheese and crackers and fruit displays, candy table, 1 drink ticket (then cash bar) DJ, Games, prizes, photo and video booths and more! All day price: $99 including lunch, after party and swag bag.
SUNDAY April 24th:
10am: Poolside meet-up/games , Blogger breakfast sponsored by the Copa Lounge authors
12:30: LuLuroe Pop up from Harper Sloan
2:30: Red Room 101: Fetish demonstration by local Doms and fun fetish photos sponsored by Kate Roth, Kristen Hope Mazzola and Robin Lee ($15.00 add'l), tickets only at Wickedbookevents.com
7:00- 10:00: Boat Bar Crawl sponsored by Harper Sloan for Harper's birthday and Tara Sivec's Birthday! Tickets are $18
We have a custom signing book for sale every year and they are available for order at wickedbookevents.com, as well as T-shirts and other swag.
No refunds unless of course event is cancelled entirely.