About this Event
The Wichita Esports Convention 2020 is a 2-day esports event that is open to competitors, spectators and casual gamers.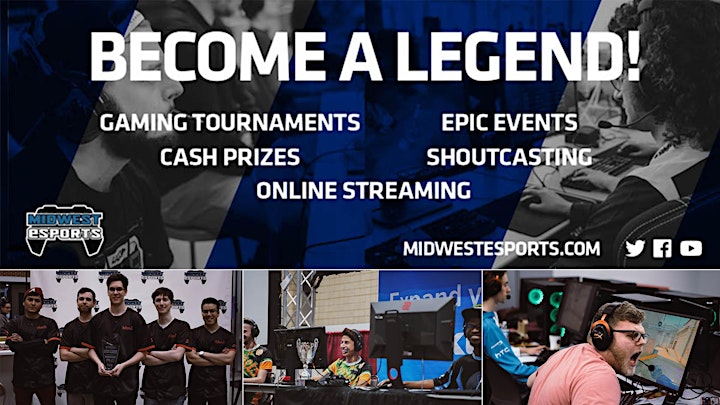 Midwest Esports hosts events in more than 20 states across the US and has been running esports events since 2014. If you have ever wondered what it's like to compete in video game tournaments for money now is your chance to find out!
------------------------
Location: John Bardo Center, 4110-4526 E 17th St N, Wichita, KS 67208
Date: February 1st - February 2nd, 2020
Schedule: *Times subject to change
Saturday 10am-8pm
Sunday 10am-5pm
------------------------
Games: http://nesa.gg/WEC2020/
For PC tournaments please bring your own peripherals and for console tournaments only a standard controller is provided. Bring your own headsets if that is preferred.
IMPORTANT: These tournaments are all capped and entries will be accepted on a first come first served basis. The Eventbrite page has a spot that states, "Tickets Remaining." This is your basis for how many spots left in the bracket.
Please plan your tournament attendance carefully. No refunds will be issued for missed tournaments due to participating in another tournament or simply not attending. Thank you.
------------------------
Saturday
Console -
Street Fighter V - 10:00am - $5 Entry - 10 Player Cap
FIFA20 - 10:00am - $5 Entry - 6 Player Cap
Apex Legends PS4 - 10:00am - $15 Per Team - 30 Player Cap - 10 Teams of 3
Super Smash Bros. Ultimate - 10:00am - $5 Entry - 64 Player Cap - Singles
Mortal Kombat 11 - 11:00am - $5 Entry - 10 Player Cap
Samurai Shodown - 12:00pm - $5 Entry - 10 Player Cap
Madden NFL 20 - 12:00pm - $5 Entry - 6 Player Cap
Tekken 7 - 2:00pm - $5 Entry - 16 Player Cap
Fortnite PS4 - 2:00pm - $5 Entry - 16 Player Cap
Soul Calibur VI - 3:00pm - $5 Entry - 10 Player Cap
Dragonball FighterZ - 4:00pm - $5 Entry - 16 Player Cap
NBA2k20 - 4:00pm - $5 Entry - 6 Player Cap
PC -
(SOLD OUT) League of Legends Open - 10:00am - $50 Per Team - 4 Teams of 5
(SOLD OUT) Overwatch - 10:00am - $60 Per Team - 4 Teams of 6
Midwest Esports Conference - 10:00am - Spectator League of Legends Event
Halo Reach FFA - 11:00am - $5 Entry - 16 Player Cap
Apex Legends - 3:00pm - $15 Per Team - 12 Teams of 3
Halo Reach 2v2 - 1:00pm - $10 Per Team - 16 Teams of 2
Trading Card Games -
Magic The Gathering *Pioneer - 11:00am - $18 Per Player - 60 Player Cap
Contests -
Cosplay Contest - 4:00pm - Free
------------------------
Sunday
Console -
Call of Duty Modern Warfare - 10:00am - $50 Per Team - 8 Teams of 5
Switch Casuals/Open Play - 10:00am
PS4 Casuals/Open Play - 10:00am
Mario Kart 8 Deluxe - 11:00am - Free - 8 Player Cap
PC -
(SOLD OUT) Rocket League - 10:00am - Free - 10 Player Cap - Singles
(SOLD OUT) League of Legends Open (Continuation from Saturday) - 10:00am
PC Casuals/Open Play - 10:00am
Fortnite - 1:00pm - $5 Entry Fee - 20 Player Cap
Teamfight Tactics - 1:00pm - $5 Entry Fee - 16 Player Cap
------------------------
Prizing Info:
Pot Bonus:
Dragonball FighterZ - $100 + Trophy
Mortal Kombat 11 - $100 + Trophy
Samurai Shodown - $100 + Trophy
Super Smash Bros. Ultimate - $500 + Trophy
Soul Calibur VI - $100 + Trophy
Street Fighter V - $100 + Trophy
Tekken 7 - $100 + Trophy
Prize Pool:
Apex Legends PC - $100 + Medals
Apex Legends PS4 - $100 + Medals
Call of Duty Modern Warfare - $500 + Medals
FIFA20 - $100 + Medal
Fortnite PC - $100 + Medal
Fortnite PS4 - $100 + Medal
Halo Reach PC FFA - $100 + Medal
Halo Reach PC 2v2 - $100 + Medals
League of Legends - $500 + Medals
Madden NFL 20 - $100 + Medal
Magic The Gathering Pioneer - Cash to top 8. Top 16 based on attendance + Trophy
Mario Kart 8 Deluxe - Trophy
NBA2k20 - $100 + Medal
Overwatch - $500 + Medals
Rocket League - $100 + Trophy
Teamfight Tactics - $50 + Medal