Welcome to our four-day VIRTUAL SCAVENGER HUNT to help Wisconsinites vote safely this fall!
About this event
This nonpartisan project will help you share vetted information about Wisconsin elections with voters through trivia, crafts and public art. In this game, players compete with other volunteers across the state to complete as many Missions as possible before the weekend ends.
There are two types of Missions:
Trivia about voting and Wisconsin government
Actions such as "take a selfie at your polling location," "chalk a message about voting at your local park," or "find a Halloween pumpkin with a message about voting."
Missions range from silly to serious - some take 5 minutes while others may take 5 hours. You decide where and when you want to play during the four-day game and which Missions you want to pursue. New Missions will be released every day.
How it Works
Here's all you need to play:
a smartphone
a minimum of 20 minutes to play sometime between Thursday and Sunday
Register now and you'll receive an invitation to download our scavenger hunt app (iOS and Android) on October 7th, the day before the game kicks off. Use the app to complete challenges, check your standing on the leaderboard, and see each day's new Missions. Players of all ages are welcome; children under the age of thirteen should play with an adult.
Prizes will be awarded for 1st, 2nd, and 3rd place finishers:
1st place -- $50 gift card, game t-shirt, glory for all time
2nd place -- $25 gift card and game t-shirt
3rd place -- game t-shirt
Get your ticket on a sliding scale from $0-$10. This is a 100% volunteer-run event created by two game designers and friends. The first $100 we raise covers our prizes. Everything else will be donated to the League of Women Voters of Wisconsin, a nonpartisan organization that has been fighting for informed democratic participation for 100 years. Please note that your ticket is not tax deductible.
Finally: we will never share or sell our players' personal information. This is about getting out the vote.
Let's get out the vote in Wisconsin!!!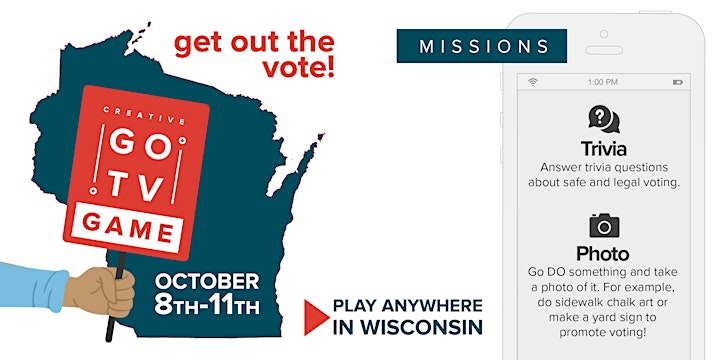 Organizer of WI Get-Out-The-Vote Scavenger Hunt
We use human-centered design to create apps, games, and curriculum for civic learning and community engagement. Our mission is to help everyday people build the skills they need to make change happen, starting in their local communities. Our game-based approach is based on research conducted in partnership with leading educational game designers at MIT and community-based organizations in Wisconsin.