#WhyNotMe? (A Professional Development Day for Women)
Description
When you are plagued by doubts about your ability, they have a way of showing up all over your life. It is said that whatever you focus on will expand.

If you have ever found yourself facing a new challenge and suddenly a pesky little inner voice takes hold of your mind and starts saying things like, "I can't do this," "I'm going to fail", "I am not good enough", you know what happens next.

Thoughts like these stop us in our tracks and prevent us from pursuing new opportunities. You have had enough of these negative self-talks, and it's time to flip the script.
If you are plagued by doubt, fear, and imposter syndrome, and are ready for a reset, you should attend this unique #WhyNotMe event on January 12, 2019, known as International Vision Board Day. There will be a twist to the day! It will be an intensive, no-nonsense, VIP Day, when you will draw a circle around your BIG dream, gain insights, and receive encouragement from other attendees, fostering a sense of community. Instead of saying "I can't do this", you will ask #WhyNoteMe?
You will also be inspired by three phenomenal speakers who have faced and overcome their own #WhyNotMe challenges. You don't want to miss this event!

Here's a sample of what former attendees have said:
"

"Thank you Daisy for an awesome session, so inspiring and the opportunity to meet so many wonderful women."

~ Flor Z.

"It was amazing to meet so many wonderful women and zero in on my goals for 2018! Thank you, Daisy!"

~Jasmine R.

"Thank you so much for including me at the workshop. I felt welcome and surrounded by supportive women, which to me is so powerful. It's amazing what can happen when you take one step." ~Shelly C.
Here's a taste of what you will get:
You will have access to a number of tools and resources that will help you re-shape your dreams, overcome obstacles, and get on a path to achieving your goals.
You will link arms with a supportive group of smart, committed women who are ready to realize their dreams in 2019.
You will get opportunities to network, and get and give support.
You will be meeting your next group of friends and colleagues to hold you accountable as you move through the year.
And, Surprise! Surprise! Every attendee will receive a very SPECIAL GIFT, to last a lifetime!

A light lunch is included.
If you are ready to invest in your personal and professional growth, then register for this event immediately. The last time we hosted a similar event, we were overscribed, and several women missed out.

Guest Speakers: Alicia Sullivan, Shelly Elsliger and Taranum Khan: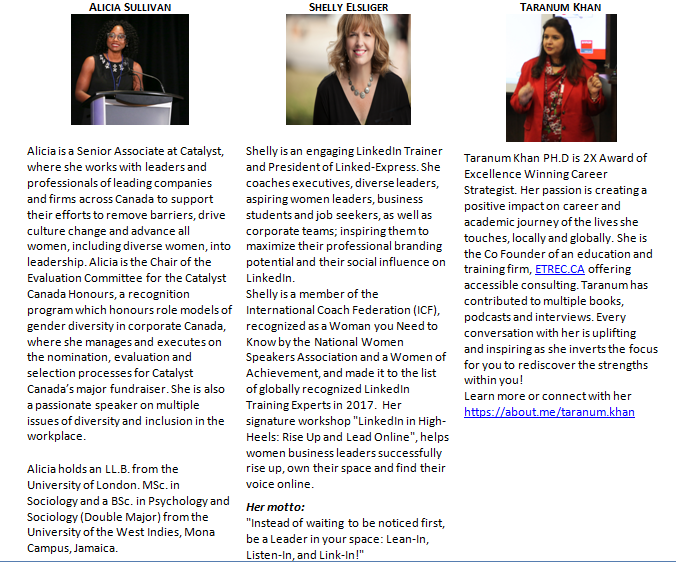 The #WhyNotMe Group Career Coaching Program
For those who are seriously committed to articulating a personal vision, setting goals, and taking action in 2019, I will be announcing my six-month, 12-session, no obligation #WhyNotMe Group Career Coaching program at the event. (This will be for a small group of 8-10 individuals). Participants will:

Ga

in

clarity and direction

Liberate themselves from self-limiting beliefs so they can embrace a new future

Create new empowering habits and routines

Eliminate excuses

and make daily progress

Set meaningful goals

Create and follow an action plan (a MUST)

Be motivated to achieve their goals, whether they are big or small

********************

CHANGE is daunting, but if you are ready to make yourself a priority in 2019; if you are ready to be a part of my #WhyNotMe Movement, allow me to come alongside you be your accountability partner as you go after your BIG dream in the new year.
Have questions? Give me a call at 647 930-4763.
Can't wait to welcome you to the 'Dream Factory', where dreams come to life!
Organizer of #WhyNotMe? (A Professional Development Day for Women)
What you need to know about me, the Organizer!
I am Daisy Wright, Founder and Chief Encouragement Officer at The Wright Career Solution. I am a renowned career coach and trainer, with several prominent industry certifications, including Certified Career Management Coach, Certified Executive Leadership Development Coach, Certified Career Development Practitioner, and Certified Resume Strategist. I am known throughout the industry for my positive, 'can-do' attitude.
I am living proof that you can re-invent yourself even when the chips are down; even when you have been bypassed for promotions; even when you have been told you can't do it, or you are not good enough. I know what it feels like to be stuck at a career crossroad not knowing which route to take. I have experienced all of the above, but I lifted myself up, brushed my knees off and started again. I stepped out in faith and enacted profound and meaningful career and life changes.
For more than 10 years I have been collaborating with executives, managers and mid-career professionals to help them get hired FASTER or to advance or change their career. I have written two books, Tell Stories, Get Hired and No Canadian Experience, Eh?, and have contributed to more than 10 others, including Best Canadian Resumes. I am a member of the International Coach Federation, Career Professionals of Canada and an Associate with Career Thought Leaders Consortium. To learn more about me, visit my website: The Wright Career Solution or my blog at Daisy Wright Career Musings. I can also be reached by phone at 647 930-4763.

I have a BA in Public Administration from Ryerson University, and a postgraduate Certificate in Career Development from Conestoga College where I was honoured with an Alumni of Distinction Award in 2011. I have also received several awards for my contributions to the careers industry.