Description
You know when your train is f*cked – this is the show that tells you WHY.
***Come in your best transit-oriented costume and get $2 off select beers and wines at the bar! Angry commuter costumes not accepted.***
This month's show: The Spooky '70s!
Think the subways are bad now? The 1970s were no walk in the park (and you wouldn't catch us in Bryant Park after sundown then either) – crime, graffiti, and undead trains plagued the subway system. As the city crumbled above it, the problems oozed into the subways, which became a symbol for everything that was going wrong in NYC. In honor of Halloween, we're hopping in our time machines and talking all things spooky subways in the '70s!
Doors: 6:30pm
Show: 7:00pm
Tickets: $15 in advance, $20 at the door
21+
Please note this is a mixed seated and standing venue. Arrive early for the best seats.


THIS MONTH'S EXPERT: Jaqi Cohen is the campaign coordinator at the Straphangers Campaign, a New York City-based transit interest group that advocates on behalf of riders of public transport.
THIS MONTH'S BUSKER: Jia Doughman is a classically trained violinist.She holds an MFA in acting from Harvard, and a BA in chemistry from Case (an engineering school). Five years ago, Jia went to Berlin, started writing and busking. Her current projects include an International Busker's Day Parade.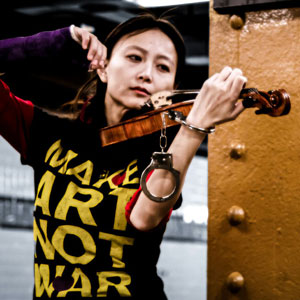 ABOUT THE SHOW:
Get on board for a deep dive into the history of the MTA. Whether you love it, hate it, or want to compose more informed rage-tweets about it during your next 20 minute delay – we've got you covered. Your hosts Meg Pierson (TEDx, Alchemy Comedy) and Justin Williams (City College, SirusXM), along with a mysterious anonymous ghostwriter, will conduct our show through the twists and turns of history; revealing unbelievable stories, subway life-hacks, and truly upsetting details about our subway system.
YOUR HOSTS:
Meg Pierson: A Brooklyn resident, Meg co-founded Alchemy Comedy Theater in South Carolina. In addition to helping to write and produce the pet health video series Cone of Shame, Meg travels internationally teaching improv workshops at veterinary conferences – she isn't a vet but if your cat's peeing outside of the litterbox it's probably a UTI. She's a two-time emcee of TEDx Greenville and currently hosts Versus at Caveat every second Saturday. In her free time, she offers people jobs at Axiom Law.
Justin Williams is an Assistant Professor of History at the City College of New York. Justin is also a comedian that has been featured on Comedy Central's Jokes.com, Mashable, SiriusXM Radio, The Elite Daily, Men's Health Magazine, The Kansas City Star, 'Morning Buzz Live' on VH1, 'Trial by Laughter' on Comcast, 'Laughs' on Fox and 'The Comedy Show Show' on Seeso.
*RECORDING* This show will be recorded for publication as a podcast.
REFUND POLICY: Tickets maybe be refunded up to 24 hours before the event. Within 24 hours we may take exchanges for other events at our discretion. No refunds after the event.