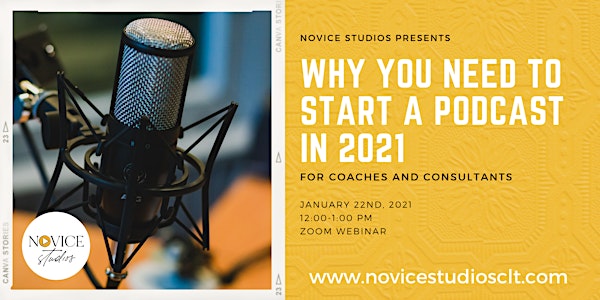 Why You Should Start & Grow a Podcast in 2021
Has "start a podcast" been on your to-do list for a while? In this webinar, I'll share why you should take action on it today!
About this event
Podcasts have been popular for a while, but they're only increasing in relevance and opportunity. By starting and growing a podcast in 2021, you can:
Share your personality and expertise through value-packed content
Generate leads by creating a sales funnel to your website/free downloads/etc.
Build sales collateral that you can send to prospective clients as a follow-up to (or even a preview before) a sales call.
How good would it feel to start generating leads from dream clients to hit your revenue goals this year? In this webinar, I'll share all the details you need to know about how starting a podcast can help you grow your coaching or consulting business in 2021!
ABOUT ME
Hi! I'm Kristen Stegall, a video & podcast producer and the Founder of Novice Studios. I work with coaches, consultants, and businesses to increase their lead generation and build authority through launching and growing podcasts and YouTube channels. For more information about me and my business, please visit www.novicestudiosclt.com.
Have questions about whether this free webinar is right for you? Feel free to DM me on Instagram at https://www.instagram.com/novicestudiosclt/, I would love to chat!