Description
Jeff's presentation will be on lessons learned as he became a Records Manager reporting to a Chief Security Officer. How you as a Records and Information Governance professional can offer valuable partnership to InfoSec and Privacy. He will draw from his experiences as a long-time records manager and how he partnered with security to develop stronger programs on both sides.

Don't miss this fantastic case study from the ARMA International Information Governance Program of the Year 2017!!!!!!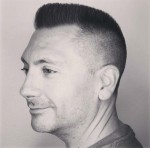 Jeff Lewis was born and raised in Peoria, Illinois and attended California Western School of Law in San Diego. He is an attorney although he does not practice law. He has been in the records and information management field for over 18 years working at such law firms as Fenwick & West, Hanson Bridgett and most recently, Sheppard Mullin.
He has been active in the professional records management organization known as ARMA for most of his career and is currently the President of the Greater Los Angeles Chapter. Jeff is also a member of the information security organization ISACA and earned his Certified Information Systems Auditor (CISA) certification in 2015.
Most recently Jeff was part of the Information Governance team at Farmers that won the highest award for an organization the Award for Excellence in an Organization.