Description
OMERS Ventures is thrilled to launch our Fall Speaker Series with delicious breakfast, conversation, and presentation by the insanely smart and talented Erin Bury - a PR legend in the startup community.
This session will focus on why PR matters for scaling startups, defining why it matters, what makes something newsworthy, how to become a thought leader using PR, and how to evaluate an internal hire or PR agency. The session will be led by Erin Bury at Eighty-Eight, who has led PR in-house at startups and agencies, and who spent two years writing about startups at BetaKit.
Seating is limited.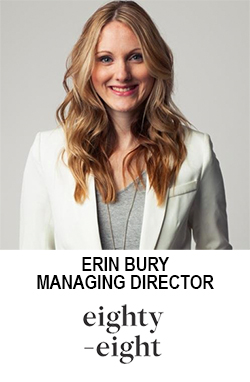 ---
About Erin Bury
Erin is the Managing Director at Eighty-Eight, a Toronto-based creative communications agency. Prior to Eighty-Eight she was the Managing Editor at startup publication BetaKit, and director of communications at Sprouter, which was acquired by Postmedia in 2011. Erin writes a monthly column for the Financial Post, and is a tech commentator on CTV News and Newstalk 1010. She has appeared in publications including The New York Times, Forbes, CNN, and Canadian Business, and was named one of Marketing Magazine's top 30 Under 30 marketers. Her claim to fame is being retweeted by Oprah - twice.