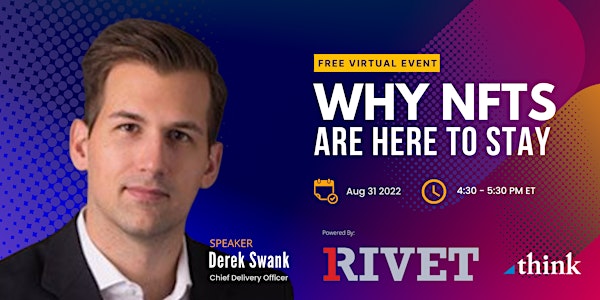 Why NFTs Are Here to Stay
Find out why NFTs have staying power with M&A expert and Metaverse enthusiast, Derek Swank.
About this event
NFTs aren't just right-click-save JPGs of Bored Apes. In this session we will cover some history, some education, but most importantly how NFTs are becoming essential to our everyday IRL experiences. We will prove to you why NFTs are already here and that they are here to stay.
Meet the Presenter
Derek Swank, M&A Expert and Metaverse Enthusiast
Derek has near 15+ years of Program Management and M&A delivery experience. He is used to leading the strategy through implementation of large-scale, complex, transformative programs typically touching all front, middle and back-office facets of an organization. Derek thrives as a leader and point of accountability, and has guided major organizations like CPPIB, GE Capital, Antares Capital, FHLB, ARI Fleet and TD Bank through successful mergers, acquisitions, divestitures, and carve-outs. His hands-on approach gives him detailed insight from the bottom up to give BoDs, senior executives and stakeholders the transparency they need to confidently navigate through intricate complexity and risk. He is also an avid enthusiast of the metaverse & NFT technologies and is leading 1Rivet's expansion into these new services on several new projects. Derek brings leadership, structure, drive, energy and pace to any team, helping organizations achieve honest results, faster.
Derek's downtime is typically spent traveling or on the golf course, and he holds an honors, bachelor of mathematics degree with a minor in business administration from the University of Waterloo in Ontario, Canada.